Meri Armour reflects on Le Bonheur career, talks next steps
Before sitting down with The Daily Memphian to discuss her 12-year career as president and CEO of Le Bonheur Children's Hospital, Meri Armour picks up a wooden chair and carries it across the room to put it back in its rightful place behind a desk.
Moving furniture was not in the job description when she moved from Rainbow Babies and Children's Hospital in Cleveland to Memphis 12 years ago, but it's that hands-on approach that enabled Armour to take Le Bonheur from a local children's hospital to a renowned center for pediatric innovation.  
"Of all the places I've been, this has been, truly, the best job of my career," said the 69-year-old executive who is retiring this summer. "It's been so special because the people here are so special and the need was so apparent when I came."
---
MICHELLE CORBET: Le Bonheur Children's begins search for new president, CEO
---
When Armour arrived in Memphis in 2007, Le Bonheur followed the classic children's hospital narrative, mostly caring for children in the immediate area. Today, the hospital's pediatric innovations draw families in need from all over the country.
"When I came, the city was in a bit of a self-degradation mode," Armour said. "Everybody was, 'Memphis is failing.' Everything was negative."
In the decade since, the energy has changed, a lot, she says. 
"I think that's probably some political leadership. That's clearly some business leadership," Armour said. "You aren't the rust belt like Ohio and Pennsylvania where all of their industries are collapsing. It seems to be a mini-boom in terms of growth and expansiveness."
A good children's hospital is a piece of that economic puzzle.
"We have a lot of people who get recruited for FedEx or some of the other companies and they have a — I had one just the other day who has a child with a seizure disorder," Armour said. "The impact is both palpable economically — what's happened in Memphis and what Le Bonheur has added to that — but it's also personal in terms of providing that security for people moving into the city."   
During Armour's tenure, the 255-bed children's hospital has racked up a list of accolades.
Consistently named among the Best Children's Hospitals by U.S. News & World Report
Awarded Magnet status by the American Nurses' Credentialing Center
Verified by the American College of Surgeons as a Level 1 Trauma Center
Awarded a three-star rating for Le Bonheur's Heart Institute by the Society of Thoracic Surgeons
Received designation for FedEx Neuroscience Institute as a Level IV Center by The National Association of Epilepsy Centers
"We've become a preeminent children's hospital, which is pretty darn good," she said. "To have that level of comfort and satisfaction knowing you are going to a place that's really good makes a world of difference for a worried parent."     
With only about 225 children's hospitals in the entire country, being in charge of one brings an enormous privilege, and an equally extensive amount of responsibility.
"We don't have a patient in a bed, we have a unit around them," Armour said. "We take care of them, too, which means support, education, teaching and emotional candor."   
Armour oversaw plans to build the new $340 million 225-bed hospital that opened on Adams Avenue in 2010.
---
TOM BAILEY: Le Bonheur plans $38M expansion of Heart Institute
---
Every detail of the hospital, from private, suite-like rooms to the colorful, interactive art installations, was designed with children and families in mind.
"We want children to walk through here and never be frightened of this place, but see it as a place of magic and wonder," Armour said.
Le Bonheur cares for a child for a finite amount of time. Then, they go back home where the family has to understand how to take care of them.
"Children don't come with instructions when they are born and every child is different," Armour said.
In addition to treating children in the hospital, Le Bonheur has taken a more holistic approach to health care addressing social determinants such as food disparities by partnering with outside agencies.
---
MICHELLE CORBET: Le Bonheur remedies issues at home, in addition to disease
---
"This hospital is a nexus of work and effort and communication and entrance into the community," Armour said. "Being that central point families can rely on not just for exquisite medical care, but for a hundred other reasons is what's so special about this place. It's done good work inside and outside the walls."
In November 2018, Armour announced her plans to retire.  
When asked what retirement means for her, Armour quickly responds, "No more 7 a.m. meetings."
Armour and her husband, Don, are moving back to her hometown of Cleveland to spend more time with family.
While she's not completely sure how she'll be spending her days, she knows it will always be something involving children and children's needs.
"I'll probably do a little bit of consulting for some of the not-for-profits in town," she said.
She also plans to continue serving as a member of the Rhodes College board of trustees.  
"There's an old saying that you should probably retire five years too early rather than five minutes too late, so I think I've got my timing right," Armour said. "The hospital is in good stead, and they've recruited a young, bright guy to take the next step."
After a national search, Le Bonheur named Michael Wiggins, an executive at a pediatric health care system in North Texas, as Armour's successor.  
---
MICHELLE CORBET: Le Bonheur Children's Hospital names next president
---
When Wiggins begins his tenure April 8, Armour will spend some time introducing the new leader to the community.
"I'll be available for a period of time as a sort of consultant," Armour said. "If something comes up and we haven't talked about it, he can run it by me."
When asked how long Armour will be on call, she said, "Forever. When I left Rainbow, they called me for a good year after I left."   
Armour's advice for the incoming executive is to be very careful.
"Because everyone in Memphis has about two degrees of separation," she said. "You have to understand that when you come here, someone was married to someone, divorced from someone or is someone's granddaughter."
A day does not go by without Armour getting a call from someone asking her to go check on their neighbor's or co-worker's child in the hospital.
"It's comforting for them to know they have that connection —that's the human factor of Memphis."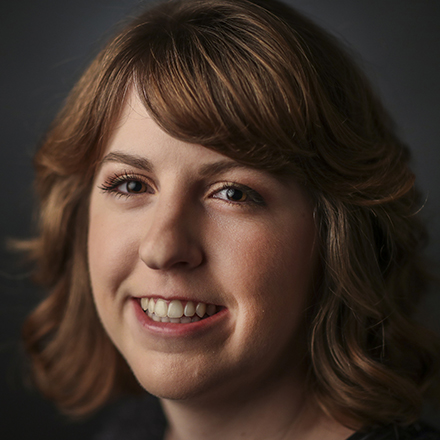 Michelle Corbet
Michelle Corbet covers business for The Daily Memphian. Prior to, she was a reporter at the Memphis Business Journal. A native Memphian and University of Memphis graduate, Michelle covered business in Conway, Arkansas after college. Michelle got her start covering business as an intern at The Commercial Appeal.
---