North Mississippi Allstars open Levitt Shell summer concert series
It had its own 80th birthday three years ago, but in this Memphis bicentennial year, it's worth noting, again, that the bandshell at Overton Park is among the city's most meaningful cultural locations.
It's a product of the New Deal, its creation funded in partnership with the Works Progress Administration and built by Depression-era relief workers. Its stage hosted Elvis Presley's first notable public concert, in 1954, and the intersection of white bohemia and traditional black blues artists during Memphis Country Blues Festivals in the late 1960s, which informed much of the modern Memphis music culture that followed.
Rehabbed and reborn as the Levitt Shell in 2008, hosting 50 free concerts each year, its impact on contemporary Memphis culture has perhaps been as profound if more subtle: The Shell was a kind of canary in the coalmine of a city re-embracing shared outdoor public spaces, its success reverberating from the riverfront to Shelby Farms and beyond.
On May 30, the Levitt Shell will launch its 11th series of 50 free concerts with the hill-country blues sound of longtime Mid-South titans the North Mississippi Allstars. Thirty concerts later, this first half (and then some) of the Shell's two-part annual series will end July 21 with young Philadelphia blues/soul guitarist and singer Devon Gilfillian. (See full summer schedule below.)
The Shell summer series may be bracketed by blues, but in between, the selections are typically varied. There's plenty of Americana/folk, rock and soul. There's also a New Orleans brass band and a New York ska band. There's a Grammy winning, all-women mariachi band; a mambo group from Cuba; some African jazz; and modern Israeli roots music.
Memphis artists include up-and-coming soul singer Talibah Safiya, modern jug-band institution the Bluff City Backsliders, and an annual showcase from the Stax Music Academy.
On June 14, Robert Randolph & The Family Band will perform in the first of three ticketed benefit shows that have been rebranded as the "Shell Yeah!" series.
For visitors this summer, changes will be more subtle than the major physical transformation of the recent past, starting with new leadership from Natalie Wilson, who became Levitt Shell executive director in December, replacing longtime director Anne Pitts.
"I'm thankful for the vision people had for how the Levitt Shell could be transformative and create better quality of life," said Wilson. "I feel fortunate to be a part of it."
"Two years ago, we did some great capital renovations. New sound, new lights, adding our new hospitality deck. This year, we're really focused on enhancing our operations and looking at what people's experiences are like," said Wilson, who previously served as executive director of visitor relations at Shelby Farms.
In terms of food, anchor trucks this year will be 9Dough1 (pizza) on Thursdays, El Mero Taco and Stanley's Sweet Street Treats on Fridays, Soi. No. 9 (Thai) and Central BBQ on Saturdays, and New Wing Order on Sundays. MEMPopS will sell popsicles all days. Other food trucks will rotate throughout the season.
The Shell's bar area will serve water, soft drinks, beer and wine, this year adding "Shell buckets," with iced beverages in a bucket.
"You can lug your heavy coolers in when you're parked a mile away, or you can not do that," Wilson said. "If people want to bring their picnic in, they can. But if they don't want to, we've got it ready."
A new "Shell Circle" membership program will offer perks (free merchandise, food and beverage discounts, and "Shell Yeah!" ticket discounts) in return for donations, though they'll still pass the bucket, a Shell tradition, at concerts.
The 20-concert fall season will begin on Saturday, Aug. 31, with the annual WLOK Stone Soul Picnic and will continue through Oct. 13, with the full schedule to be announced later this summer. One of the fall bookings will be the animated movie "The Nightmare Before Christmas" on Oct. 12. There will be two additional ticketed "Shell Yeah!" shows with acts still to be announced, one on Sept. 6 and the other in late September or early October.
2018 Orion Free Music Series at Levitt Shell
All concerts start at 7:30 p.m. For more information, see levittshell.org.
Thursday, May 30 - North Mississippi Allstars: Memphis' (and, OK, North Mississippi's) stalwart blues-and-roots brothers.
Friday, May 31 - Revel in Dimes: An exciting Brooklyn-based blues/roots quartet whose sound is rooted in a love for the same hill-country blues (Junior Kimbrough/R.L. Burnside) as the Allstars, with a little Hendrix sonics thrown in and a powerful female lead singer.
Saturday, June 1 - River Whyless: A young folk/roots band from Asheville, North Carolina, whose sound features fetching harmony vocals and some novel percussion.
Sunday, June 2 - Talibah Safiya, Beale Street Flippers: Safiya is a Memphis singer whose earthy but modern soul sound has won – earned, really – many admirers over the past couple of years. The Flippers need no introduction.
Thursday, June 6 - Sam Lewis: A soulful traditional country singer who has opened for – and has been compared to – Chris Stapleton.
Friday, June 7 - The Commonheart: Think St. Paul & the Broken Bones, only Pittsburgh instead of Birmingham (different Steel City) and blues instead of soul.
Saturday, June 8 - Freddie McGregor: A veteran reggae artist who first recorded at Jamaica's famed Studio One in 1963 … when he was 7. He's recorded more than 30 solo albums, beginning in the late 1970s.
Sunday, June 9 - BoDeans: A rootsy alt-rock band that first emerged out of Milwaukee in the mid-1980s, they were voted "Best New American Band" of 1987 by Rolling Stone readers, but found their biggest success in the 1990s when their single "Closer to Free" became the theme song to the television series "Party of Five."
Thursday, June 13 - OSOG: A young eight-piece Israeli band who have a varied, sometimes carnivalesque acoustic sound.
Friday, June 14 - Shell Yeah! benefit show with Robert Randolph & The Family Band: A funk/soul/rock band led by steel guitar master Randolph. This is a ticketed benefit show, and chances are if you're interested you know all about Randolph.
Saturday, June 15 - Jenny & The Mexicats: American singer/trumpeter Jenny (Ball) is backed by Mexican and Spanish bandmates for a flamenco-inspired folk-rock sound.
Sunday, June 16 - Bluff City Backsliders anniversary show: Before Sun rockabilly and Stax soul, the signature Memphis sound may have been the blues-era jug bands, and this longtime modern Memphis ensemble plays that style with love, musicality and crucial irreverence.
Thursday, June 20 - Hayes Carll: Texas country/Americana musician Carll is a truly terrific songwriter who has played the Shell before. His return is very welcome.
Friday, June 21 - Nicole Atkins: An indie singer-songwriter whose smoky sound shows classic rock and soul influences.
Saturday, June 22 - Ekpe & the African Jazz Ensemble: Led by Ekpe Abioto, this long-standing Memphis group has drawn from an evolving cast of local musicians.
Sunday, June 23 - Los Colognes: A young Nashville band with a cozy, rootsy, but brainy '70s kinda sound. (I hear some Paul Simon.)
Thursday, June 27 - Patriotic Pops: An annual event featuring new partners this year, the Memphis Wind Symphony. With post-concert fireworks.
Friday, June 28 - Flor De Toloache: An all-women mariachi quartet from New York City. Latin Grammy winners.
Saturday, June 29 - Stax Music Academy: The students at Stax showcase their expert schooling in the Memphis sound.
Sunday, June 30 - Donna the Buffalo: Around for more than 20 years, this band from New York state is a kind of roots/jam institution.
Friday, July 5 - Walden: A young rock band from the musical hotbed of Athens, Georgia.
Saturday, July 6 - Orquesta Akokan: A modern mambo band from Havana, Cuba, who have released music in the U.S. via the vaunted New York throwback soul label Daptone.
Sunday, July 7 - The Petersen Brothers: A young Texas blues band.
Thursday, July 11 - Israel Nash: A Texas country-rock singer-songwriter.
Friday, July 12 - The Marias: A bilingual "psychedelic soul" band from Los Angeles with a sultry, throwback sound.
Saturday, July 13 - John Paul White: Formerly one-half of the breakout, Grammy-winning Americana duo the Civil Wars, White has released two albums since returning as a solo artist in 2016.
Sunday, July 14 - Los Coast: This young Austin, Texas, band describes itself as "psychedelic-pop-soul," and I can't do better than that.
Thursday, July 18 - Black Joe Lewis: A blues/rock singer and bandleader who broke out of Austin, Texas, about a decade ago as the frontperson of a popular club band.
Friday, July 19 - New Breed Brass Band: As their name implies, this is a young, relatively recent addition to the rich New Orleans brass band tradition.
Saturday, July 20 - The Slackers: A New York City ska band that first emerged in the 1990s.
Sunday, July 21 - Devon Gilfillian: A young blues/soul singer and guitarist originally from Philadelphia.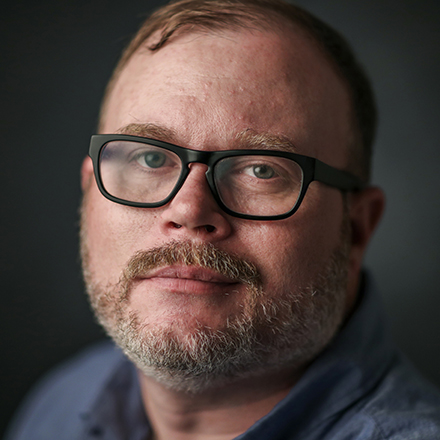 Chris Herrington
Chris Herrington covers the Memphis Grizzlies and writes about Memphis culture, food, and civic life. He lives in the Vollentine-Evergreen neighborhood of Midtown with his wife, two kids, and two dogs.
---