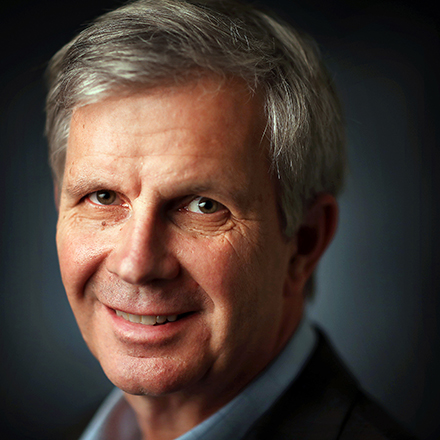 Geoff Calkins
Geoff Calkins has been chronicling Memphis and Memphis sports for more than two decades. He is host of "The Geoff Calkins Show" from 9-11 a.m. M-F on 92.9 FM. Calkins has been named the best sports columnist in the country five times by the Associated Press sports editors, but still figures his best columns are about the people who make Memphis what it is.
Calkins: Rhodes professor (and Memphis!) have a horse at the Preakness
Marshall Gramm finished up a semester of teaching economics at Rhodes last week, cleaned up the accumulated papers of another academic year, and then decided to enter a horse in the Preakness.
Seriously.
The name of the horse is Warrior's Charge.
It is owned by Gramm (the Rhodes professor), Clay Sanders (a Memphis bond trader), Gary Garlington (one of the owners of Memphis Pizza Cafe), Mike Pietrangelo (former legal director at Schering-Plough) and the rest of the partners at Ten Strike Racing.
"We've got 65 people coming up from Memphis and Arkansas," said Gramm, 45. "We're such a big group, we'd take up half the owners tents. We've got our own tent in the infield."
So if Warrior's Charge wins the thing, it will be quite the Mid-South shindig.
"I'm pinching myself," said Gramm. "I had a hard time concentrating last week. It's sort of amazing to be here, as a kid who grew up in Washington, to be racing a horse at Pimlico."
Mind you, Gramm didn't actually go to Pimlico when he was growing up. He's the son of former Texas Sen. Phil Gramm. But he was a regular reader of the Washington Post sports section, which happened to include the work of legendary racing writer Andrew Beyer, and young Gramm quickly found himself hooked.
But horse racing was just a happy diversion at that point. Gramm got his undergraduate degree at Rice, his Ph.D. at Texas A&M and then his gig teaching economics at Rhodes.
Gramm would still bet on horses – indeed, he recently won $60,000 by finishing ninth in the National Horseplayers Championship – but he didn't get into ownership until 2008.
"We got this harebrained idea to claim a horse for $5,000," he said. "We were offered $10,000 for it on the spot. I was very naive. If the same thing happened today, I'd take the $5,000 profit."
Gramm did not take the profit. He's been racing horses ever since. Along with Sanders, he founded Ten Strike Racing, named after the winner of the 1884 Tennessee Derby.
"We weren't thinking about Triple Crown races when we did it," Gramm said. "If we had a really good horse, we'd sell it and make a profit. But what happened was, we started building up the number of partners. When there were five partners, each of us owned 20 percent. But when you have 50 partners, everyone owns a small piece. As a result, the offers for a really good horse aren't life-changing any more."
Which brings us to Warrior's Charge, a colt the partnership bought as a yearling because they liked his sire.
"His name is Munnings," Gramm said. "We loved that sire. He was a sire that was cheaper, affordable, throws good, competitive horses."
Just the sort a Memphian would want, right?
But Warrior's Charge didn't exactly take the world by storm. Which explains why Ten Strike Racing didn't nominate him for the Triple Crown in January (when it would have cost $600) or in April (when it would have cost $6,000). 
Indeed, when Gramm was cleaning up his office at Rhodes the week before the Kentucky Derby, he still had no thought of entering the horse in the Preakness. That didn't happen until the Monday after the Derby, when he was having lunch and he saw a tweet that said Country House wasn't going to run.
Warrior's Charge had finally started to show the talent that Ten Strike Racing thought he had, winning his last two races at Oaklawn by a combined 12 1/2 lengths. 
"So when I saw that Country House was out, and I already knew Maximum Security wasn't going, I said that we need to start thinking about the Preakness," Gramm said. "We talked to the trainer and the rest of the ownership group and decided to take our shot."
Instead of paying $600 or $6,000 to enter, it will cost the Memphians $150,000. But Gramm, the economist, still thinks it's worth the risk.
"He's probably worth $600,000 to $750,000 right now," Gramm said. "The Preakness could increase it to $4 million. The winner's share is $900,000. You're talking about, if you finish third, we break even on the gamble. We may look like geniuses or we make look like fools."
Gramm expects Warrior's Charge to go off at 10/1 or 12/1 odds. He'll need to break well in order to win.
"I think we've got to be on or near the lead," Gramm said. "If they let us control the pace, I think he's got a good shot. In his two wins he's basically been on the lead and then taken off around the final turn and then left them in his wake. He needs to break well, the pace needs to be sensible. If he gets a good trip I think he should be contention turning for home."
So place your bets on Warrior's Charge, Memphians. Place your bets on the Rhodes professor and the Memphis Pizza Cafe owner and the rest of the Bluff City group.
And if they win, look for the extra-large owners tent in the infield.
You just might see someone you know.
---