After 15 years of going back and forth, Memphis' longest-running sports talk show is still going strong
Fifteen years ago, the Memphis sports landscape was an interesting place. 
Hubie Brown had just led the Memphis Grizzlies to a 50-32 record in the team's final season at the Pyramid before moving into FedExForum, winning NBA Coach of the Year honors in the process. Tigers running back DeAngelo Williams was gearing up for a junior campaign that would see him rush for a nation-leading 1,948 yards. David Toms had just won the FedEx St. Jude Classic for the second year in a row (no, Tiger Woods didn't come that year either).
And one of the few places – in comparison to today – that you could listen to folks discussing it on the radio was on WHBQ-AM 560, where a show pairing a fast-talking former television broadcaster from Atlantic City and a sports-obsessive from Kankakee, Ill. had just debuted.
Greg Gaston and Eli Savoie may have seemed like a bit of an odd couple to listeners who joined them around lunchtime that first day, June 1, 2004. But the pair quickly became a staple on the local airwaves. And 15 years later, "Sports 56 Middays" is still going strong as the longest-running sports talk show in the market.
It's an impressive run that doesn't show signs of ending anytime soon. Which is probably one of the few things the two will readily agree on. They have carved out a nice niche by being informative, entertaining and – most importantly –genuine.
"You've got more stations now; you've got podcasts. There are a million different ways to get conversations about sports," said Savoie, who doubles as the program director at Sports 56.
"Whereas what we are … we're continuing to do what we've done, and we're a little different because we're covering everything. We're not going to get bogged down in just talking Grizzlies or just talking Tigers. We're giving people variety and we're giving people entertaining debate."
Indeed, the two talk plenty of Grizzlies and Tigers, red meat for much of the local listening audience. But the guest list over the past few weeks has also included new Arkansas basketball coach Eric Musselman, Ole Miss baseball coach Mike Bianco, former White Station football star Dillon Mitchell (now with the Minnesota Vikings), Memphis 901 FC coach Tim Mulqueen and University of Memphis president Dr. David Rudd.
"We want to make sure there's diversity of all the things we're talking about," said Gaston. "For the Triple Crown races, we'll bring on an expert because you know what, there are some people out there that care about that. Or NASCAR every once in a while. Not all the time but every once in a while make sure we've touched it."
There's a decent chance though that if Gaston is a Kyle Busch man then Savoie will be on Team Brad Keselowski. The two frequently disagree on a given subject – the coaching acumen of Josh Pastner was a particularly juicy subject – but it's not staged or scripted. It's real, although never personal.
"Not that I'm sensitive, but I probably get a little more sensitive than he does if he says something," said Gaston. "A lot of times he's kind of sarcastic and once in a blue moon I'll take it personal and I shouldn't do that because I know he doesn't mean it to be that way. But I'll take it that way … but heated man, we're always at each others throats, but it's in the context of sports talk radio. When we're done, I'm not holding a grudge.
"But it happens (disagreeing) all the time. And that's what makes our show different."
Added Savoie, "I always thought that Josh – from the very get-go – I questioned his coaching technique, and I always felt like Greg defended Josh no matter what. It was always, 'well, he's such a great recruiter,' and I was 'well, he isn't getting any thing out of the recruits. Why isn't he winning?' But I always thought he would defend Josh no matter what."
Said Gaston, "I think too with our relationship – and he might disagree with this – but I think I'm more apt to give in to or be persuaded by an (opposing) opinion. I have an opinion about something, and Eli has an opinion about something; I think I'm more open to say, 'you know what? You're right.'"
"Because I am always right," interjects Savoie, with a laugh. "When you're wrong all the time and somebody points out that you're wrong, it's easy to go right."
Savoie, 44, has always been confident in his sports knowledge. Growing up in Illinois, he collected baseball cards, immersed himself in statistics and soaked up as much sports knowledge as possible. 
"I would even play basketball by myself in the back yard, pretending to be this (team) and keeping my own stats," he said. "That type of stuff always mattered, and I've always had strong opinions about sports growing up, good or bad. I had six older brothers so there were plenty of arguments I got into about all that stuff."
Indeed, even if Savoie worked in a cubicle somewhere, he'd still be discussing sports with anyone who'd listen. He began his broadcasting career in college at Southern Illinois-Edwardsville and worked in St. Louis and Iowa before starting his career at Sports 56 in March of 2003. Savoie hosted a morning show for approximately a year before hooking up with Gaston, who spent several years in both radio at Sports 56 and television in the market after arriving from Salisbury, Md. in 1995.
"I had done two previous, one show was with Michael Eaves, who's now at ESPN and one was very short-lived with Peter Edmiston, who was just starting out," said Gaston, who graduated from the University of Maryland.
"Television was the big moneymaker but it was a grind, a lot of hours. But radio, that was fun. That was a chance where you had hours to talk to people and people could talk to you and go back and forth … I think Eli came to my house and approached me with the idea for the show and I jumped on that one."
Gaston had the institutional knowledge of the local sports scene that Savoie was still developing. But both had their strong opinions and respective passions, which are still going strong even after being on the air 15 hours a week for the last 15 years.
"A lot of times our opinions don't agree, and we're fine with that," Gaston said. "Because we both have that passion. I know most people do, but I think there are some in sports talk and even some locally who are doing sports on television that are doing it because it's a job. They're not really passionate about it.
"And at least I know from my standpoint, and I think I can speak for Eli, we're passionate about sports and we love to get into it. I think that's a way to have a great talk show, to have differing opinions. Not forcing those mind you, not doing something (just) to be different. But to have different opinions, to voice those opinions and to have healthy debate."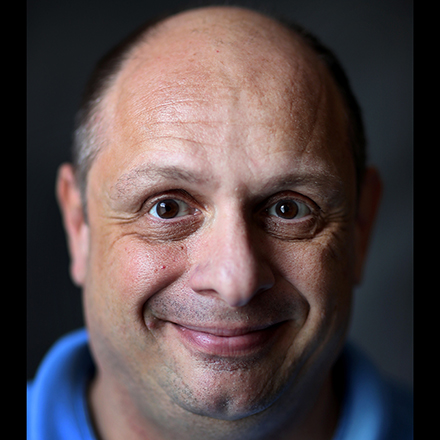 John Varlas
John Varlas is a lifelong Memphian who has covered high school sports in various capacities for over 20 years.
---