Grizzlies return home with new roster, new resolve, but will it matter?
A lot happened to the Grizzlies on a two-game road trip to San Antonio and New Orleans. They added a new player, with trade acquisition Justin Holiday making his team debut, and subtracted one, with Chandler Parsons leaving Memphis with the team but not returning with them.
Along the way, the Grizzlies hit a new season-high losing streak of six games and counting, and the general competitiveness, even amid losing, has started to slip, with close games turning into big losses in the second halves.
The weekend roster math brought resolution, such as it is, to a few weeks of awkwardness, with two players (MarShon Brooks and Wayne Selden, dealt for Holiday) who had been left in limbo by a reported-then-aborted trade and another (Parsons) left in limbo by a combination of management fiat and personal stubbornness removed from the mix.
Those issues dealt with, a return home is a chance for the Grizzlies to hit the reset button, or so they hope.
"There's always the human element and there are the emotions involved in those situations," said head coach J.B. Bickerstaff after a Tuesday practice that sounded particularly spirited from the other side of closed doors.
"The resolution gives people an opportunity to move on, and once you do you can start to rebuild whatever continuity that was there. It's true in team sports how important chemistry is, and when you have those kind of distractions, it has an impact on the team. Until those things are resolved, it's hard to move through them. That's no excuse, but it is the reality of the situation. It (did) put extra pressure on people from an emotional standpoint."
"We've had some unfortunate things happen the last month that, as players, you really have no control over," said Mike Conley. "This game, a lot of it is mental. You can see it the way we've played over the past couple of weeks. We'd play well for a couple of spells and the bad things happen and we couldn't overcome them. But today's practice, the energy in here was just unbelievable."
The Grizzlies will need resolution and renewed energy to carry over from the practice court to the floor.
In just six weeks, the Grizzlies have have fallen from a brief perch atop the West to tied for 14th, and are now 3.5 games out of the conference's final playoff spot. The team will now play four of its next six games on the road, and all against quality opponents, starting at home Wednesday against the same San Antonio that easily dispatched them over the weekend.
"We have a lot of games left, we have a lot of time to improve, a lot of time to get things back on track, and believe it or not we like the schedule we have, playing against a lot of these good teams coming up," Conley insists.
Marc Gasol professed confidence the Grizzlies can turn things around, but while there is plenty of road ahead -- Wednesday game marks the season's halfway point -- the NBA trade deadline (February 7) is less than a month away, and that's typically a decision point for teams, like the Grizzlies, that are teetering on the competitive fence.
"That's the good thing about winning," said Gasol. "You win, you don't have to worry about any of those things. You win, you look a lot prettier and younger and healthier. You lose you look older and slower. That's the nature of this business, so let's just win and make everybody look good."
Some quick notes on some other Grizzlies issues du jour:
The most interesting subject in the Chandler Parsons story is not Chandler Parsons: I did a little rant on this subject on Tuesday morning's "Geoff Calkins Show" appearance. I've written more than enough on Parsons, but will do the shorter version here: For all the attention on Parsons over the past couple of weeks and especially the past couple of days, the fundamentals haven't really changed: Parsons is an organizational sunk cost. His knee issues are such that he's not going to be a meaningful player again for any extended amount of time. The Grizzlies had reached the point of waiting to get into the final year of Parsons' contract in order to pursue the most productive way to bring the whole thing to an end. This was true a month ago. It's true today. It just became a more public mess.
What recent events did do was shine a light on the relationship between the Grizzlies management and its coaching staff, because the decision not to activate Parsons was really a decision not to give Bickerstaff the discretion to decide if or when or how to use Parsons.
As far as it goes, Bickerstaff responded to this question on Tuesday about as well as he could have, allowing that there was some internal disagreement but making a convincing public case that it isn't a big deal:
"I don't think there's any issue there. The healthy part of any relationship is the ability to disagree and move forward, and we're not always going to agree. I have no issues with that and they have no problems with that. We've got to put a plan in place and once we leave the room we've got to got to execute the plan to the best of our abilities. That's where we are. But I've got no issues and no animosity and feel like they've got my back completely."
Marc Gasol is what matters most: For all the Grizzlies drama of the past month -- trades, non-trades, Chandler Parsons, the Garrett Temple-Omri Casspi thing, Jaren Jackson Jr.'s usage, the backup point guard switch -- the apparent disintegration of Gasol's game seems like the most important on-court factor in the Grizzlies' struggles.
Look at Gasol's personal production month by month:
November: 20-10-4 on 50/39 shooting in 37 minutes a game
December: 13-7-5 on 39/30 shooting in 33 minutes a game
January (so far): 9-8-5 on 34/15 shooting in 30 minutes a game
It looks just as bad on the defensive end if you dig into the numbers or just watch, where Gasol's lateral movement and reactions are a beat slow compared to his all-NBA-level November.
What happened? People like to dismiss it, including Gasol himself, again on Tuesday, but I have to think wear-and-tear is a major factor. It can't be an accident that Gasol's play tailed off immediately following spraining his ankle at the end of November and then playing 46 minutes on it in the next game. He was playing as well as ever at that point and hasn't been the same since, and he played in San Antonio despite being listed as questionable with hamstring soreness.
Gasol is ninth in the NBA in minutes played this season. The only other seven-footer in the Top 20 is 23-year-old Karl-Anthony Towns. The only other player Gasol's age (33) or older in the Top 20 is P.J. Tucker, a role player who is called on to do far less.
Early in the season, the Grizzlies schedule had a lot of built-in rest. Over the past month, the games have come with more frequency, with fewer days off. My guess is that the Grizzlies will look back and regret not sitting Gasol down for a week or two after the ankle sprain and also regret not building some rest for him into the schedule once it tightened up.
Justin Holiday gets a practice: New man in town Holiday got thrown into the deep end on the road trip, playing in both games without having practiced with his new team. The results were shaky, with Holiday shooting 1-10 from the floor. But I was more struck by where the shots came from.
Over his past three seasons, the percentage of Holiday's attempts that have come from three-point range have risen from 50 percent to 60 percent to 70 percent. Only three of his 10 attempts in those road games were from three. Instead Holiday found himself operating as a playmaker and walking into some mid-range pull-ups.
"The shots I got are shots I'm very comfortable making," Holiday said. "The systems are different, but the way I see it shooting is shooting. But the practice did help me."
"We're trying to simplify things for him as much as we can," said Bickerstaff. "He's not going to be able to get it all in in one shootaround and one practice. When he goes in the game right now, we limit the actions that we run."
With two wings traded for him and now Dillon Brooks out with a toe injury, the Grizzlies will likely lean on Holiday pretty heavily, if not nearly as much as Chicago did. (Right behind Gasol in total minutes played this season: Justin Holiday.) But for Holiday to make his biggest impact, they'll need to find him more shots from behind the arc.
Early returns on the backup point guard switch: Jevon Carter has five steals in the two-and-a-half games since taking over from Shelvin Mack as Mike Conley's caddy. He also has a 3-to-1 assist/turnover ratio and the team has generally been competitive while he's on the floor. But he won't stick in the job long-term unless he shoots better. Mack had been slumping, but Carter's 3-17 over the three games. That has to improve.
Premature tanking talk: After Monday night's loss in New Orleans, I got a little mischievous:
Hello Darkness, my old friend ... pic.twitter.com/MxrVyw26qb

— Chris Herrington (@HerringtonNBA) January 8, 2019
This was a joke, not advocacy. There's an interesting, complicated discussion to be had if and when the Grizzlies reach the point of no longer being in a playoff race. We started to have that discussion on the radio this week, where nothing can wait, but I'm going to hold off in this space. The way I see it, the Grizzlies have about three weeks to right the ship before this season fundamentally changes.
A little pick-me up: If you're looking for something to feel good about in regard to the Grizzlies, I recommend this Ringer piece about the current rookie class, which pegs Jaren Jackson Jr.'s future as some blend of Celtics sophomore forward Jayson Tatum and Knicks currently injured but superstar-level-talented younger center Kristaps Porzingis.
Tony Allen back at FedExForum: Sort of. TA went in-studio on "The Chris Vernon Show" on Tuesday, and it was glorious. Highlights: Talking about Marc Gasol as if he has a Bruce Banner/Incredible Hulk split personality. (How do you get Marc going? "Make him mad.") Threatening to come sit courtside at a Grizzlies game. (Where's your ticket? "Go ask Chris Wallace.") And insisting there's still a place in the NBA for a defender who can't shoot. ("Michael Kidd-Gilchrist, he throwing the ball wild and outside," Allen says of the Hornets' defensive specialist.)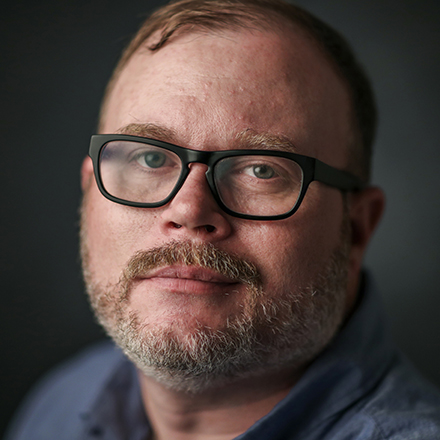 Chris Herrington
Chris Herrington covers the Memphis Grizzlies and writes about Memphis culture, food, and civic life. He lives in the Vollentine-Evergreen neighborhood of Midtown with his wife, two kids, and two dogs.
---