Grizzlies Mailbag: Zach Randolph's future, Chandler Parsons' contract, Kyle Anderson's role, and more
Welcome to the second Grizzlies Mailbag of the 2018-2019 season, where the Grizzlies are piling up wins and we're piling up questions. Let's dig in.
Grizzlies Questions of the Week
@HerringtonNBA For the mailbag - is there actually anything of substance to Z-Bo being bought out of Sacramento by the Grizzlies?  His appearance in the 901 recently makes the idea a little more compelling.

— Jason Mullenix (@MemphisOB) October 31, 2018
I got a lot of Zach Randolph questions last week, and they haven't gone away. For the sake of clarity, Randolph's potential departure from the Kings and potential arrival with some other team – unless it were a trade – would be discrete events. In this scenario, the Kings would buy him out, and then he would be free to sign elsewhere.
On the first part: After being Sacramento's leading scorer in the first year of a two-year contract last season, Randolph has been persona non grata this season. Not only has he not appeared in a game, he doesn't seem to be with the team. The one Randolph sighting recently was in Memphis – where he maintains a primary residence – hanging out with Tiger hoops recruit James Wiseman. A buyout in Sacramento at some point this season seems likely.
On the second part: I'm very skeptical of the idea that we'd see Randolph back in Beale Street Blue this season. The Grizzlies have held up pretty well in JaMychal Green's absence, even with recent Jaren Jackson Jr. foul trouble. It's allowed them to play some smaller lineups, which have generally been productive, and opened the door for Ivan Rabb to get some minutes off the bench, where he's responded. And Green will be back in a few weeks. I think the Grizzlies might like another big on the roster – but more likely a defensive option in the middle. And I don't think they'll feel like they need to make a frontcourt move unless they find themselves without Gasol for an extended period. That early rebounding crisis? The Grizzlies have quietly crept up to 14th on the defensive boards.
Randolph was productive last season in the buckets-and-boards sense, but he's an increasingly tough play with the way the league is shifting. A farewell tour in Memphis would please a lot of fans, but I don't sense there's a great internal hunger for it. A bigger question isn't whether a bought-out Randolph would end up in Memphis, but this: Would he end up on any team?
do you think kyle should be used more as a ball handler than a wing?

— TJ fr??m TWlTTER (@TJfromTWlTTER) October 31, 2018
Kyle Anderson's biggest weakness is spot-up shooting. He's at his best either triggering plays or finishing them closer to the basket. So he's a … point power forward?
As I wrote in the postgame notebook from Tuesday night, I don't think it was a coincidence that Anderson had his best game as a Grizzly playing mostly at power forward, which allowed him to be more of a factor on the boards and use his comfort as a ball handler to help transition the team into its offense more quickly off of those rebounds.
I think that given Anderson's skill-set and the trends of the league, he will continue to play a lot of his minutes at power forward, even if he doesn't start there. (I think that was a long-range idea when Anderson was signed to a four-year deal, with the notion that Jackson Jr. would ultimately develop into primarily a center.) But the Grizzlies do need to build better offensive chemistry among Anderson, Mike Conley, and Marc Gasol. He can't be a spot-up shooter playing off of that duo, but needs to play more with them. Like Conley and Gasol, Anderson is a great passer and cutter. They need to find a way to work some magic together.
The Grizzlies are currently 12th in the league in 3 point percentage, the highest I remember them being in forever. It *feels* sustainable. Is it?

— Master of Mustaches (@MasteroMustache) October 31, 2018
Being a bad three-point-shooting team was such a part of the identity of the grit-and-grind-era Grizzlies that we've come to think of it as a kind of permanent condition. It doesn't have to be, and as you note, in fact isn't.
During the Lionel Hollins and Dave Joeger tenures, the Grizzlies never ranked higher than 25th in three-point attempts or higher than 19th in three-point percentage. Most years, they were near the very bottom in both.
I've always maintained that this wasn't primarily about the shooters the team didn't have, but about the non-shooters the team did have. You couldn't start Tony Allen and Zach Randolph and be a good three-point shooting team. But the trade-off was generally worth it.
The Grizzlies have brought in another relative non-shooter at wing/forward (Kyle Anderson) at a time when players of that type have become even more rare. But Anderson and spot-minutes center Ivan Rabb are the only real non-threats on the roster. It's probably the best shooting depth the franchise has had.
This Grizzlies team is short on individual shot-creators. They will have to execute their way to competence. That means passing (currently 9th in assist rate), cutting, and, yes, shooting. The Grizzlies are currently 23rd in attempts (20th if you correct for their slow pace) and (from what I see) 13th in percentage. I think both of those numbers are sustainable (Gasol will shoot worse going forward, Conley better, etc.), and the attempts number could probably stand to increase.
An email question:
Do you think JaMychal gets his starting job back when he gets back from injury? I know JJJ has more potential and has shown flashes, but foul trouble has plagued him so far. Curious to know what your take is. – Zach Jaffe
As I've said from the beginning, I think the starting question between Green and Jackson this season was and remains a pretty low-stakes choice. We tend to focus on starters, but for this Grizzlies team in particular, it's going to be about how J.B. Bickerstaff juggles his 13 available across 48 minutes each night. There should be plenty of minutes to go around, and because of fouls and just generally being a 19-year-old rookie, Jackson's very unlikely to be a 30-minute-a-game player this season. I don't think the "you don't lose your starting job because of injury" thing applies here at all. If Jackson's healthy and generally playing well when Green returns, I suspect Jackson would stay in the starting lineup. But I do think Green will start games again for the Grizzlies this season. Some of those will probably be alongside Jackson.
Is top 5 in defensive rating sustainable?

What major differences have you noticed with Jaren during his slump since his 24 point outburst?

— Zach Wheat (@zach_wheat) October 31, 2018
Both of these questions deserve a wider treatment. I'll get to the second (mostly it's the fouls) soon and the first soonish. But a short answer on the lead question is that Top 5 feels greedy, but Top 10 – perhaps a competitive requirement – seems increasingly believable.
As this is written, the Grizzlies are third in defensive efficiency, surrendering only 100.4 points per 100 possessions, behind only Boston and Milwaukee. But they've played some bad offenses (Atlanta, Washington, Phoenix without Devin Booker). Let's see what they look like in the week ahead against Golden State and Denver.
That said, this team does have the bones of a good defense, with Garrett Temple and Kyle Anderson adding length and smarts on the wing and Marc Gasol looking rejuvenated by the injection of some teammates who can keep the dam from breaking. And the Grizzlies have been absolutely stifling when those three players have been together, giving up only 85.3 points per 100 possessions in more than 70 minutes together. Add a savvy veteran at point guard in Mike Conley and a pterodactyl-in-training in Jaren Jackson Jr., and the defensive ability of that starting lineup is very high. Can it score? That's a different question.
Question for your mailbag: has there ever been a worse free agent signing in Association history?

— Sherman Willmott (@ShermanWillmott) October 26, 2018
@HerringtonNBA for the mailbag: On the off chance that Parsons' knee issues keep him out 50+ games and he decides to retire after the season, do the Grizz still owe him the final year of his contract?

— Brad Jameson (@bradjameson) October 31, 2018
Let's take the second part first: The short answer is yes. Parsons' contract is fully guaranteed. Could some future buyout agreement shave a little bit off of it? Sure. Is there a mechanism where the Grizzlies could spread the salary cap impact out, if they wanted to? Yes. But it's a guaranteed contract. Even a retirement after this season is unlikely to offer relief. 
Is it the worst ever?
Context matters here. In the late 1980s, the Atlanta Hawks gave center Jon Koncak $13 million over six years. Doesn't sound like much now, but that was more than Michael Jordan and Magic Johnson were making on a per-year basis.
And the big misses used to last longer: Gilbert Arenas? Darius Miles? Allan Houston? It took six years to get through those bad deals. Make it seven for Erick Dampier.
With the cap spike, the summer of 2016 was a bad year to have money to burn if you weren't eating at the very top of the food chain. There is so much regret. So much money for so little return: Evan Turner ($70 million), Ian Mahinmi ($64 million), Luol Deng ($72 million), Timothy Mozgov ($64 million), Joakim Noah ($72 million).
And the Parsons deal – $94 million! – is more than $20 million more than any of those.
Some of those – maybe all of those – looked worse in the moment, but that's only because we didn't fully understand the extent of the damage to Parsons' knees at the time of the signing. The Grizzlies probably should have. The risk is made all the more galling in retrospect by the lack of protection – performance clauses, partial guarantees, anything – they were able to get. Reporting at the time is that Portland was offering Parsons the same deal. Subsequent investigation renders this claim more murky. I have my doubts, and my reasons. 
Given the context of the relative size of the salary cap, the relative shortness of the contract, and the minefield that whole summer represented, there are probably worse deals. I don't have the time for too intensive an analysis. But strictly in terms of production gained relative to raw dollars spent, I think it's probably the worst.
I know the NBA favors big cities/warm weather for All Star Weekend, but with Cleveland being announced for 2022, has the Grizzlies front office ever put up a proposal to host?

— Grantula (@grantnewkirk) October 31, 2018
I believe the Grizzlies made an attempt at this sometime in the distant past, but don't think they've done so any time recently. It's generally understood that Memphis currently lacks the hotel capacity the NBA requires for hosting All-Star Weekend.
Memphis is not alone in this regard. Portland, a city with a longer, richer NBA history, has been trying to get a bid and hasn't for essentially the same reason.
Do you think the FO intended to make this roster the most herky jerky in NBA history? The mix of styles on the court at any time during a Grizzlies game is hilarious. Temple's game is as much Louisiana as Casspi's is Euro/Israeli. It's fun to watch but utterly disorienting.

— ?? C. Grrrrrbrrr ?? (@CGrrrrrbrrr) October 31, 2018
I feel bad now that when I sat down with Chris Wallace and John Hollinger this summer for a long conversation about the team's offseason I didn't ask their intent to build the most herky-jerky roster in NBA history. This is a GM who once put Hasheem Thabeet and Hamed Haddadi together, so you never know. I also haven't previously contemplated a "Louisiana" playing style. What's the on-court commonality between Temple and Jarell Martin? This has given me something to think about, and I will watch more closely.
The 'Around the Association' Question of the Week
Who's your pick for surprise bad team likely to remain bad and surprise good team likely to remain good?
Or, said another way, whose hot start is for real and whose bad start is for real?

— Scaren Jackson Jr (@BallFromGrace) October 31, 2018
Is it too easy to cite the two teams who played at FedExForum on Tuesday night? Probably so, but the Wizards were projected as a playoff team and are in real trouble. The Grizzlies were projected in the low 30s. It's too soon to say with certainty that they'll be better than this. Conley and Gasol are on pace to each play a full 82 games and the combined record so far of the team's three home opponents is 4-16. Tougher tests will come, but I do think that preseason "over" looks pretty good.
Beyond that: I did not believe in the Pistons' 4-0 start, but I am pretty intrigued by the Kings right now. They're 5-3 with a slightly negative point-differential, and I think the latter will win out over time. But there's something here: Buddy Hield, Willie Cauley-Stein, and especially De'Aaron Fox are all former Top 10 picks in their early-to-mid twenties and each seems to have taken the kind of significant step forward that shouldn't be shocking for players of their type. Dave Joerger is a good coach when he has something to work with, and it seems like maybe he finally does. They already have three road wins and have been without possibly their best player from last season, guard Bogdan Bogdanovic, who should be back early next month. The Kings were projected to win in the low-to-mid twenties. They could end up being 10 games better than that.
On the other end, the Lakers (2-5), Thunder (2-4), and especially the Rockets (1-5) are all West underachievers. I was down enough on the Rockets' offseason to move them to third in the West in my preseason projections, but I didn't see this coming. Either by getting Chris Paul/James Harden together more (they've only shared the floor twice in the team's six games) or by making a move, I think they'll start reeling off regular-season wins at some point.  With Russell Westbrook back, OKC is in more stable shape right now than the other two, but with fewer resources to alter their roster and a firmer ceiling. The bet here is they end up a playoff bubble team with a very steep price tag. The Lakers? They're a candidate for a major in-season shake-up, and my preseason projection was partly based on the belief that this will come. If not? I probably wouldn't pick them for the playoffs today.
The 'There's More to Life Than Basketball' Question of the Week
What movie(s) are you looking forward to the most from now until the end of 2018?

— Matthew Dixon (@MADixon90) October 31, 2018
Well, first off, I have so much catching up to do on titles from earlier in the year. I never saw "Leave No Trace" or the latest "Mission Impossible" or "Won't You Be My Neighbor" or so many other well-regarded titles of all kinds.
That said, here are five yet-to-appear that I'm going to try not to miss:
"Roma": Anything by director Alfonso Cuarón ("Y Tu Mama, Tambien," "Children of Men") is an immediate must-watch. I'm even more intrigued to see him returning to his native Mexico for this one.
"If Beale Street Could Talk": Barry Jenkins' follow-up to "Moonlight." Already sold out at Indie Memphis this weekend, but I'll catch up with it on wider release.
"Widows": One of our best current directors (Steve McQueen of "12 Years a Slave") and actresses (Viola Davis) team up for a genre flick. I'm in.
"Creed II": Confess your unpopular opinion? I'd be even more excited about this if it focused on Tessa Thompson's character navigating Philly culture. But a fan-service next-generation repeat of Creed-Drago? Sure, why not?
"Wildlife": Actor Paul Dano's directing debut is a family drama starring Jake Gyllenhaal and Carey Mulligan (a fave) that's gotten some great word-of-mouth.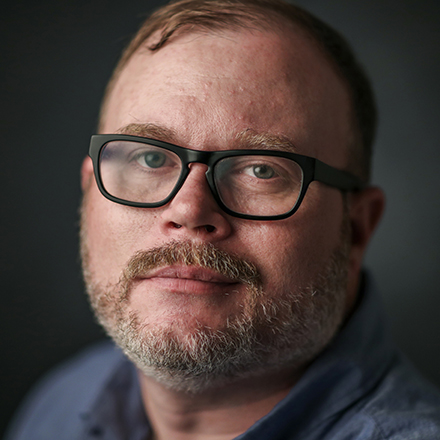 Chris Herrington
Chris Herrington covers the Memphis Grizzlies and writes about Memphis culture, food, and civic life. He lives in the Vollentine-Evergreen neighborhood of Midtown with his wife, two kids, and two dogs.
---