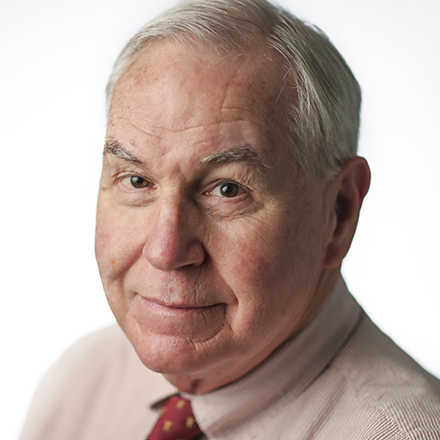 Michael Nelson
Michael Nelson is contributing editor and columnist for The Daily Memphian, the political analyst for WMC-TV, and the Fulmer professor of political science at Rhodes College. His latest books are "Trump: The First Two Years" and "The American Presidency: Origins and Development, 1776-2018."
Nelson: Election night overload? Here are some things you may have missed
So much to talk about after the Mid-South midterm elections. Let me focus on some non-obvious things that happened in Tennessee, Mississippi, Arkansas, and Memphis last night – in that order.
Tennessee Senate election
Yes, Tennessee is a red state, the second-most Republican in the South as measured by the share of its votes that it gave Donald Trump in 2016 (Alabama was first) and the eighth-reddest in the entire country, according to FiveThirtyEight.com.
No Democrat has been elected to the Senate from Tennessee since Al Gore in 1990. The last Democrat to win a statewide election of any kind was Phil Bredesen, who was re-elected as governor in 2006.
And yes, Bredesen, at age 74, his last political campaign until this one 12 years in the rear view (talk of a Democratic vice presidential nomination having petered out), was a rusty campaigner.
In truth, Democrats of a certain age who come out of retirement to run for the Senate – think former vice president Walter Mondale in Minnesota in 2002 and former Sen. Evan Bayh in Indiana in 2016 – almost never win.
All that said, evidence that this year's election was winnable for Bredesen – just as the Alabama Senate election last year was winnable (and won) by Democrat Doug Jones – was written in the mid-September polls that showed him in the lead, with reasonably strong support from the sort of moderate conservative Tennesseans who over the years have elected voice-of-reason Republicans like Bill Haslam, Lamar Alexander, Bob Corker, Bill Frist and Fred Thompson.
"I'm in the fortunate position," Bredesen told the New York Times, "that people on the left are enraged enough that they will find almost anything I do, with a D (for Democrat) after my name, acceptable."
Well, maybe not "anything," especially when that included endorsing Brett Kavanaugh for the Supreme Court and praising Trump's deregulatory policies. From late September on, Republican nominee Marsha Blackburn pulled into the lead, culminating in her 11-point victory on Tuesday.
Surely one overlooked explanation of why Blackburn defeated Bredesen is rooted in their contrasting careers. For the past half-century, whether as business owner, mayor of Nashville, or governor of Tennessee, Bredesen served in executive posts that involved weighing, balancing, and working to accommodate a variety of perspectives before making decisions — and then taking responsibility for those decisions and being accountable for how well they turn out.
Did you notice? Nearly all of Bredesen's sentences during the campaign ended with "and so on." It's not verbal laziness, just evidence that even after giving a lengthy and complex answer, he knew that there were even more considerations that he didn't have time to mention.
Blackburn has always been a legislator, whether in the Tennessee state Senate for four years or the U.S. House of Representatives for the past 16 years – a total of two decades in which legislative politics, both in Nashville and Washington, has grown steadily more polarized along partisan and ideological lines. She has spent her life in politics choosing sides, taking positions and, in terms of consequences, letting the chips fall where they may. Throughout her career, Blackburn has played to the hilt the legislator's game of advancing by attacking.
In her ads and in her two debates with Bredesen, Blackburn had a consistent and clearly delivered message: I'm against Chuck Schumer and he's for him, I'm for Brett Kavanaugh and President Trump and he's against them. Bredesen actually was against Schumer, for Kavanaugh, and halfway there with Trump, but it always looked as though it pained him to make those calls.
One might prefer a government filled with Bredesens, whether Democrat or Republican, liberal or conservative. But elections – especially those with no incumbent on the ballot – are less about how good you are at governing than how skilled you are at campaigning. In this election, that contrast worked to the advantage of the battle-tested campaigner, not the experienced governor.
"We've never elected a fire-breathing Republican statewide," Democratic state Sen. Jeff Yarbro observed several weeks before the election. Well, we have now.
Tennessee governor's election – and more
Face it: Tennessee is weird. We elect all sorts of offices at the county level that ought to be appointive, forcing voters to make so many choices that it's nearly impossible to know what those offices do or what the candidates' qualifications are.
But statewide we elect only the governor – not, as in most states, the lieutenant governor, the attorney general, the secretary of state, and other executive officials. The result is that the talent pool from which governors and senators are chosen in Tennessee is pretty much confined to mayors like Bredesen and Karl Dean, members of Congress like Blackburn, and business leaders like Bill Lee.
Think for a moment about how this limits our choices. East Tennessee mayors such as Bob Corker of Chattanooga and Bill Haslam of Knoxville sometimes slip through the net because, well, who dislikes East Tennessee?
But the mayors of the state's two biggest cities – Nashville and, especially, Memphis – are at a strong disadvantage. Never mind that rural and many suburban voters hate these cities – they hate each other.
The last mayor of Memphis or Shelby County to be elected governor or senator was – nobody, ever. And when Dean and Bredesen told Memphis voters how much their experience as mayor of Nashville could benefit Memphis, Democrats ignored the argument and Republicans held it against them.
As for members of Congress, they make poor choices for statewide office for reasons not of politics but of government. As in the case of Blackburn and, in the GOP gubernatorial primary, Diane Black, their strength lies in taking positions, not assuming responsibility, and in attacking rather than accommodating.
Business leaders are neither politicians nor government officials. To many voters, especially conservatives, that is their strength. But much as I admire Lee, surely a lateral transfer from the business world into the highest leadership position in the state is a bit hasty.
Lee knows how to run a business from the top down, but has no experience dealing with an independent Legislature or court system, much less the federal government. Fortunately for us, he is a modest man who can be counted on to take time learning the job by listening to others.
Even so, maybe it's time to build the farm system for senator and governor by making at least a small number of other positions in Tennessee's state government elective – even as we simplify things at the county level by making most of those positions appointive.
Mississippi Senate
Former 2nd District Congressman and U.S. Secretary of Agriculture Mike Espy nearly tied for first place in Mississippi's special Senate election on Tuesday, but don't get your hopes up, Democrats. With the GOP vote split between Cindy Hyde-Smith, the incumbent appointed last April to replace the ailing Thad Cochran, and right-wing Cochran-tormenter Chris McDaniel, Espy is in the runoff, but as a Democrat the roughly 40 percent he got Tuesday is close to the ceiling of what he'll be able to win three weeks from now.
If control of the Senate hung in the balance, national political money and media would be all over Mississippi for the next three weeks, which conceivably could shake things up enough for Espy to squeak through. But the Republican Party's Senate majority is assured no matter what happens in the runoff, which means that national Democrats probably won't make the sort of effort (or write the sort of checks) that could give Espy a fighting chance.
Arkansas
Arkansas Democrats hoped against hope that they might steal back the Little Rock-centered 2nd District U.S. House seat, which Trump carried by 10 points in 2016, from the Republicans. No such luck.
The real action in Arkansas was the referendum fights over constitutional amendments. By 54-46 percent, voters chose to legalize casino gambling at Southland Park and three other locations around the state.
Among other things, this will bring sports betting about 20 miles closer to Memphis. Also, because of what Florida voters did Tuesday, it also will doom greyhound racing at Southland, not that Southland will need it any more. When Florida — the state that has 11 of the only 17 dog tracks in the country — decided to make dog racing illegal, it effectively brought an end to the industry.
Arkansas voters also decided to raise the minimum wage and mandate government-issued photo IDs as a requirement for voting.
Liberals hate voter IDs, but every national poll shows they are popular even among Democratic and independent voters. The margin of passage in Arkansas was 79-21 percent. North Carolina passed its own photo-ID measure Tuesday night as well, joining the 17 states that already require them, including Tennessee and Mississippi (and also northern states Michigan and New Hampshire).
The left just needs to get over this one. Even if you don't have a driver's license, government IDs are free and you need one to do just about anything – including buying Sudafed at CVS or Walgreens. A law that spurs people who currently lack such an ID to get one is doing them a favor. In multiple states that, as Arkansas now does, require an ID at the polls, getting one has even spurred previously passive citizens to vote.
Memphis referendums
It turns out Abraham Lincoln was right: You can't fool all of the people all of the time. Memphians strongly rejected the City Council's three shameful referendums, all of which were incumbent-protection scams designed to mislead or even deceive the voters.
Compounding the council's error was its late decision to throw away $40,000 on a last-minute yes campaign, a legal but disgraceful use of taxpayer money to flim-flam the taxpayers.
No council member effectively fought the decision to place the referendums on the ballot, but Worth Morgan, Kemp Conrad and Ford Canale at least opposed the $40,000 propaganda campaign.
Those who supported it – yes, I mean you, Berlin Boyd, Edmund Ford and colleagues – got your well-deserved comeuppance Tuesday.
---