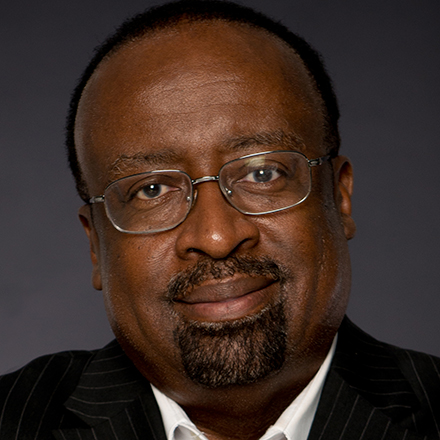 Otis Sanford
Otis Sanford holds the Hardin Chair of Excellence in Journalism and Strategic Media at the University of Memphis and is the political analyst and commentator for WATN Local 24. Contact him at 901-678-3669 or at o.sanford@memphis.edu. Follow him on Twitter @otissanford.
Sanford: Tennessee is clearly a microcosm of our current national politics – hopelessly divisive
Phil Bredesen spent his last four minutes and 12 seconds in the spotlight Tuesday night coming to grips with the sobering reality that his time in politics is over.
"Well, I applied for the job, but I just got a rejection letter," Bredesen, 74, told supporters in Nashville while holding up a piece of paper and reciting a familiar line from his once-promising campaign for the U.S. Senate.
Except the rejection did not come in a letter. It came in the form of more than 1.2 million votes that went to Republican Marsha Blackburn, who steamrolled past the former Nashville mayor and popular two-term governor to become the first woman in state history to serve in the Senate.
Plus, the rejection was not just of Bredesen. It was of the Democratic Party itself, along with moderate and inclusive politics in the Volunteer State. So when Bredesen exited the stage, the hopes by Tennessee Democrats of regaining any semblance of relevancy in statewide politics left with him.
The outcome emphatically showed that nothing and no one – not incivility, not Taylor Swift, not promising enthusiasm by young voters or a record midterm turnout in Democratic strongholds in Memphis and Nashville – could overtake the deeply entrenched conservative stance of the Tennessee electorate.
Blackburn captured 92 of the state's 95 counties, as did successful Republican gubernatorial candidate Bill Lee. Only Shelby, Davidson and Haywood counties went for Bredesen and Democrat Karl Dean, who fared even worse in losing to Lee.
Bredesen's defeat, however, was particularly demoralizing for Democrats, who earlier in the year allowed themselves to believe their Senate candidate could regain some of the magic that propelled him to the governor's office in 2002 and 2006 – the second time by winning all 95 counties.
For a while, the plan appeared to be working. Bredesen, who had to be talked into running, was waging a focused campaign dealing strictly with bread-and-butter state issues such as health care, education, the opioid crisis and the economy.
By mid-summer and after the August primary, he was leading Blackburn in the polls while downplaying his Democratic ties and promising to work across the aisle with Republicans if elected. But then, Bredesen's nightmare happened. The race became nationalized with the highly partisan fight over confirmation of Brett Kavanaugh to the U.S. Supreme Court.
That was followed by a torrent of immigration issues, including the migrant caravan from Central America that Republicans such as Blackburn described as an invading horde heading for the U.S.-Mexico border.
And when Bredesen severely underperformed in two televised debates with Blackburn – in which she repeatedly attacked him for being in league with national Democrats Chuck Schumer and Hillary Clinton – Bredesen's poll numbers plummeted.
He even lost some support among local Democrats by announcing after the fact that he would have supported Kavanaugh's nomination had he been in the Senate.
In late October, seven days into early voting, The New York Times said Bredesen "may be running the most cautious, high-profile Senate campaign of any Democrat in the country."
But by then, cautiously attempting to straddle the political fence was not a winning strategy. And Bredesen's yearlong hopes of gaining support from moderate Republicans and independents evaporated.
Throw in Blackburn's strident conservative views, her unwavering allegiance to President Donald Trump and Trump's carnival-style trips to Tennessee to back Blackburn, and Bredesen's chances of winning kept fading by the day.
"The fault here, if there is a fault, lies with me for not making the case that I needed to make in Tennessee," Bredesen told supporters in his concession speech, adding that he tried to call Blackburn to congratulate her, but she was already on stage giving her victory speech.
To her credit, Blackburn did at least acknowledge Bredesen in her 11-minute speech. "To Phil Bredesen and his team, I want to congratulate them on a hard-fought race. I hope they know that my door is always open. And to their supporters, I hope they will work with us on better tomorrows for our children and grandchildren."
The words sounded nice, even if they were purely perfunctory. The reality is, Blackburn proved that for Senate and congressional races in the Trump era, moderate political views are no longer necessary in Tennessee. And the days of conciliatory senators such as Howard Baker, Al Gore, Fred Thompson and even Bob Corker are passé.
Granted, Bill Lee amassed about 1.3 million votes in winning the governor's race without bullying or constantly going on the attack. But he is an outlier. Tennessee is clearly a microcosm of our current national politics – hopelessly divisive. And now, Trump is girding himself for a post-election assault on the Robert Mueller investigation without much pushback from Blackburn or other Republicans who are solidly aligned with the president. 
So for Tennessee Democrats, their position has not changed. They were sideline spectators to state and national politics impacting Tennessee before the election and they remain in that position today.
Bredesen was their only hope. If he could not do it, no one can because the numbers simply are not there. And now he has left the political stage for good.     
---