Editor's note: Due to the serious public health implications associated with COVID-19, The Daily Memphian is making our coronavirus coverage accessible to all readers — no subscription needed.
Photographer Jamie Harmon spent 20 years snapping pictures on Memphis Riverboat tours and another 10 in his popular rolling photobooth, Amurica. 
He uses his camera to connect with people around Memphis.
And while citizens are staying in place because of the coronavirus, he's found another way to capture them, by pointing his camera at their windows.
---
---
"I thought, 'I'm gonna arrange it with them, not just run around and spy on people!' " he says laughing.
"It took me about three or four days to talk with my wife, Leah, about, 'Does this feel wrong?' I always have to discuss with a few people whether things are exploitative, if I'm putting people in danger, or what their sense is whether this is right or wrong or good," Harmon said.
"I didn't have a beat on it, because I was still ignorant to what was going on. It turns out that it's really therapeutic for me and everybody that I come into contact with."
In three days, Harmon has driven around all sides of Memphis, with over 50 families posing for his series on home life during this period of social distancing.
"Some photographers do weddings and that's all they do. Jamie will do a wedding, but he's also a very creative guy and has a body of work," says Tad Pierson, who posed for Harmon during the project.
"One segment of his body of work is about documenting American life. I think this little project falls under that category. 
"It may be something that 10 years from now, 20 years from now, we'll look at it as if he had documented the Yellow Fever epidemic."
In his photos, Pierson poses next to his prized 1955 Cadillac, which he uses to drive tourists around Memphis for his company, American Dream Safari. It's parked in the rented warehouse he's converted into a home and studio.
It's an unorthodox living arrangement when compared to other subjects in Harmon's photos, such as fellow small business owner, Robbie Weinberg, proprietor of Eclectic Eye. Where Pierson's warehouse is wide, the Weinberg home allowed Harmon to aim high, as the family gathered to hang outside a third-story window.
"It was a fantastic distraction from the life we're living," Weinberg said of her family photo shoot.
"The kids are working remotely from school. We're working remotely on our small business to try to keep it afloat during these weird times and keep our employees employed."
Alongside her husband Michael and two kids who came home from college, Weinberg called the session "a beautiful gift."
"Because we're all sort of stuck inside. To have Jamie show up in his truck and shoot from the street or from the backyard is worth preserving this memory," Weinberg said.
Pierson said Harmon is making more than art; he's also making people's day.
"Given Jamie's status in the community as a hard-working artist, it makes people cheerful to see him come around in his red Volkswagen bus and bring a little sunshine to the situation," Pierson said.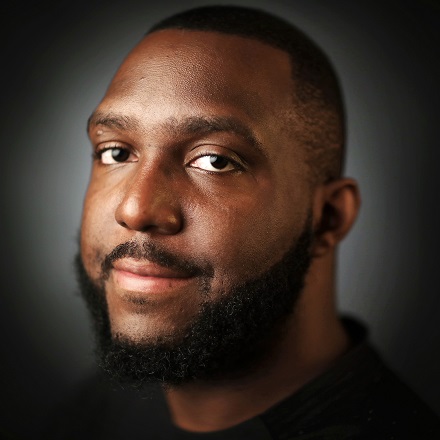 Jared Boyd
Jared Boyd is program manager for WYXR 91.7 FM. 
---