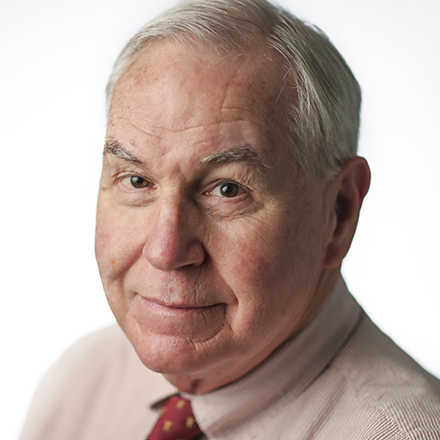 Michael Nelson
Michael Nelson is contributing editor and columnist for The Daily Memphian, the political analyst for WMC-TV, and the Fulmer professor of political science at Rhodes College. His latest books are "Trump: The First Two Years" and "The American Presidency: Origins and Development, 1776-2018."
Sen. Bredesen? Maybe. But Tennessee is still a bright red state
By some accounts, Democrat Phil Bredesen narrowly leads Republican Marsha Blackburn in what may be the nation's most important contest in determining which party will control the United States Senate for the next two years. Democrats in Tennessee are right to rejoice at the prospect that the popular former governor has at least an even chance to represent the state in Washington come January.
They shouldn't party too hearty, however.
For one thing, Bredesen has a lot more in common with prominent Tennessee Republicans like Lamar Alexander, Bob Corker, Bill Haslam, Howard Baker, and Memphis's own Lewis Donelson than with nearly any Democratic officeholder in the state. Indeed, Bredesen has more in common with them than his opponent, Congressman (her choice of title) Blackburn.
Asked during his recent campaign appearance at Rhodes College for examples of agreements and disagreements with President Donald Trump, for example, Bredesen offered more of the former—including business deregulation and negotiations with North Korea—than of the latter (basically tariffs, which like virtually all pre-Trump Republicans, he's mostly against.)
Regarding Brett Kavanaugh's Supreme Court nomination, Bredesen offered no opinion but only after noting that the nominee's opponents are "emotional." Since then accusations of sexual misconduct against Kavanaugh have surfaced, raising emotions yet higher on all sides, to say the least.
More important than his GOP Lite views, a Bredesen victory would not change the fact that Tennessee is a redder state than at any time in its history.
Just look at the recent run of elections in Tennessee. In every presidential contest since 1992—that's six in a row—the Republican nominee's share of the vote has gone up from the previous election. Trump carried Tennessee with 61 percent in 2016, making it his second-strongest state in the entire South. (Alabama was first.) The previous GOP numbers were 46 percent for Bob Dole in 1996, 51 percent in 2000 and 57 percent in 2004 for George W. Bush, a fractionally higher 57 percent for John McCain in 2008, and 60 percent for Mitt Romney in 2012.
Closer to the grass roots, Republican majorities have solidly formed in seven of Tennessee's nine congressional districts, up from three in 1992. No Republican nominee for the U.S. House of Representatives is in any danger of losing this year, even in the two open-seat districts vacated by Blackburn and unsuccessful gubernatorial primary candidate Diane Black. The state legislature is more than three-fourths Republican. As recently as 2006, the GOP lacked even a small majority in one or both chambers.
Although a Bredesen victory would end the Republicans' winning streak in Senate elections, that streak, which started in 1994, is eight consecutive GOP victories long. Only once since that year's mid-term election has a Democratic Senate nominee come within 10 points of winning: in 2006, when Memphis congressman Harold Ford Jr. was narrowly defeated by Chattanooga Mayor Bob Corker.
Personal popularity that far exceeds the Democratic Party's accounts for Bredesen being competitive this November. Few dispute that his eight years as governor were good for Tennessee. Bredesen's authentically mild demeanor and reasonable persona in campaign ads render implausible his opponent's free-swinging efforts to tar him with the brush of national Democratic pariahs like House Democratic leader Nancy Pelosi of California and Senate Democratic leader Chuck Schumer of New York.
Consider: the same recent NBC/Marist survey (a gold standard polling operation, according to fivethirtyeight.com) that showed Bredesen with 48 percent support from likely voters in the election also revealed that 61 percent have a favorable opinion of him. Following the more typical pattern for a candidate, Blackburn's 46 percent support corresponds exactly with her 46 percent favorability rating. If Bredesen wins in November it will be because most people like him more than his party. If Blackburn wins, it will be because most people like her party more than her.
Even though Trump is more popular (47 percent) than unpopular in Tennessee (43 percent), Bredesen may benefit from voters' opinions about the president anyway. Among those who have a strong opinion—the kind of voters most likely to show up in a relatively low turnout midterm election—Trump is down 32 percent to 38 percent in the NBC/Marist poll.
Accepting the premise that over the years Tennessee has moved rightward across the political color spectrum from bluish to reddish to bright scarlet also helps to explain why a longstanding pattern in the modern history of the state seems likely to be broken on Election Day.
Starting in 1978, when Tennessee's constitution was amended to allow the state's chief executive to seek reelection to a second four-year term, control of the governor's mansion has swung back and forth between the two parties every eight years like clockwork. Republican Gov. Alexander, the state's two term governor from 1979 to 1987, was followed by Democrat Ned McWherter (1987-1995), Republican Don Sundquist (1995-2003), Democrat Bredesen (2003-2011), and Republican Haslam (2011-2019). Although none of these governors faced a serious challenge for reelection, Tennessee was sufficiently balanced between the two parties that none of them was succeeded by his own party's nominee.
This year the Democrats nominated their best possible candidate, Karl Dean. He is straight out of the Bredesen playbook, a successful two-term mayor of Nashville with a moderate, business-friendly record. The GOP nominated a businessman who is appealing in his own right, Bill Lee.
Dean and Lee are both fine candidates. Tennessee will be in good hands whichever one it elects. In a less Republican age, it would be Dean the Democrat's turn. Yet the same poll that showed Bredesen leading Blackburn by two points showed Dean trailing Lee by 13.
Nothing guarantees that Bredesen will win (a Fox News poll has him trailing by four points while a CNN poll has him up by five) or that Dean will lose. That's why we have campaigns, debates (including one between Dean and Lee on the University of Memphis campus on Oct. 2), and elections. But however the dust settles Tennessee will be scarcely less Republican come November than when the year began.
---