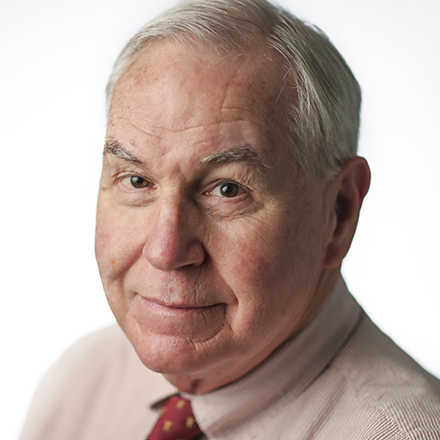 Michael Nelson
Michael Nelson is contributing editor and columnist for The Daily Memphian, the political analyst for WMC-TV, and the Fulmer professor of political science at Rhodes College. His latest books are "Trump: The First Two Years" and "The American Presidency: Origins and Development, 1776-2018."
Nelson: Democracy = rule by the people; gerontocracy = rule by the old people
I'm 69, so maybe the P.C. crowd will give me a pass when I ask: What's with all the geezers dominating the world of politics and government?
Do you doubt me? Here in Memphis, the latest entry into the 2019 mayoral race is Willie Herenton, who if elected would be 79 when he begins his term and 83 when he ends it.
It's not just a Memphis thing. Gerontocracy – rule by the old – is breaking out everywhere in the country.
The combined age of the two major party candidates in our last presidential election was the oldest in American history: 71 (Donald Trump) plus 68 (Hillary Clinton) equaled 139.
When 72-year-old John McCain ran for president as the Republican nominee in 2008, he had to deal with mainstream media challenges such as a Politico article headlined "McCain's Age Is a Legitimate Issue."
McCain answered with humor. He was leaving "the old soldiers' home for one last charge," he joked after David Letterman said, "He's the kind of guy who picks up the TV remote when the phone rings."
I don't recall the age of the candidates being an issue at all when Trump faced off with Clinton in 2016. Maybe that's why the roster of Democrats thinking of running in 2020 against the by-then 75-year-old Trump is led by Joe Biden, who if he wins will be 78 when he takes the oath of office; Bernie Sanders, who will be 79; and Elizabeth Warren, a sprightly 71.
Former 2004 Democratic presidential candidate John Kerry (77 in 2021) and Michael Bloomberg (78), the billionaire ex-mayor of New York, also are making noises about running. And a month ago, Hillary Clinton joined the heavenly chorus. "Well, I'd like to be president," she warned, er, said.
Add four years to see how old each of them would be at the end of their term. Their first term.
In Congress, the hanging-on-by-her-fingernails new speaker of the House of Representatives, Nancy Pelosi, will be 78 at the start of the 116th Congress in January. Her right- and left-hand men at the head of the House Democratic caucus are majority leader Steny Hoyer, age 79, and majority whip James Clyburn, age 78.
All three were in college when Dwight D. Eisenhower was president. They grew up watching new episodes of "Leave It to Beaver" and "Gunsmoke."
The president and Congress at least have to face the voters, who presumably know what they're getting when they cast their ballots every few years. Justices of the Supreme Court serve "during good behavior," the English translation of which is "as long as they want (or survive)."
The first group of justices appointed to the Supreme Court when George Washington was president lived to an average age of 67. Since 1950, justices have on average lived to be – or are still alive at – 82. In appointing Neil Gorsuch and Brett Kavanaugh, Trump made no bones about the fact that he wanted them to serve "40, maybe 45 years" – that is, into their 80s or 90s.
Closer to home, Cindy Hyde-Smith was appointed as Mississippi's junior senator only after Sen. Thad Cochran's health forced him to retire at age 80.
Cochran didn't last long enough to challenge former South Carolina Sen. Strom Thurmond's record as a 99-year-old member, but there are several senators, including aging Judiciary Committee rock stars Charles Grassley and Diane Feinstein – who are in their mid-80s and still in the running.
Last month, Grassley, who was elected to his sixth six-year term in 2016, urged Iowa voters to support the Republican candidate for governor because, he said, "something might happen to me in the next four years (and) I don't want a Democrat appointing my successor."
On Election Day, Feinstein easily won another six-year term, which will take her into her 90s.
Even closer to home in Tennessee, this year's Democratic nominee for senator was Phil Bredesen, age 74. He lost, but the mystery that has baffled many people – namely, why does Sen. Lamar Alexander, who knows better, kowtow so abjectly to President Trump? – became less baffling last month when Alexander told the New York Times he "might" run again in 2020," when he turns 80.
As Sen. Bob Corker learned, not bending the knee to Trump means you'll be challenged in the Republican primary by a true believer, like Marsha Blackburn. Corker decided another term wasn't worth it if the price was that steep. Alexander is still thinking.
Like Bredesen, Herenton had a long career in public office that ended about a decade ago. Elected to his first term as mayor in 1991, he guided Memphis through a smooth transition from more than a century and a half of all-white political leadership to a city government that truly mirrored the city's population.
Herenton was re-elected in 1995, drawing equal levels of support from black and white voters. It went downhill from his third term on, however, culminating in his 2009 resignation to run for Congress against incumbent Democrat Steve Cohen. So far past his sell-by date was Herenton by then that Cohen licked him 79-21 percent.
It's not hard to guess what was going through Herenton's and Bredesen's minds when they decided to come off the bench to run again. Something like this: Hell, I've still got game – if Trump can do it, I sure can. "Age is just a number," said Herenton when he announced he was running.
Leaving aside the question of whether Trump actually does have game (and still will five or six years from now), are there reasons to worry when people at, near, or past their eighth decade remain in the forefront of our leadership class?
Sure, age can bring wisdom and experience and sometimes does. But there's just as much or even more reason for concern, especially when we're talking about electing people to a four-year or six-year term. I'd love to believe 80 is the new 40, but really?
The actuarial tables used by insurance companies – whose ability to stay in business depends on accurate numbers – tell a different story. The average remaining life expectancy of an 80-year-old man is 8.1 more years, a bit less than the 9.6 years an 80-year-old woman can expect. That's years of survival, not of physical stamina and mental alertness.
Then there's the fact that when even talented people hang on indefinitely, they crowd out the next generation or two. As a country we fell in love with what Tom Brokaw indelibly called "the greatest generation," the folks who licked the Great Depression in the 1930s and Hitler and Hirohito in the 1940s.
But that generation has mostly passed to its eternal reward. The last living member of the U.S. military stationed at Pearl Harbor during the Japanese attack died last week at age 106.
Trump, Biden, Pelosi, Bredesen, Alexander, Herenton, and company are products of the Vietnam generation (so am I)—and none of them even fought in that war (nor did I). Leaders of distinction they may be, but they're hardly of the stature that made us long for the days of Depression survivors and World War II veterans Eisenhower, Reagan, John F. Kennedy, Reagan and George Bush.
Nor are they (we) part of the generation that is most at home with the new world of digital technology. The high tech we grew up with was black-and-white television. For us to get a phone call meant being in the room where the phone was.
As I tell my students, I've halfway learned to navigate through this new land of personal computing, online commerce and social media, but it's not my native country. Unlike them, I'll always speak the language with an accent.
For all these reasons, I wish the elders of our political class a happy retirement. Happy for them, I hope. Happy for us, I know.
---