Grizzlies Road Recap: Conley closes in Brooklyn, but this was the Jaren Jackson Jr. Game
Rookie sets new career scoring high as Grizzlies break three-game losing streak
Mike Conley brought the Grizzlies home in Brooklyn to end a three-game losing streak, but it was rookie Jaren Jackson Jr., with a career-high 36 points and a breathtaking fourth-quarter flurry, who kept hope alive.
Conley scored 13 of the Grizzlies' 14 points in the second overtime as the Grizzlies (13-8) beat the Nets (8-15) 131-125. Conley's 37 points (13-25 shooting, along with 10 assists) were a season high and one off his career high. But with apologies to the captain, this one will be remembered as the Jaren Jackson Jr. Game.
Jackson got off to a fast start, scoring 11 of the team's first 13 points and showing his full offensive repertoire: getting points from the three-point line, the free-throw line, the low block, and off the bounce.
---
Box Score: Memphis Grizzlies vs. Brooklyn Nets
---
But if Jackson started strong, he closed regulation even stronger, scoring 11 of the team's last 16 points, including a one-man 7-0 closing run in the final 33 seconds of the first 48 to force overtime. Jackson bracketed his buckets -- a three-pointer turned four-point play and then an overtime-forcing three -- with some crucial help defense along the sideline to force a Nets turnover.
JAREN JACKSON JR. CLUTCH (via @NBATV) pic.twitter.com/C9TG9wwizo

— SLAM (@SLAMonline) December 1, 2018
That's rare, right? Let's consult former Nets executive Bobby Marks:
What Memphis just did is next to impossible. Force OT after being down 7 with 33 seconds left.

— Bobby Marks (@BobbyMarks42) December 1, 2018
Jackson added a turnaround bucket in the first overtime for a new career-high 36 points (13-22 shooting, along with eight rebounds). Jackson's the youngest player in the NBA who's actually playing this season. Thirty-six is pretty good for a 19-year-old, right?
Jaren Jackson Jr has 36 points thru 1 OT. He's 19 years and 76 days old. Per @bball_ref the only younger player in nba history to drop 36+ is @KingJames https://t.co/6X92ah52wm

— Mike Lynch (@SportInfo247) December 1, 2018
It was the second time in three games, and only the second time this season, that Jackson has played an extended closing period of a tight game. There will be more games like the one in the middle, against Toronto, where Jackson struggled, but it does feel like the Grizzlies have shifted into a higher gear with Jackson's usage, as they did earlier in the season when they moved him into the starting lineup.
And as with Jackson's seven-block, four-three-pointer performance two games prior against the Knicks, this was another reminder -- or maybe a notice -- that while the future isn't guaranteed, Jackson's raw talent could be the greatest the Grizzlies have ever had.
It wasn't totally a two-man game. There were some quieter heroes along the way. Kyle Anderson forced another sideline turnover late in the first overtime to deny the Nets a shot to win. And Shelvin Mack ripped a loose ball from a scrum in the final 30 seconds of the second overtime to do the same.
Marc Gasol's mobility, especially on the defensive end, seemed a little more limited than usual with his sore ankle, but he still logged a game-high 47 minutes and put up a nifty 15-15-5-2-3 stat line despite only taking nine field-goal attempts.
He also did this, and a thing of beauty is a joy forever:
What a beauty, @MarcGasol pic.twitter.com/hAlbjEwN9K

— Memphis Grizzlies (@memgrizz) December 1, 2018
There were still plenty of the same signs of trouble that fed the recent losing streak. The Grizzlies surrended a 14-0 Nets run early in the fourth quarter to turn a seven-point lead into a seven-point deficit. They allowed too many open threes and forced too few turnovers for most of the game. It took 58 minutes to beat a team that, while competitive, isn't really a playoff contender. Things will get even harder on Sunday in Philadelphia against a better Sixers team.
But the Grizzlies needed this win, probably more than they've needed a win since the home opener, following their season-opening demolition in Indiana. They got it, and every Grizzlies fan who watched will always remember the Jaren Jackson Jr. Game.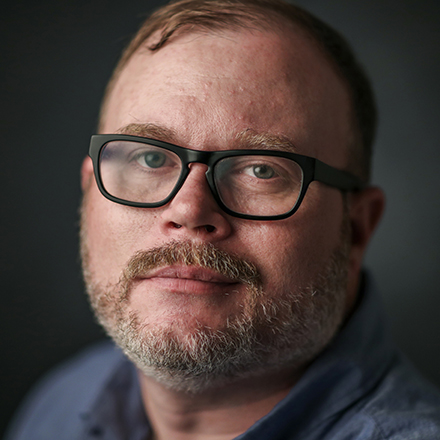 Chris Herrington
Chris Herrington covers the Memphis Grizzlies and writes about Memphis culture, food, and civic life. He lives in the Vollentine-Evergreen neighborhood of Midtown with his wife, two kids, and two dogs.
---