Big Jump Project brings Glide Rides and a cultural kiosk to South Memphis
It's a warm and sunny Saturday morning in South Memphis. About 40 people have gathered at the South Memphis Farmers Market for the latest South Memphis Glide Ride.
Those gathered are black and white. They range in age from a toddler, along for a ride in a bicycle buggy-type trailer, to those who are middle-aged. Some are using their own bikes, some are using borrowed bikes and some are using the rented Explore Bike Share bikes.
The ride, a slow one, is about six miles and takes around an hour from start to finish. The shorter version is only about two miles, but most opt for the extended journey.
South Memphis' terrain, and specifically this day's route, is hilly. It takes the riders up South Parkway and over an interstate overpass, past shiny balloons at gleaming Porter Leath's Early Childhood Academy, past Ida B. Wells Academy and includes a stop at the tree-lined, picturesque Riverview Park.
Most of this group ride is without bike lanes. During it, people yell out things to the riders behind them. Such as "Car left!" "Stay right!" and "Pothole!"
They pass by a pink painted daycare with a yard sign reading "Careful, Angels playing." They pass by older men barbecuing and playing blues music from speakers.
Most people encountering the group on foot, by car or at houses wave at the riders. The bicyclists ring their brass bicycle bells in response or wave back.
These South Memphis Glide Rides started last year. At first, it used teen bicycle ambassadors from the area. This year, it added adult ambassadors. Sylvia Crum (Memphis Active Transportation Ambassador), The Works Inc. and the city of Memphis Bikeway & Pedestrian Program all partner together to provide the training for the ambassadors.
Before the ambassadors began hosting the weekly rides, they met weekly for six weeks at the South Memphis Farmers Market to learn how to use a bicycle for transportation, how to ride in the street and how to work on their bicycles.
The first South Memphis Glide Ride was held last November. There was only one ride in the fall, but in Spring 2018 the rides occurred weekly March through April. This fall, rides were held every Saturday from October 27 through November 17.
 "It gets people engaged," said Roshun Austin, executive director of The Works. "These rides have increased social cohesion among people who would not have typically talked to one another necessarily, given that our society is somewhat divided in our single-family detached houses and not borrowing cups of sugar from our neighbors anymore. This is a way for people to get to know one another."
Cherrese Holmes served as an adult ambassador. She heard about the program at Knowledge Quest/Universal Parenting Place and became one in October.
She was interested in becoming an ambassador because she wanted to raise awareness within the community about how fun, exciting and beneficial bicycling riding could be, she said. Riding bicycles is something she does for self care.
"Each route makes me feel special because it's like going on a bike tour in a neighborhood that has so many hidden gems and is so rich in history," Holmes said. "I also feel optimistic about the great changes that are being made for the community to create an even better future."
According to Nicholas Oyler, City of Memphis Bikeway & Pedestrian Program manager, a third of households in the area do not have access to transportation, so people who live there already are often relying on walking, biking and public transportation as part of their daily lives.
That's why the city focused its Big Jump efforts to improve biking and pedestrian options to South Memphis. There are eight planned projects.
---
ELLE PERRY: Bike and community projects proposed for South Memphis inspired by the Netherlands
---
In late October, the city (and Big Jump partners) presented a proposal of the six-year, phased implementation plan for a network of safe streets for walking and biking. The proposal was shown in view of a demonstration project of temporary traffic calming measures on Walker Avenue from Wellington Street to Orleans Street. After getting input from residents, the measures could later be made permanent.
Those measures include bump outs (curb extensions), high visibility crosswalks; "slow shoulders," which guide drivers toward the center of the road and away from parked cars and sidewalks; pinch points, which also slow drivers and guide them toward the center of the road; and a traffic circle at Walker Avenue and Wellington Street.
The demonstration will remain on view until the first week of December.
And right in the middle of the demonstration project, on Walker Avenue at South Lauderdale Street, is an oral history cultural kiosk. City of Memphis municipal planner and artist Roger Ekstrom and D'Angelqueat Warren Jr., an 11th grader at Soulsville Charter School, collaborated on the work.
"I think the overarching idea here, with high-quality, people-oriented designs, we're not just making the streets safer, public spaces safer, but we're fostering a strong sense of community with the neighborhood," Oyler said. "That's the power of design. And that's the connection with this public art piece."
Ekstrom fashioned the kiosk out of wood. The solar-powered kiosk lights up at night and has a button for passersby to press. The audio comes from an interview D'Angelqueat conducted with Knowledge Quest founder Marlon Foster. D'Angelqueat also made a collage of Foster's life that is on the kiosk. The 16-year-old sketches, works in Photoshop and has created web comics.
In the interview, D'Angelqueat asked Foster what's happening in the community, what's changing in the community and what he saw being the future of the community.
"The purpose (of the kiosk) was to teach people about things in the neighborhood and helping them know it and people in it," he said. 
The kiosk will go away when the demonstration project does. But, in the future, Ekstrom would like to create longer-lasting metal kiosks and work with students in other neighborhoods on similar kiosks.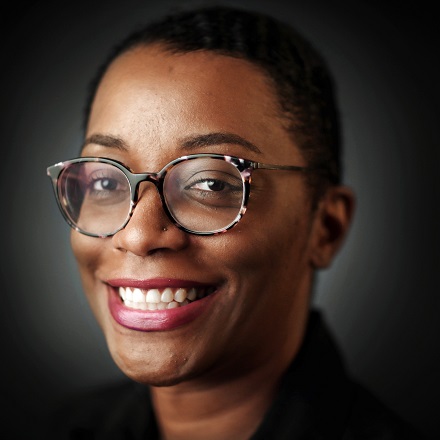 Elle Perry
Elle Perry covers arts and culture and other news for the Daily Memphian. She is a native of Memphis and a two-time graduate of the University of Memphis. Elle previously worked for the Memphis Business Journal and has written for publications including The Memphis Flyer and High Ground News.
---