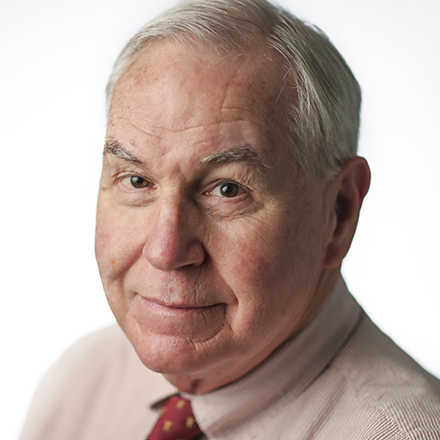 Michael Nelson
Michael Nelson is contributing editor and columnist for The Daily Memphian, the political analyst for WMC-TV, and the Fulmer professor of political science at Rhodes College. His latest books are "Trump: The First Two Years" and "The American Presidency: Origins and Development, 1776-2018."
Nelson: How Tennessee got it right during the 'in-between time' – and the City Council should get it right in our time
Keel Hunt is a Nashville guy, which is why his fascinating new book about Tennessee politics, "Crossing the Aisle: How Bipartisanship Brought Tennessee to the 21st Century and Could Save America," is a lot more Nashville than Memphis.
As one example, Hunt lavishes attention on Nashville's success in wooing and winning a National Hockey League franchise while completely ignoring Memphis' equally successful effort to bring the NBA to our city.
On the merits, it's a curious choice. Basketball is America's ascendant sport. Hockey is Canada's. That's why I had to spell out "National Hockey League" in the previous paragraph but not NBA.
Still, scattered throughout "Crossing the Aisle" is a heck of a good short book about Memphis.
Given the recent shenanigans of the City Council – first the failure of the three members elected to Shelby County posts in August to resign their council seats in time for replacements to be elected in November, then the self-serving and deceptive measures the council placed on last month's ballot, and now the embarrassing spit fight over how to fill the District 1 vacancy – we need all of Hunt's insights and more.
"Crossing the Aisle" picks up where Hunt's page-turning "Coup: The Day the Democrats Ousted Their Governor, Put Republican Lamar Alexander in Office Early, and Stopped a Pardon Scandal" left off – that is, with Alexander's first inauguration as governor.
"Coup" told the story of how Alexander, elected in November 1978 and scheduled to be inaugurated on Jan. 20, 1979, took office three days early because political leaders in both parties wanted to put a stop to outgoing Democratic Gov. Ray Blanton's shameless selling of pardons to serious criminals.
In addition to Alexander himself, for whom Hunt worked, the heroes of that story include two West Tennesseans – Speaker of the House (and later Governor) Ned McWherter and Lt. Gov. John Wilder.
"I'm going to help him," the Democratic McWherter said of the Republican Alexander, "because if he succeeds, the state succeeds."
The real star of "Coup," however, is Memphis' own Lewis Donelson, one of the leading attorneys in the state and a close adviser to Alexander.
Donelson, who also handled McWherter's legal business and was an old friend of Wilder's, quietly persuaded the state's leading Democrats to stand with Alexander when he was sworn in – and then personally secured the Capitol building so Blanton could not try to sign any more pardons.
Fred Smith is another leading character in "Crossing the Aisle," partly for persuading Alexander to let Federal Express, as it was then known, acquire the Tennessee National Guard site near the airport and mostly because he helped lead the campaign to bring the NFL to Memphis in 1993.
Memphis "would seem to have been the ideal selection for a new pro football team," Hunt notes (accurately), but the effort failed because the city would not commit to building a new stadium.
Yet another Memphian of note is Don Sundquist, who comes off better in "Crossing the Aisle" than in most other accounts of his governorship. Sundquist was a six-term congressman from eastern Shelby County when he won the 1994 gubernatorial election.
Often disdained – especially by fellow Republicans – because of his failed effort to enact a state income tax, Sundquist is credited by Hunt with enacting Families First, a welfare reform measure that was more humane and "much more sophisticated" than the version enacted in 1996 by the Democratic administration of Bill Clinton.
Even former state Sen. John Ford makes an appearance in "Crossing the Aisle" – not as a convicted bribe-taker but as the brilliant legislative strategist he was.
It was Ford, Hunt points out, who secured enactment of Tennessee's Transportation Equity Fund, which established a revenue source for the "rail, aeronautics, and river commerce" so central to Memphis' identity as "America's Distribution Center."
Hunt calls the period covered in "Crossing the Aisle" the "In-Between Time," by which he means the quarter-century of Tennessee history between 1978 and 2002 marked by genuine two-party competition – and, even more important, across-the-aisle cooperation between the mostly center-right leaders of both parties.
And what a talented and public spirited group of competitive-cooperative leaders they were. A partial list includes Alexander, McWherter, Sen. Howard Baker, Sen. and later Vice President Al Gore, Sen. Bill Frist, Nashville Mayor and later Gov. Phil Bredesen, and Chattanooga Mayor and later Sen. Bob Corker.
During their years of service, Tennessee made major advances in education, health care, transportation, tourism and manufacturing.
Right now, the City Council is displaying the wrong kind of competition – not Republican against Democrat over issues, but black versus white over egos – and none of the cooperation. Can you think of anything more destructive to our city than leaders who rub our sores instead of healing them? Can you think of any reason why a major company thinking of bringing jobs here would want to walk into the middle of that catfight?
As for Tennessee's long periods of one-party rule – by Democrats in the century before the In-Between Time began and by Republicans in the years after it ended – Hunt finds them much less satisfactory.
Hunt's real brief is for two-party competition. In this regard, he joins a long line of authors, none more influential than the political scientist V.O. Key, who at President Harry S. Truman's urging undertook the most thorough study ever of "Southern Politics in State and Nation."
Key's book of that title was published in 1949, shortly before the first crack in the solidly Democratic South appeared. It came in 1952 when Republican presidential candidate Dwight Eisenhower carried Tennessee and three other Southern states.
For Key, a Democrat, the Republicans' gains were good news. As long as one party remained in control of the region, Southerners lacked the benefits of genuine democracy. The Democratic primary, not the general election, was the real contest in Southern states, which meant mildly attentive voters (that is, most of them) were denied their best cue concerning which candidates to support: the party labels.
Once elected, governors, legislators, sheriffs and other officials held office as freestanding individuals, untethered to a party that voters could hold responsible for the performance of their governments from one election to the next.
That kind of accountability is hard to find when candidates run for city council – or council members fill vacancies in their ranks – by touting their racial identity rather than their party identity.
Mountainous East Tennessee was an anomalously Republican region in the South, Key found. In effect, Tennessee had a one-and-a-half party system. The GOP had its enclave from Knoxville to Bristol, but Democrats dominated Middle and West Tennessee and thus prevailed in nearly all statewide elections.
As Hunt shows, that changed when Donelson and his wife, Jan; Harry and Katherine Wellford; and eight other Memphis couples began meeting in the early 1950s. Out of those meetings came a revitalized GOP in Shelby County and, eventually, throughout West Tennessee.
Donelson's motive was less to bring Republican rule to Tennessee than to bring genuine two-party competition.
Late in life – which was very late indeed: he lived to be 100 – Donelson was heard to say that nowadays, with Tennessee among the reddest states in the country, he'd consider becoming a Democrat.
His explanation – and Keel Hunt's: Tennessee still needs a functioning two-party system.
---