Pilot program aims to keep kids out of juvenile justice system
When the Shelby County Youth Assessment Center launches next year, it will be part of a cultural shift aimed at changing the way authorities respond to juvenile offenders.
The center, operated by the University of Tennessee Health Science Center, will provide services like trauma informed care and referrals to community providers to help families find resources.
"If we look at it as a holistic place that deals with trauma and the impact childhood trauma has on kids – which lead to low-level crimes – intervention by a professional versus taking them straight to juvenile court is definitely beneficial," Commissioner Tami Sawyer said after voting to fund the center at a Dec. 3 Shelby County Commission meeting.
---
OMER YUSUF: County Commission to seek state funding for more school resource officers, counselors
---
For the last few years, there has been a call for a center like this, a place that would limit youths' exposure to the juvenile justice system when they committed low-level offenses and had a great need for support services. Those plans often stalled, but that changed on Dec. 3 when the County Commission approved a $500,000 proposal to launch programming for a pilot assessment center.
 The contract with UTHSC is for one year, with the option to renew each year for three additional years. The program will be run through the University of Tennessee's Center for Health in Justice Involved Youth headed by Memphis native Dr. Altha Stewart.
 "We hope that families will understand that this is a positive," Stewart said. "We hope the community will support our developing program to address these kinds of problems.
"We are thankful that the county has approved the contract and I am very pleased that the University of Tennessee Health Science Center has decided that this is an important contribution that we can make around this very important issue."
UTHSC's Center for Health in Justice Involved Youth launched nearly four years ago and was founded for the purpose of supporting juvenile justice reform in Shelby County. After two years of discussions, county officials decided to fund a plan for a pilot youth assessment center.
Sawyer said the original proposal would not have benefitted her community and constituents, but after talking with Stewart her concerns were addressed and she did not see a reason to vote against the center.
Discussions between Stewart, Sawyer, and other county officials helped to establish the four pillars on which the center would operate: voluntary, restraint-free, trauma-informed, and youth and family friendly.
"No child can come in restraints, and I have to emphasize that this is not a children's mental health emergency service," Stewart said. "That's not the purpose. We are specifically targeting and hoping to help children that we describe as being at-risk in this community. Those children who have a history of behaviors that have either brought them or will bring them in contact with law enforcement with school discipline, you know suspensions, expulsions, fighting, destruction of property or in the home if there is repeated domestic violence."
Stewart, a psychiatrist and current president of the American Psychiatric Association, has more than a decade of experience working on youth and behavioral health needs including children who land in the juvenile justice system. She said a youth assessment center was a long time coming for Shelby County.
She said since the program is a pilot, funding does not allow the center to be open around the clock to offer full-time service.
"Most of these services cost in the millions of dollars annually," Stewart said. "We got enough money to try the model and see if we can demonstrate that even with a small population it will be helpful in getting kids diverted out of the system or keeping them from going deeper into the system."
Bill Powell, who served as settlement agreement coordinator for the U.S. Justice Department's agreement with Shelby County Juvenile Court, said he thinks the pilot program can be a good thing, but he has questions about the program, including its operation and law enforcement's role.
---
YOLANDA JONES: DOJ report says Shelby County Juvenile Court still has problems
---
"What we keep hearing is we've got this place that is an alternative for kids that will help them and provide services. We don't know what the services are, we don't know how they're paid for. We don't know whether the kid will be detained in this place if they opt to leave," said Powell, who for six years served as the former coordinator for DOJ where he worked to fix the issues cited by the Justice Department in the county's juvenile court system, until he left the position in 2017.
He added, "We don't know if it is more likely kids from the inner city are going to be the ones swept up by this or not. We haven't had those questions answered. I would feel a lot more comfortable if, for example, we could see some of the policies and procedures of how it is actually going to function."
Stewart said she welcomes input from Powell, who she said was an old friend, and others in the community about the center, including about law enforcement involvement.
 "Law enforcement can encourage people, but this is not a law enforcement program," Stewart said. "They can actually transport if that's the desire, as long as it is understood that it's totally voluntary. You can't commit a child and you can't mandate that they come since it is not part of a court proceeding, there's no connection with a court order, ordering you to go."
Children 17 and younger who have committed a low-level-to-moderate offense and children and their families in crisis or who need assistance can go there or be referred there.
There are several offenses which would not be accepted for referral to the youth assessment center and including murder, rape, aggravated assault, aggravated robbery, kidnapping, carjacking, possession of a prohibited weapon, unlawful carrying or possession of a weapon, reckless endangerment with a weapon, and violation of the sex offender registry.
Shelby County Community Services Director Dorcas Young said as many as 3,000 youths with lower-level offenses would be eligible to be diverted to the center, which will be separate from Shelby County Juvenile Court.
Shelby County Sheriff Floyd Bonner said his office visited similar facilities in Denver and Florida to help with a program locally.  In Miami, an assessment center there reduced juvenile arrests 67 percent in a 14-year time frame.
---
YOLANDA JONES: Sheriff's Office hires consultant for juvenile detention center
---
"It sounds very exciting to me. I think it would be a great opportunity for our community to redirect juveniles with low-level level offenses to keep them out of the system," Bonner said.
Commissioner Brandon Morrison, who sponsored the resolution for the pilot program, said once commissioners had the full information about the center, she was not surprised everyone came on board.
"I do believe criminal justice reform is important to all of us in Shelby County, because one of our biggest issues is crime," Morrison said. "Part of that is the revolving door of young kids getting caught in the criminal justice system and sadly never getting out of it. This, I believe, is an exciting step in what I hope will be long-term reduction of youth staying in the system."
As the pilot program takes off, county commissioners – including commission chairman Van Turner – will be closely watching the data to see the number of youths diverted from the juvenile justice system.
Turner said the center fits with his philosophy of treating and attempting to rehabilitate youth as opposed to detaining and sending them straight to juvenile court. He said the center is worth exploring to see how it works and if significant changes come as a result.
"I hope that it's a success," Turner said.
Shelby County Mayor Lee Harris praised the County Commission on social media for approving the contract on social media.
Great work by the County Commission in approving the Juvenile Assessment Center. This pilot program is one of the first in the country. It will be a place that law enforcement can use instead of arresting young men and sending them to court.

— Mayor Lee Harris (@MayorLeeHarris) December 4, 2018
Before the vote, Harris signed a memorandum of understanding signaling support of the center along with Juvenile Court Judge Dan Michael, Memphis Mayor Jim Strickland, Shelby County Sheriff Floyd Bonner and Memphis Police Department Director Michael Rallings.
"Many of these kids, kids who have committed non-serious offenses, can go on to live productive lives," Harris tweeted. "The idea is to give officers an alternative to giving them a criminal record. In many of these cases, it would be smart not to expose these kids to the system at all."
Reporter Omer Yusuf contributed to this story.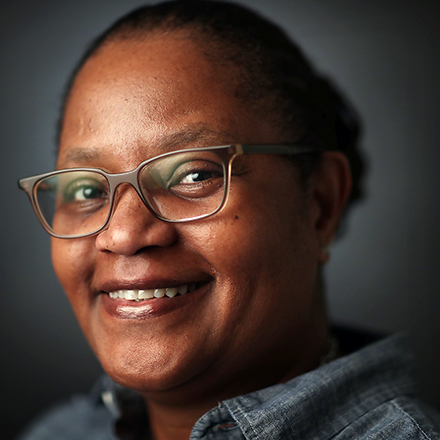 Yolanda Jones
Yolanda Jones covers criminal justice issues and general assignment news for The Daily Memphian. She previously was a reporter at The Commercial Appeal.
---