Grizzlies Mailbag: JaMychal Green's groove, 'Grizz Killers,' clutch play, road-trip expectations, and more
Lots of good questions this week, both current, historical, and a double-dip of life-beyond-hoops. Let's do it.
Grizzlies Questions of the Week
Is it possible J.B is playing JaM so much is to let him raise his trade value?

— Aquaman Grizzly (@hopelessgrizz) December 13, 2018
Is JaM Green averaging 14/7 in December sustainable? And if he keeps that up, how much of a raise will he need this offseason?

— Andy Frame (@AFrameJXN) December 13, 2018
I don't think JaMychal Green's recent playing time -- nearly 26 minutes a game over his past 10, which isn't really that much -- has the slightest bit to do with an organizational imperative to enhance his trade value.
It's because Marc Gasol is banged up, Jaren Jackson Jr. is understandably inconsistent, and most of all because Green has been playing really well. Over the past five games, he's averaged 15 points and eight rebounds and has done so in only 25 minutes a game and on only nine field-goal attempts a game.
Is that sustainable? The points are probably a little on the high end, but it's close to what I expected of Green this season. Green is the best offensive rebounder and second-best defensive rebounder in the Grizzlies' rotation. Like Gasol, he's bounced-back from a three-point-shooting dip last season that now looks environmental rather than personal for both players. And Green is the Grizzlies' most consistent energy player.
Green was candid in the preseason about his "contract year" being a motivator, but has still accepted a demotion to a bench role without complaint, and I think it's pretty clear that head coach J.B. Bickerstaff is both grateful for that and sensitive to honoring Green's willingness to put team above self. But Bickerstaff isn't doing Green any favors, minutes-wise. Green's earning every bit of it.
"JaMychal is a starter in the NBA. His productivity shows that and his skillset shows that. He's just doing something that is best for the team right now. And I couldn't appreciate him more for that," Bickerstaff said after Wednesday night's win against the Blazers.
I'm not sure that's quite true, though. I think Green is a borderline starter in the NBA, his role subject to specific team situations. My guess is that whoever signs him this summer will do so with the idea of Green functioning in his current manner: As a high-minutes third big man. And if that's the case, I don't know that Green commands a deal on the market any bigger than the one he's currently on ($7.7 million). Clear starters and wing players are where the money is going to go.
Green rebounds, defends, plays with energy, and makes threes. He's good, and he won't turn 29 until this summer. With Jaren Jackson Jr. in place, it's easy to see Green's expiring contract being a trade chip come February. But Jackson will still be so young next season and, if he returns, Gasol is likely to see minutes trend down, if only a little. The Grizzlies will need a quality third big again next season. Why couldn't it be Green? Keeping Green through the end of the season risks losing him for nothing in free agency next summer. But keeping him also retains "Bird Rights," allowing the Grizzlies to outbid the mid-level exception offers Green is likely to get. On a two-or-three year deal, he might be well worth that.
Please answer my question about bickerstaff and after timeout plays. It seems to be a really noticeable issue that hurts our execution and may cost us in tight gms down the stretch

— Asif Ahmed (@asifdoc74) December 13, 2018
This is probably something I haven't paid close enough attention to so far. I'm sure someone somewhere is tracking after-timeout efficiency, because someone somewhere is tracking everything now, but I don't know offhand where those stats are available.
Observationally, I don't sense the Grizzlies have particularly distinguished themselves in this area. Something different but related I was looking at earlier this week was the team's "clutch" play, as defined by NBA.com (last five minutes, score within five points).
The Grizzlies are third in the NBA so far this season in the number of "clutch" minutes they've played, at 71, behind Brooklyn (75) and Denver (75). The team's record is 9-8 in games that fall into this territory, with a net rating (point differential per 100 possessions) of +3.0. Before the Portland game, when I first looked at these numbers, it was -0.5.
Here's the Grizzlies' "clutch" net rating over the past several years, tossing out last season's 22-win debacle:
18-19: +3.0
16-17: +11.3
15-16: +12.7
14-15: +13.9
13-14: +26.2
12-13: +7.5
11-12: +11.9
10-11: -5.5
The Grizzlies had developed a reputation as a team that executed well in close games, and they earned that reputation. They aren't bad at this so far this season, but they're pretty average despite the Mike Conley/Marc Gasol familiarity. Some cite clutch effectiveness as one objective measure of quality coaching. Are you putting the right players on the floor? Are you calling the right plays or sets?
There's more to the job than this, much more. But by this one measure, Bickerstaff so far looks decent, but less effective than some of his predecessors. Of course, some of those years had prime Zach Randolph in a go-to role.
What is a realistic outcome that we should hope for on the Grizzlies upcoming road trip?

— Zak (@BarnBurnerBro) December 13, 2018
My sense was that long West Coast road trips have been bad for the Grizzlies, and remember writing something about that in the past. Upon investigation, it may have been pretty far back: The Grizzlies went 2-8 in two five-game West Coast trips back in 2009-2010, but since then it hasn't been that bad.
Here's the history over the past decade:
Overall winning percentage: .549
Road winning percentage: .445
Four (or more) game West Coast trips: .408
That's not terrible, but it's still not great. The Grizzlies are 7-7 on the road so far this season. If, on average, they're worse on their long West swings than they are overall on the road, then just getting a win out of a four-game West trip is acceptable. That's probably more true than usual on this trip, which goes like this: Golden State-Portland-Sacramento-L.A. Lakers.
The Warriors and Blazers aren't playing their best of late, but all four of those teams have winning records on the season and will presumably be favored at home against the Grizzlies.
What do you expect from D. Brooks when he is back with the team?

— Gontzal (@Gontzal33780598) December 13, 2018
When Dillon comes back, how does that affect the rhythm that Marshon/Casspi seem to have found?
Would Chandler even have a role then?

— Austin Burgess (@2chains1savior) December 13, 2018
The Grizzlies are expecting Brooks back in a couple of weeks. He's gotten more active from what we can see, but is still wearing a knee brace in practice.
Given his injury and absence, I wouldn't expect Brooks to immediately pick up where he left off, which was trending up but still behind where he'd finished his rookie season.
The Grizzlies need energy and scoring pop on the wings. Starters Garrett Temple and Kyle Anderson are (usually) good defenders and Anderson does all kinds of things, but they aren't really scorers. MarShon Brooks is and he seems to be playing better with the (somwhat) more consistent minutes he's gotten of late. I think MarShon Brooks' performance will determine if he stays in his current role, not the return of Dillon Brooks. If MarShon is scoring and helping the team, he'll keep playing.
Dillon's return is more likely to push Casspi and Wayne Selden down the depth chart, but I think both will still find their way onto the floor, just not with an every-night consistency. Injuries will keep happening, as well. If all the wings are healthy at once, that will be a good problem to have.
The biggest difference with Dillon Brooks, though, is that the Grizzlies need to figure out his role and value beyond this season. Unlike Casspi and more so than Selden or MarShon Brooks, he has a chance to be a core piece well into the future. The Grizzlies need to get a better read on that this season.
Over the past number of seasons, Grizz can't seem to have multiple 4+ game winning streaks throughout the season. Why is that?

— Daniel Stevenson (@danelstevesun2) December 13, 2018
Is this true? It was last season, where the team's best win streak was three (done twice), but that was also a 22-win team. The previous two seasons, the Grizzlies had two six-game winning streaks and a separate four-game winning streak on a 43-win team (2016-2017) and two four-game winning streaks and a separate five-game winning streak on a 42-win team. That seems pretty acceptable/expected? The last time the Grizzlies were really good, the 55-win team in 2014-2015, they had separate six-, four-, five-, and six-game winning streaks in a 21-4 start and added four- and eight-game streaks later on.
This season, they have one five-game win streak a third of the way into the season, but this is also an unusually large group of competitive teams in the conference. I think the night-to-night competition is too even this season to see many big win streaks in the West. As this is written, none of the 14 competitive teams in the West has an active winning (or losing) streak longer than three.
Is McCollum the greatest Grizzly killer?

— Christian Lemon (@ClemonTme) December 13, 2018
I don't have time for an exhaustive analysis, but as noted during Wednesday night's game, Blazers guard C.J. McCollum has been much more deadly against the Grizzlies than his alpha dog teammate Damian Lillard.
Lillard has shot worse than his season averages against the Grizzlies for six years in a row. McCollum, on the other hand, over his past eight games against the Grizzlies -- covering three seasons -- has averaged 30 points on 56 percent shooting. I think you'd be hard-pressed to find a player who's so significantly and consistently overperformed against the Grizzlies in the same time frame.
Why does Parsons dress out for the games? It's like me being at home sick from work, but still putting on a suit just to lay on the couch

— Bluebonnet Williams (@Rocker2) December 13, 2018
I was thinking about this on Wednesday night. While, according to the Grizzlies' own injury reports, Dillon Brooks is closer to a return than Parsons, Brooks was in street clothes and Parsons was in uniform and on the active roster. Maybe he just misses it so much?
I will note, and I had this conversation with a colleague while leaving FedExForum on Wednesday night, that Parsons is perhaps breaking ground in the realm of non-playing-player in-game roles: You've got The Chemist (the guy who dispenses the elaborate handshakes as the starters take the court) and The Towel Waver (the deep bench guy who cheers on his teammates with gusto). Parsons seems to be more of The Advocate of late, the guy who pleads the team's case to the referees during stoppages while his active teammates are in the huddle.
Will Parsons play again this season?

— don mynatt (@don_panti) December 13, 2018
I think you'll see him on the floor again but very much doubt you'll see him in any kind of consistent or regular role again.
Could JJJ be so good as to make him and his father the second best NBA father-son duo of all-time? I'm putting the Currys 1st and disqualifying the Barry family for having so many players.

— ChrisRTS (@ChrisRTS) December 13, 2018
The diss of the Barry dynasty is pretty arbitrary, but we allow for pettiness in this space. Chris followed up to answer his own question with Mychal and Klay Thompson, but I'm not even sure that's right.
Using the Barrys (sorry) and using career "win shares," per Basketball Reference, here are the 10 best father/son career duos (unless I'm forgetting somebody, which I may be), along with two recent additions:
Father/Son Career Win Shares
Rick/Brent Barry -- 199.4
Dolph/Danny Schayes -- 191.2
Joe/Kobe Bryant -- 185.6
Dell/Steph Curry -- 137.7
Mychal/Klay Thompson -- 101.6
Jimmy Walker/Jalen Rose -- 90.1
Stan/Kevin Love -- 82.7
Doc/Austin Rivers -- 75.7
Wes/Wesley Matthews -- 57.7
Arvydas/Domantas Sabonis -- 55.8
Bill/Luke Walton -- 52.8
Jaren/Jaren Jr. Jackson -- 13.5
It's Rick and Brent, and Jaren Jackson Jr. would have to be an all-time great to carry his own dad's modest career to the top of the charts. Even Kobe Bryant couldn't pull his pops up to the summit here.
I do think the Jacksons have a good chance to pass the Matthews in the Sr./Jr. rankings. But the more interesting question might be whether they can ever catch the Sabonis combo. Domantas is really good.
Does the lack of national coverage/media attention help fuel the teams mentality?

— Spencer Echols (@echols_spencer) December 13, 2018
Nah. They want to win and given the makeup of the roster, elite or near-elite defense is a prerequisite to do so. Winning is the motivation. (And for those nearing free agency, the next contract is a motivation.)
Why did the Commercial Appeal always insist on making writers use on "Z" when the team and the rest of the world used two for Grizz?

— Chris Wilson (@chriswilson02) December 13, 2018
This is one of those things that a subsection of Grizzlies fans gets worked up about that I just can't drum up much concern for, but will address as quickly and accurately as I can.
The CA was a one "Z" publication before I ever worked there. I believe then-sports-editor Gary Robinson addressed this once as wanting to distinguish team ("Griz") from mascot ("Grizz"). I was already a one "Z" person at the Memphis Flyer, where I began tweeting hoops stuff using the handle "flyergrizblog." It had nothing to do with the mascot. Rather, I went one "Z" for two reasons: Character efficiency in the 144-character Twitter era and aesthetics. I thought and still think "Griz" is more graceful than "Grizz." ("Flyergrizblog" still exists, now on its third successor, though I'll note that I did not hand down that handle; I actually changed it to my current "HerringtonNBA" while I was still at the Flyer. It could have been brought back as "flyergrizzblog," so I claim no responsibility for that remaining one "Z.")
The Daily Memphian decided to go "Grizz," and I admit there's no great argument against calling an entity what it wants to be called, even you think that entity should have a finer aesthetic sense. But if I find myself in a character crunch -- less likely now -- I may still deploy "Griz," and with no remorse.
The 'Around the Association' Question of the Week
I know he's not a fit with the current Griz, but what is expected to happen with ZBo this season?  Is there a market for him? Where would he fit best?

— MemphisLongBeach (@KevinandSuji) December 13, 2018
I love Z-Bo and it would have been cool to see him make a Memphis return, but it wasn't going to happen and one side benefit of the Joakim Noah signing has been to take that question off the table.
Will Randolph play anywhere this season? I don't think the Kings have any incentive to buy him out until after the trade deadline. If the Kings are still in the playoff race, Randolph's expiring contract could be a useful trade chip for a team that wants to win now. The odds are, though, that anyone who trades for Randolph will buy him out and if no-one trades for him, that the Kings will buy him out.
Where does he fit? I don't see an obvious place. A team trying to win, that doesn't have ironclad frontcourt depth, and isn't committed to playing at a breakneck speed? San Antonio? Minnesota? Detroit? Charlotte?
The 'There's More to Life Than Basketball' Questions of the Week
Virginia based family in town next week. Where should I take them (eat/drink play) top 3..

— Streetcred (@iamelvis2) December 13, 2018
I'll stick to restaurants here, and it always depends on who you're taking. This list wouldn't necessarily be where I'd take most of my visiting family, who tend to be a little less adventurous, but where I'd take friends who are more simpatico. I'll stick to your "top three" request, but with a little cheating:
Hog & Hominy or Catherine & Mary's: The Andrew Michael guys don't need the extra pub, but I'm answering honestly. I tend to shy away from the higher-end, reservations-needed places, but Catherine & Mary's big open windows looking out on South Main Street sort of puts it over the top in terms of a place to bring visitors. More likely, though, I'm going to Hog & Hominy as long as my guests are at all adventurous. Creative food in a casual atmosphere and all made to share.
Bar-B-Q Shop or Central Bar-B-Q: Bar-B-Q Shop is my favorite all-around, but Central is really good and its multiple locations and deeper menu makes it more convenient and safer for most guests. The Rendezvous has probably gotten a little underrated as destination dining.
These two pairs are all places I've taken visiting NBA media friends when they're in town.
Lucky Cat Ramen: This is my favorite Memphis restaurant of late. It's supposed to be moving from its small storefront on Cooper (down a bit from Overton Square) to a bigger space on Broad Avenue soon, so check its status before venturing out. The current location is better for a group of 2-4 than a bigger group. Maybe that will change when they move.
With Roma not playing in any theater in Memphis and it being almost certain that it will get a best picture nomination, I was wondering if you know if a best picture nominated movie has ever not played in a theater at all in this city?

— Jonah Kaufman (@jonah_kaufman) December 13, 2018
There appears to be at least one prior: "Imitation of Life" was a Best Picture nominee in 1934 and was apparently banned by the notorious Memphis Board of Censors, who's head, Lloyd Binford, kept many movies out of Memphis during his reign from 1928-1955. The film, about a white widow, her black housekeeper, and their daughters, was apparently banned by Binford for its racial content. I've never seen this original version, but the 1959 Douglas Sirk remake (generally held in higher esteem) might be one of the great classic Hollywood films.
The others I would wonder about would be "Midnight Cowboy" (1969) and "A Clockwork Orange" (1971), which were both rated "X." Did they get theatrical screenings in Memphis on their initial runs? I can't find anything to indicate they didn't.
Since we're on the subject, I've seen "Roma," though not on the big screen, and I greatly regret not getting the chance to see it in its best form. But it played pretty great on my TV too. Director Alfonso Cuaron's return to Mexico (he did "Gravity" and "Children of Men," among others, in English), it's a kind of art-film epic that evokes the "foreign cinema" classics of the Fifties and Sixties.
"Roma" is the most impressive 2018 movie I've seen (so far), but not quite my favorite. As a mostly former part-time film critic, my critics' group ballot is due this weekend. I'll share it -- somewhere, not here -- next week.
---
Grizzlies Podcast
Surviving injury limitations from Marc Gasol, Mike Conley
| | |
| --- | --- |
| Daily Memphian sports writers Chris Herrington, Geoff Calkins and Don Wade discuss the Grizzlies' recent dip and injury concerns for stars Marc Gasol and Mike Conley. | |
---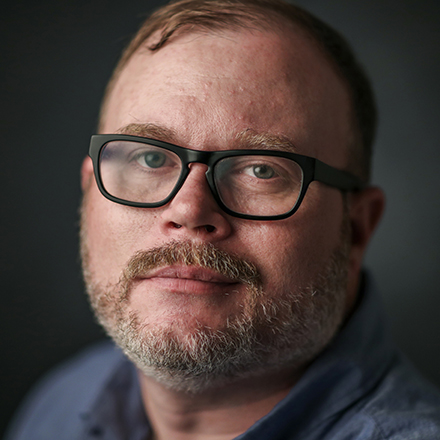 Chris Herrington
Chris Herrington covers the Memphis Grizzlies and writes about Memphis culture, food, and civic life. He lives in the Vollentine-Evergreen neighborhood of Midtown with his wife, two kids, and two dogs.
---