A tale of two Brooks: How the Grizzlies, Suns, Wizards trade fell apart
The Grizzlies were at the center of the NBA world on Friday night and it had nothing to do with their homecourt loss to the Miami Heat. Rather it was the breaking news about a trade that quickly fell apart. Or maybe never quite was.
In the last few minutes of the game, national NBA reporter Adrian Wojnarowski reported that the Grizzlies were recieving Washington Wizards forward Kelly Oubre in a three-team trade. It was then reported that the Phoenix Suns would be getting Grizzlies Wayne Selden and Dillon Brooks.
However, two Grizzlies sources confirmed to The Daily Memphian that it was MarShon Brooks, not Dillon Brooks in the deal. Media in Phoenix, however, insisted it was Dillon, not MarShon.
Soon after, a Grizzlies source told The Daily Memphian that the deal was on hold. A little while later, it had fully fallen apart.
Did the teams get confused about which Brooks was on the move? Sort of.
A Grizzlies source said that both the Grizzlies and Suns initially negotiated through Washington, which was trying to acquire Suns forward Trevor Ariza. Wizards general manager Ernie Grunfeld was reportedly the go-between.
"We were only talking to (Washington)," the source said. "Made very clear to Grunfeld that it was MarShon. Somehow it appears he told them Dillon."
Ariza wasn't actually eligible to be traded until Saturday and a trade agreed to in principle had not been sent, in writing, to the league office, which would have presumably revealed the confusion. The proposed deal leaked to the media while both the Grizzlies and Wizards were still playing, and conflicting media reports apparently served that purpose instead.
As the night went on and the trade fell apart, unattributed reports suggested that the Grizzlies and Suns had spoken directly about Dillon Brooks and had shared medical records and that Suns owner Robert Sarver and Grizzlies owner Robert Pera had discussed the deal. Multiple Grizzlies sources denied these reports, saying that the Suns never requested and were never sent Dillon Brooks' medical records in connection to this trade or any other, though they had previously inquired about his availability and were rebuffed. 
"Robert Pera did not communicate with Suns owner Robert Sarver about the reported 3-way trade. Further, neither I nor anyone from our front office spoke with Phoenix regarding the reported 3-team trade prior to it leaking during our game tonight," Grizzlies general manager Chris Wallace told The Daily Memphian via text.
"We never discussed Dillon as part of this trade with Washington - which was the only team we spoke with concerning this proposed deal." 
Both Wayne Selden and MarShon Brooks were told as they were leaving the floor that they were being traded. Soon after, the Grizzlies finally spoke directly to the Suns and the deal that never really was was nixed. Selden and MarShon Brooks, who played 11 and 16 minutes, respectively, against the Heat on Friday night, will now be back at FedExForum with the team to play the Rockets on Saturday night. The Grizzlies are not having pre-game shootaround on Saturday morning, standard practice following the first half of a back-to-back set. That's the way it goes -- ok, rarely -- in the NBA, but it's still what one team source called an "awkward situation."
What does the aborted deal tell us?
That the Grizzlies are willing to trade Wayne Selden and MarShon Brooks, both in the rotation but both free agents this summer? No surprise there.
That the Grizzlies are more reluctant to trade Dillon Brooks, under contract on a cheap team option next season and someone the Grizzlies think can but part of a long-term core? No surprise there either.
That the Grizzlies like Oubre? That's new information. Oubre is a just-turned 23-year-old wing player who is averaging 13 points a game for the Wizards this season. But Washington has luxury tax concerns and Oubre will be a restricted free agent this summer with a nearly $5 million qualifying offer.
As the Grizzlies seek to add young talent to grow with Jaren Jackson Jr. but hope to do so without falling back to last season's depths, he would seem to be exactly the kind of player they would target. (In theory, similar to the Grizzlies decision to go after Kyle Anderson in free agency this past summer instead of older potential targets.) That Oubre will be a free agent, if a restricted one, is why there's a limit what the Grizzlies (or, presumably, other suitors) would pay in a trade now. 
Knowing the team's interest in Oubre, could a separate deal with Washington re-emerge? Given the hard feelings between the organizations with the way this deal blew up, that seems unlikely. Given Oubre's impending restricted free agency, does the failed deal offer an early read on the Grizzlies' free agency thoughts next summer. Maybe.
Does it offer an indication of what kinds of deals the Grizzlies may yet pursue this season? I'd be less certain of that. This seems to have been an opportunity that emerged. A good young player for a couple of free agent bench players you may not bring back and a couple of second-round picks (one a near-phantom one)? Too good to be true. And it was. 
The Trade That Wasn't: A Twitter Timeline
As part of a three-team deal nearing completion: Ariza to the Wizards, Kelly Oubre to the Memphis Grizzlies and Austin Rivers and two Grizzlies role players to Suns, league sources tell ESPN. https://t.co/1EmRCHrjOP

— Adrian Wojnarowski (@wojespn) December 15, 2018
The Suns have traded Trevor Ariza to the Washington Wizzards in a three team trade with Memphis. Suns get back Wayne Selden, Dillon Brooks and Austin Rivers

— John Gambadoro (@Gambo987) December 15, 2018
Clarification: MarShon Brooks on his way to Suns, not Dillon.

— Adrian Wojnarowski (@wojespn) December 15, 2018
Ugh. There were two separate reports of it being Dillon Brooks. Woj now saying MarShon. That makes even more sense. (Yes a game is still happening in front of me.)

— Chris Herrington (@HerringtonNBA) December 15, 2018
A Grizzlies source confirms it's MarShon Brooks in the deal.

— Chris Herrington (@HerringtonNBA) December 15, 2018
Grizzlies trade is not complete yet.

— Chris Herrington (@HerringtonNBA) December 15, 2018
Suns expert @Gambo987 insists Phoenix is getting Dillon Brooks. Memphis dignitary @HerringtonNBA says it's MarShon Brooks. Ariza isn't even trade-eligible for 83 more minutes. #thisleague https://t.co/fQJSQx5Epw

— Marc Stein (@TheSteinLine) December 15, 2018
One more time. It is DEFINITELY Dillon Brooks.

— John Gambadoro (@Gambo987) December 15, 2018
FWIW: Two sources told me it was MarShon, not Dillon, after initial Dillon Brooks report, but then I was told deal was not complete.

— Chris Herrington (@HerringtonNBA) December 15, 2018
Sources with @ZachLowe_NBA: Deal in jeopardy over which Brooks -- MarShon or Dillon -- the Suns believed it was getting in the trade. Memphis will not put Dillon Brooks in the trade, sources said.

— Adrian Wojnarowski (@wojespn) December 15, 2018
For everyone joking about Grizzlies/Suns confusion: Remember that this was a three-way deal.

— Chris Herrington (@HerringtonNBA) December 15, 2018
Now hearing the trade, at least from the Grizzlies side, is not happening.

— Chris Herrington (@HerringtonNBA) December 15, 2018
You vs. the guy they thought they were trading for pic.twitter.com/MrMoDBADHh

— Hardwood Paroxysm (@HPbasketball) December 15, 2018
Fun thing: Pretty sure reporters on Twitter were the reason the Grizzlies and Suns realized they didn't make the deal they thought they did.

— Adi Joseph (@AdiJoseph) December 15, 2018
You can not make this stuff up.

— John Gambadoro (@Gambo987) December 15, 2018
At least we get to keep the Brooks Museum.

— Geoff Calkins (@geoff_calkins) December 15, 2018
?? #GoGrizz

— Dillon Brooks (@dillonbrooks24) December 15, 2018
Was this even the wildest aborted Grizzlies three-team trade in franchise history?
Remember 2011? This one happened in the middle of the day, not in the middle of a game, but right up against the 2011 trade deadline and the shot-clock expired.
The reporting from the time from The Commercial Appeal's Ron Tillery and myself at The Memphis Flyer seems to have disappeared from the internet, but here's how ESPN and SB Nation pieced it together:
Minutes before the league's 3 p.m. ET trade deadline, multiple sources told ESPN.com that a deal had been struck. But shortly after the deadline passed, Grizzlies owner Michael Heisley expressed concern that Memphis and Indiana might have missed the deadline to submit the transaction to the league, the Memphis Commercial Appeal reported.
An hour after the deadline, one source told ESPN.com that the two teams failed to finalize the deal before 3 p.m., while another source said the Grizzlies pulled out of the agreement before the league trade call could make it official.
Then, a third team emerged. From SB Nation:
More details are now emerging on why a trade that would have sent O.J. Mayo from the Grizzlies to the Pacers for Josh McRoberts and a first-round pick was voided because it missed the 3 p.m. deadline.
Ronald Tillery of the Memphis Commercial Appeal reports that the two teams agreed on the trade, but the Pacers wanted to make it a three-way deal to help them financially. The New Orleans Hornets were recruited to make that happen, but backed out at the last minute. Desperate to make things happen, the Grizzlies and Pacers recruited a different third team, but by the time the three squads got on the call, it was 3:01 and too late. The Hornets were likely to receive Brandon Rush from the Pacers, according to Mike Wells of the Indy Star.
Grizzlies owner Michael Heisley told NBA.com's David Aldridge that it was the Pacers that weren't able to make it happen, which somewhat backs up Tillery's account. The reality, though, is that it was a failure on every team's part that caused the trade to break down. Clearly, the trade deadline is truly a deadline that cannot be passed under any circumstances.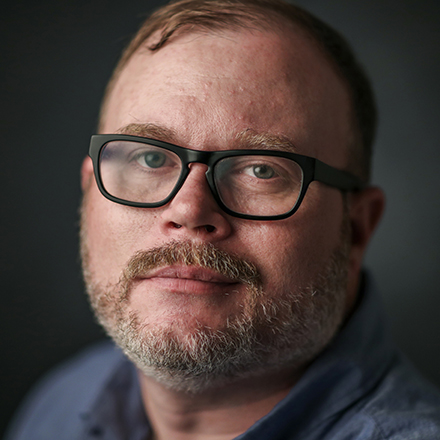 Chris Herrington
Chris Herrington covers the Memphis Grizzlies and writes about Memphis culture, food, and civic life. He lives in the Vollentine-Evergreen neighborhood of Midtown with his wife, two kids, and two dogs.
---