Without philanthropy, Ravine will be 'grittier' than the renderings
A vacant rail spur beside the former Kudzu's Bar & Grill received initial funding to be transformed into a shared public plaza.
The Downtown Memphis Commission's (DMC) affiliate Center City Development Corp. (CCDC) board approved a $400,000 grant for phase I and a contingent $300,000 challenge grant for phase II.
The $5.7 million project is a three-phase effort to create five outdoor rooms running through the significant investment taking place in the Edge District, including but not limited to the $950 million Union Row project and $73 million renovation of the Wonder Bread factory.    
---
PATRICK LANTRIP: Wonder Bread developers seeking grant for expansive Edge District park
---
The outdoor space begins with a pop-up/food truck retail plaza near Union Avenue and ends with an event place on Madison Avenue. In between, there is linear park space, public restrooms, seating nooks, activity rooms, gardens and outdoor play spaces.
Phase I, anticipated to be finished by May of 2019, will ready the abandoned rail spur with grading and site prep, utilities, power connectors for food trucks, lighting, perimeter fencing, bathrooms, irrigation and some hardscaping.
"After phase I, it will result in a useable functional park," said Bret Roller, DMC vice president of planning and development, in response to board member concerns about the potential for an "abandoned project" if additional funds are not raised for phase II.
Phase II would add retaining walls, stairs, walkways; aesthetic lighting, tables, chairs and benches; a large performance stage and equipment; gateway arches, slides and other small vertical features; and all remaining landscaping.
Board member Ray Brown raised concerns about the Madison Avenue overpass; "It's not only unsightly, but dangerous," he said.
Gary Prosterman, president and CEO of Development Services Group, which is part of the ownership group PGK Properties, said DMC president Jennifer Oswalt has been meeting with the City of Memphis about using discretionary funds to repair the city-owned bridge.
"It's up to the city," Prosterman said. "All we can do is be a squeaky wheel to remind them about the repairs."
PGK is contributing $500,000 for phase I. Phase II is contingent on PGK's ability to raise $1.7 million through philanthropy.
PGK plans to make the leading contribution for phases I and II as well, Prosterman said. The development group is also in contact with national foundations who support urban parks around the country.
"We work around the country in urban cores. We've seen what these urban placemaking opportunities can do to really activate and animate areas," Prosterman said. "In this case, it is a unique opportunity because the Medical District is quite the growth engine that keeps on coming. Now, with Indigo Ag and Union Row the Ravine will serve as a north south connector for the Edge District."
The CCDC's $300,000 challenge grant would be the final piece to funding phase II, scheduled to begin in fall of 2019.
PGK will need to raise $2.1 million in philanthropy to fund the final phase, which includes larger, expensive enhancements, such as playgrounds, splash pads, bridge connections and public art, likely to be funded through gifts by individuals, corporations and foundations.
"Think back to Loflin Yard," Oswalt said to board members. "That was an unproven concept that has taken off. We think this will be a similar project. Although phase I might be a little grittier than the renderings, we think it will still be a really fun place."  
In other news:
The CCDC board approved a $60,000 exterior improvement grant for a new craft cidery and taproom that would be connected to the start of the Ravine from Union Avenue.
---
PATRICK LANTRIP: Cidery submits plans for Downtown location
---
To help fund the historic Arcade Restaurant's nearly $779,000 renovation and expansion, the board approved a $200,000 development loan and $60,000 exterior improvement grant.
---
KATE CRAWFORD: Arcade Restaurant to undergo expansion, renovation next year
---
After Carlisle Corp. added more rooms and meeting space to its hotel at One Beale, it drove up the cost and put public amenities like landscaping, art and water features at risk of being eliminated.
To make sure those public features are built, the CCDC board has agreed to pay for them through a $987,100 grant.
---
TOM BAILEY: Construction nears for One Beale 
---
Indigo Ag secured a $100,000 commercial office grant to help build out its North American commercial operations headquarters in Toyota Center, and parking assistance, in which the DMC will help them find parking within 1,000 feet of their office at an average monthly rate of $65.  
---
TOM BAILEY: Indigo Ag's average Memphis salary to be $92,383
---
The DMC will also incentivize the company if they can convert their employees from single care drivers and parkers to carpooling, biking or riding a scooter to work, by paying for bus passes, Bird scooter time and even cash payments.
"Since they are coming from the northwest, we are hopeful they will be willing to park farther," Oswalt said. "We want to use this as an opportunity to change behavior, not only alternative uses, but also, 'My parking has to be literally under my building or next door.' It could be a block away."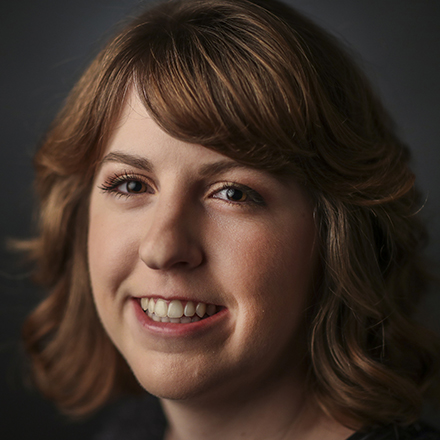 Michelle Corbet
Michelle Corbet covers business for The Daily Memphian. Prior to, she was a reporter at the Memphis Business Journal. A native Memphian and University of Memphis graduate, Michelle covered business in Conway, Arkansas after college. Michelle got her start covering business as an intern at The Commercial Appeal.
---