Jernigan Capital is go-to lender for self-storage, just not in hometown
It's partly Dean Jernigan's fault that Memphis-based Jernigan Capital doesn't have a self-storage facility in his hometown.
Granted, Memphis isn't in the sweet spot for the publicly traded real estate investment trust that lends money to developers of self-storage and eventually buys some of those properties.
But one reason the company sees no compelling investment opportunities here is that Jernigan did such a good job developing in Memphis and attracting competitors to do the same over a nearly 30-year span.
He started Storage USA in 1984 and built it into a public company that peaked at more than 570 properties. By the time it was sold to GE Capital in 2002, Jernigan was well on his way to being known as the godfather of the self-storage industry.
His first Memphis self-storage warehouse was at Mendenhall and Summer, not far from where another Memphis business pioneer, Kemmons Wilson, opened the first Holiday Inn in the 1950s.
"The success of Storage USA kind of made Memphis a pretty heavily saturated self-storage market going all the way back to the 1980s and continuing all the way through today," said Jernigan Capital chief executive officer John Good.
Jernigan and his wife Kristi also became civic champions by forming a nonprofit to build and operate AutoZone Park as home to the minor-league baseball team the Memphis Redbirds.
The Jernigans live in Miami now, but Memphis was his choice for Jernigan Capital's home office after the company, formed in 2013, went public with an initial public offering in 2015.
Ahead of the curve?
Jernigan's idea for Jernigan Capital was to take advantage of a shortage of self-storage in fast-growing metro areas coming out of the recession.
As of November, it had invested $838 million in 70 projects, lending money to a few dozen trusted, well-vetted developers to build new self-storage facilities. Deals are structured so Jernigan Capital can later acquire and operate the properties when developers want out.
Jernigan Capital joined a long line of regionally or nationally significant real estate investment trusts that have called Memphis home over the years, including Education Realty Trust (EdR), RFS Hotel Investors, Mid-America Apartment Communities and Equity Inns.
In October, Jernigan dropped one of his titles. Previously chairman and chief executive officer, he became executive chairman.
Jernigan was succeeded as CEO by Good, who, in turn, handed off the title of president to Jonathan Perry, completing a succession plan that had been in the works a couple years.
Jernigan said in a release, "We are very fortunate to be able to execute a senior executive succession plan with two people who have the self-storage knowledge, experience, wisdom and judgment that John and Jonathan have. John and Jonathan have worked together extensively in the past and over the past five months at Jernigan Capital and complement each other wonderfully. We remain well-positioned to continue our growth and delivery of strong shareholder returns into the future."
New titles, same roles
Good, 60, a Memphian since age 2, said while titles have changed, "We're all pretty much doing what we were doing beforehand. The titles are just more aligned with our day to day responsibility."
 "Dean, since the company was formed, has been primarily interested in developer relationships, utilizing his 30-plus years of expertise in making sure we are making the best investments we can possibly make, and developing the best relationships with developers we can possibly develop," Good said.
"Also helping us select third-party managers; he's been doing that, he's going to continue doing that, as well as managing the strategic agenda of the company and managing the board," Good said.
"From the standpoint of day-to-day execution, Jonathan and I are pretty much doing what we'd been doing since June 1. I don't think that's going to change much until I get closer to retirement time, and then there will be succession down the road, with him ultimately being the person to take over for me," Good said.
Perry arrived in June from Philadelphia-based CubeSmart, where he had been chief investment officer.
His move coincided with Jernigan Capital's increasing emphasis on owning and operating facilities as pent-up demand for new development plays out.
Perry, 45, a Memphis native, who is also chief investment officer, started his career in the industry in 1998 at Storage USA. He later was Jernigan's partner in a private venture and made the move to CubeSmart, where Jernigan became CEO.
"We're shifting into more of an ownership role," Perry said. "We think about the projects we have partnered on, 70 some-odd projects, we want to be the owner of the overwhelming majority of those. And the overwhelming majority of those are being built to sell, so we have structurally mechanisms in place to make sure if we want to own the assets, we will be the buyer. Over the course of the next 12-24-36 months, you will see us buy out our partners and own those assets outright," Perry said.
So far, Jernigan Capital has acquired six of the initial 11 self-storage facilities that it financed in 2015.
Year to date it has invested about $200 million in loans and developer buyouts.
Jernigan Capital doesn't run facilities itself but farms out operations of both company-owned and financed facilities to large nationwide self-storage firms, such as CubeSmart, ExtraSpace and LifeStorage.
Future vision: $2.5 billion-plus portfolio
Good and Perry have an expansive vision for Jernigan Capital's future.
Self-storage has outperformed the rest of the real estate investment trust (REIT) sector at least since 1994, Good said, and Jernigan Capital has posted average annual returns of 12-13 percent.
Perry added, "There's a tremendous amount of demand for self-storage, not only from the REITs, the publicly traded self-storage operators, but also private equity, and it's all due to the sector's out-performance over the last 20-plus years."
"There's a tremendous amount of capital on the sidelines looking to get into self-storage… there's a tremendous amount of demand for the product, just not enough product to go around," Perry said.
Good discussed the shift from primarily lending to developers to acquisition and ownership.
 "I think three to five years from now we are largely an owner-operator and we'll have a portfolio that will very likely exceed $2.5 billion in value. We'd like it to be even significantly higher than that," Good said.
"We'll continue to selectively develop in markets where development makes sense, and when the development cycle comes back around, which will happen, as developments curtail and population grows and demand starts to exceed supply again, we'll be poised to do the same thing we've done for the last three years, but we'll do it in a company that is largely supported by a very profitable, owned portfolio, so it will be just another leg to the stool," Good said.
Mobility drives self-storage demand
Jernigan Capital favors growing, more affluent areas with higher population density, heavy on renters and millennials in particular. Mobility is the lifeblood of self-storage, Perry said. "You need people moving…whether they're downsizing or upsizing, life events, you need movement."
An uptick in mortgage rates helps the self-storage business as it dampens home-buying demand and keeps people in apartments.
"I think a lot of people are perfectly happy with that form of living now, and self-storage just feeds right into that," Good said. "They're in that 800-900 square feet, you kind of have room for maybe one season of clothing and not much else."
Jernigan Capital's preferred property is Generation V self-storage.
"Dean coined that term. The V stands for vertical," Perry said.
Traditional self-storage was single-story drive-up like Jernigan's site on Summer Avenue, "The current generation product is vertical, meaning it's 3-, 4-, 5-story buildings. It's a more complex structure, no doubt, it can be built on a smaller footprint, and it resembles what you would traditionally think of as high-rise multi-family or high-rise commercial in more of an urban space," Perry said.
The company has a 10-story going in off Peachtree in Atlanta's Buckhead neighborhood. Good said, "It's going to look almost like an office building. The way you'll tell the difference is, when you look at the glass, you're going to see the storage doors in the glass."
Jernigan Capital has 97 percent of its facilities in the top 50 metro areas and 83 percent in the top 25.
Investing in Memphis
Whether it will develop in Memphis in the future remains to be seen.
"I think from the standpoint of commitment to the city, the fact that we don't have properties here, it's not really a statement of whether we want to be here or not," Good said.
"I could see a day, if you keep building 200-300 unit apartment buildings Downtown, and you end up with 10,000 new residents Downtown and no place to store stuff, and with the availability of land and us being headquartered here, presuming we could get the land and get a site zoned and planned and all that, that might be a situation where we would do that,"  Good said.
Meanwhile, company officials feel right at home calling the shots for a nationwide business out of a 15-employee, sixth floor office at International Place in East Memphis.
"If you look back over the past 20-plus years, this has been a pretty solid city for real estate investment trusts," said Good. In the 1990s, "outside of places like New York, Chicago and San Francisco-LA, kind of the money centers, there weren't many cities where you had that many REITs operating in one place."
"You had a talent pool to pull from on the accounting and finance side, to some degree on the real estate side..." Good said.
The quality of life and cost of living are also advantages, Good said.
"We could have been in Miami. The cost for us to operate a public company in Miami would have been fairly significantly greater than it is here," he said.
Memphis "is a nice balance between access to people, cost of living, cost of labor, cost of professional providers, lawyers, accountants, other public company costs that you have to incur. I think that all is weighed in to the thought of locating here," Good said.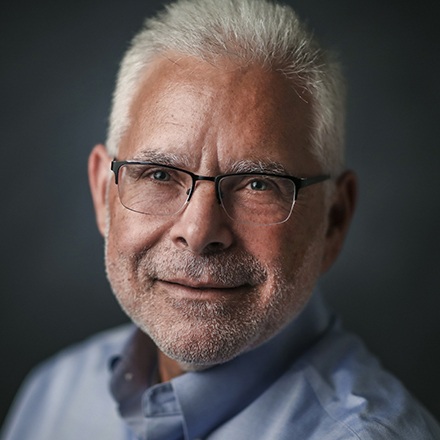 Wayne Risher
Business news reporter, 42-year veteran of print journalism, 34-year resident of Memphis, University of Georgia alumnus and proud father and spouse of University of Memphis graduates.
---