Flu hunter's career spent tracking down a virus
Lab coat, lab coat, raincoat.  
This is not a variation of Duck, Duck, Goose. It's what can be seen when walking the hall of portraits of St. Jude Children's Research Hospital's world-renowned doctors, scientists and researchers.
Situated among the white lab coats and gray suits is a portrait of Dr. Robert Webster wearing a bright red raincoat, knee deep in the dusty blue waters of Alberta, Canada. A flock of ducks is seen in the background. 
The 86-year-old scientist is known worldwide as the first person to connect the flu virus to migratory birds. The birds can spread it to poultry, which could potentially cause the next pandemic by spreading it to humans. 
"He's very much a gentleman," said Webster's protégé Dr. Richard Webby, director of the World Health Organization Collaborating Centre for Studies on the Ecology of Influenza in Animals and Birds at St. Jude. "I wouldn't say he's chirpy. He has a good sense of humor. But he's very serious about the work he's done. He doesn't have the attitude that often comes with the stature that he has."
After traveling the globe in search of the origin of the flu virus, Webster discovered it on the banks of the Mississippi River.
One hunting season, Webster found the ducks being hunted in the Mississippi Flyway had a low frequency of flu. He thought it may be the end of an outbreak in ducks, so he wrote letters to wildlife services in Canada.
"Bruce Turner from Alberta responded and said, 'You can come and join the banding team for the year if you wish,' so I did," Webster said. "And the young people couldn't quite believe that these perfectly healthy young ducks of the year were shedding influenza, but they were."  
The portrait is based on one of the first photos Webster took on that trip to Canada that would forever change the way the world sees migratory birds.  
"I wasn't really setting out to be different. The portrait artist sat me down and said, 'Go through your life's work,' and so on," Webster said. "He decided that was the setting he'd put me in. The guy in the background is Bruce Turner — the guy who agreed to letting me come."
Flu hunter
"He is emeritus, which for most people means retired, but not Robert. He's published 12 articles this year alone," said Dr. Elaine Tuomanen, chair of the Department of Infectious Diseases at St. Jude.
For the past year, Webster has been traveling the world to commemorate the 1918 Spanish influenza pandemic.
"One hundred years ago, the monster virus emerged and the question still is, could another influenza virus, with the terrible disease that caused, ever occur again?" Webster said.
Most of Webster's research these days takes place in Asia and Bangladesh, following the evolution of bird flu.
"Those viruses transmit in the live poultry markets from birds to humans. Those humans who get infected, up to 60 percent die. If those viruses ever learned to spread human to human, it will be a catastrophe," Webster said.
In 1997, a child in Hong Kong died from bird flu. The virus was linked to the poultry markets of China, and while the Chinese have controlled the virus through poultry vaccination, they did not get rid of it. It spread to China's domestic duck population.
In 2012, Dutch virologist Ron Fouchier told a group of scientists at the annual meeting of the European Scientific Working Group on Influenza he had manipulated the bird flu virus so it contagiously spread from ferret to ferret in his lab.
"I remember the meeting when he told the story of transmission from ferret to ferret, all hell broke loose," Webster recalled. "I said, 'He's opened Pandora's box.'"
The press took the scientist to task for manufacturing a bioterrorism agent that could have devastating effects if it ever got out of the lab.
---
"Mother Nature has been shuffling her cards. These eight genes – all the changes needed to make the flu spread human to human exists, but they have to be put in the right combination."
Dr. Robert Webster, scientist
---
A debate ensued among politicians and scientists, some arguing that publishing the scientific research could get potentially harmful information into the wrong hands. 
Ultimately, the report was published, detailing the potential for the bird flu virus to spread from human to human.
There are 16 flu viruses in wild birds. Only three so far have caused disease in humans. The genesis of these viruses is made up of eight gene segments.
"Mother Nature has been shuffling her cards," Webster said. "These eight genes – all the changes needed to make the flu spread human to human exists, but they have to be put in the right combination."  
As the scientific community works to create genetically modified flu-resistant poultry and pigs, they continue to also work on a universal flu vaccine. 
"I want to see the closure of all poultry markets worldwide because that's where the transmission will occur," Webster said.
Webster does not recall ever having the flu. Of course, he gets his flu shot every year, which he says is absolutely mandatory.
One of his greatest concerns is the growing population that does not believe in vaccines.
"This idea that vaccines cause problems like autism is wrong," Webster said. "People who do not vaccinate their children put their children at grave risk and the whole community at grave risk."  
At a lecture and signing of his recent book, "Flu Hunter: Unlocking the secrets of a virus," Webster was asked whether there is a credible threat of influenza being used as a bioweapon.
"We have to always be aware of that possibility. Any agent that can be administered by aerosol sprayed on people has that potential," he told the packed auditorium. "All of you, as scientists, have the potential to play God, so we have to be very careful about what we do."
Accidental career  
Webster's life's work began by "making the most out of a bad deal."    
He grew up on a farm in New Zealand as one of 13 children, attended a local high school and went on to study vaccinia, or smallpox virus, at New Zealand's University of Otago.   
The virus created cold sores around the mouths of sheep that transmitted smallpox from the animal to humans.
After setting up New Zealand's first agriculture biology lab, which isolated lots of viruses from domestic animals, Webster wanted to do more.
In 1960, he was accepted into the Australian National University's Ph.D. program, working with Dr. Frank Fenner to introduce the myxomatosis virus to control the country's rabbit population.
The day Webster arrived, Fenner broke the news that Webster would not be working on pox viruses; he would be working on influenza.
"That was one of the most terrible days of my life," Webster said. "I had gone there specially to work with him and I was told to work on influenza, which I knew little or nothing about."  
When visiting the flu vaccine creator, Dr. Edwin Dennis Kilbourne, in New York, Webster took a detour to visit the Centers for Disease Control and Prevention in Atlanta.
Dr. Allan Granoff, former chair of St. Jude's Department of Virology/Molecular Biology, was actively recruiting scientists to what was a fairly new hospital at the time, and convinced Webster to make another detour to give a lecture at St. Jude.
"I liked what I saw," Webster said. "I liked the idea of using basic science and clinical science with the aim of curing children of diseases. It was an attractive idea for a young man."
Turbulent times
Webster arrived in Memphis in 1968.
"It was a disaster in the first year," Webster said. "Because (Dr. Martin Luther) King (Jr.) was killed and my family said, 'You brought us here to this terrible part of the world with tanks in the street?' So, I set out to resign my position."
Instead, Granoff encouraged Webster to take a leave of absence and go back to Australia to figure things out.
"Within six months, I realized I didn't have my own program there, so I came back to Memphis and I've been here ever since," Webster said.
---
"St. Jude is one of the superb places in the world to work. It provides the infrastructure and opportunity to do work that really matters in this world."
Dr. Robert Webster, scientist
---
It was St. Jude's mission of serving all families regardless of race, religion or socio-economic status, along with the possibility of designing his own research that would contribute to the health of children, that brought Webster back.
"St. Jude is one of the superb places in the world to work," he said. "It provides the infrastructure and opportunity to do work that really matters in this world."
At the time of King's assassination, Webster walked in the I Am a Man march with Memphis sanitation workers who were protesting for better working conditions.
"I believed in the future, the black-white friction at the time had to change and St. Jude was contributing to that in their own way," Webster said.
The Memphis of today has several things going for it, Webster said: It's a clean city and has a good school system for children.
"Acceptance of the black population of the U.S. is very important to me, and we still have remnants of it," Webster said. "We don't appoint enough black people in St. Jude as we should. It's not a criticism. It's a need in the black population of the importance of education. It is so important and has improved over the years." 
Work continues   
Webster is often asked why he is working on influenza at a hospital known for pediatric cancer.
"Who has received the vaccine this year?" Webster asked those who were gathered at the recent lecture. "If you haven't, it is a liability for children. That's why we work on a flu vaccine at St. Jude, to protect our children."
---
"This idea that vaccines cause problems like autism is wrong. People who do not vaccinate their children put their children at grave risk and the whole community at grave risk."  
Dr. Robert Webster, scientist
---
In 1975, St. Jude was chosen as the first World Health Organization Collaborating Center for Influenza, a designation it has retained for 43 years. 
"I got a letter through the post office asking would St. Jude like to become a collaborating center, and I put it aside. Well, that's very nice, but so what," Webster said.
It was a year or two later before Webster realized what the honor meant. Out of the six collaborating centers worldwide that applied, St. Jude was being asked because it understood where flu viruses come from and how to control them.
For years, Webster served on panels that decided what the flu vaccine would be for the world. Now Webby, his protégé, goes twice a year to help decide how to protect the world against flu.
"The work continues here to really understand this whole process of how influenza moves from animals to humans," Webby said. "We're addressing the same questions he had decades ago, but with much higher levels of sophistication with the technologies we have now."
If you look at Webster's career, Webby said, the one thing he's failed at miserably is retirement: He officially retired three years ago, but has been to work every day since.
"There's still need for a better vaccine, better medicines and ultimately to control influenza," Webster said.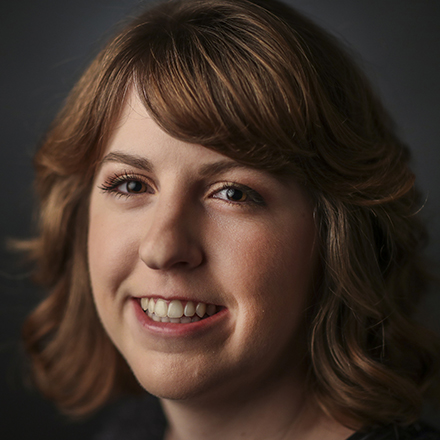 Michelle Corbet
Michelle Corbet covers business for The Daily Memphian. Prior to, she was a reporter at the Memphis Business Journal. A native Memphian and University of Memphis graduate, Michelle covered business in Conway, Arkansas after college. Michelle got her start covering business as an intern at The Commercial Appeal.
---