Instead of flowers, send hope
Nurse creates hospital gift card in honor of late granddaughter
About eight years ago, Amanda and Timothy McCollum were expecting their first child, a little girl.
She was prenatally diagnosed with hypoplastic left heart syndrome, a birth defect that affects blood flow through the heart.
If she survived, her parents knew she would have multiple hospitalizations and surgeries.
The couple's friends, family and church reached out to help support their journey. They brought them meals and gift cards for gas or nearby fast food establishments.
Charlotte Hope was born on Nov. 8, 2010. She died the night before Thanksgiving Day that year.
"Sadly, she only lived a couple of weeks, but we were so blessed by the people that touched them and helped them in so many different ways," said Charlotte Hope's grandmother, Cindy Reaves, a 40-plus year employee of Methodist Le Bonheur Healthcare, who now works as an RN at Methodist Le Bonheur Germantown Hospital.  
After the birth of their son Dax, 6, the McCollums' youngest child, Miles, 4, was prenatally diagnosed with down syndrome and a heart defect as well.
Miles has undergone multiple surgeries, spending nine months in and out of the hospital during his first two years of life.
"Often, their only time together would be in the hospital cafeteria," Reaves said.
Her family's extended hospital stays, paired with the outpouring of support they received, inspired Reaves to create the Hope Card.
Available for purchase in $5 increments online and in the Methodist-Germantown gift shop, the Hope Card can be used to buy meals in the cafeteria or items from the gift shop.
"When folks are admitted into the hospital, in many instances it is an unexpected thing and creates a challenging dynamic for families," said William Kenley, executive vice president of Methodist Le Bonheur Healthcare's Community Group. "This is a way, a conduit if you will, for friends and family members to help those folks out through meal expenses and access to food while at the hospital."
While patients are taken care of by physicians and staff, families and caregivers also need support.  
"Flowers are beautiful, but you can't eat them, so they came up with the slogan, 'Instead of flowers, send hope,'" Reaves said. 
The Hope Card is an example of Methodist Le Bonheur's "Power of One" culture, Kenley said.
"Power of One culture, simply put, is that one individual — one team — has the opportunity to make a difference in the lives we touch," he said.
Amanda McCollum can't be more proud of her mom and says it is extremely meaningful that the card is named after her daughter.
"We chose the middle name of Hope during my pregnancy after we learned of her heart defect," Amanda said. "We knew her life would be challenging, but we still had hope that God is good and beauty can come from a journey that's challenging."
The Forrest Spence Fund, a local nonprofit that assists with the nonmedical needs of critically or chronically ill children and their families, also helped the McCollums during their children's hospital stays.
"Seeing what they did for us also gave us the idea of how can we change this experience that's been painful for us into a blessing for others," Amanda said.  
The average cost of a meal in the Methodist-Germantown cafeteria is $7 to $10.
"The cost of those hospital meals, you're talking $30 a day for just one person to eat," said Reaves, who oftentimes sees families on fixed incomes struggle to pay for meals.  
The price of Methodist-Germantown cafeteria meals is comparable to other area hospitals as many use the same contractors, Kenley said.
"It's not so much the price of the food offerings, but challenges people have in purchasing food whether in the hospital or across the street," he said. "We see quite often folks who have means might not have means with them. When an admission happens, it is unexpected."
To expand the program across the hospital system would not be difficult, Kenley said. It would require communication and making sure each site had a person who would administer the cards and create awareness.
Over the Christmas holiday, several families bought Hope Cards and donated them to the hospital to give to a family in need. Cards that are not designated for a particular family are administered by hospital staff.
"Some people go through life and never know what their impact is," Reaves said. "(Charlotte Hope) had a very short life, but it impacted a lot of people and it still will in an even more positive way now."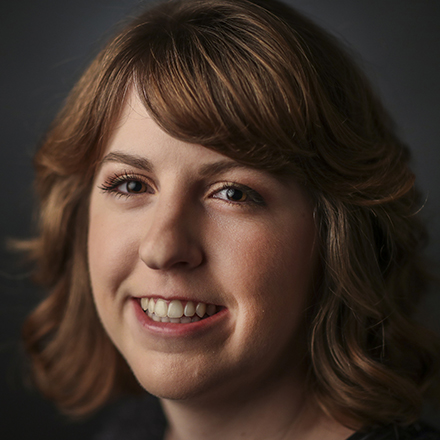 Michelle Corbet
Michelle Corbet covers business for The Daily Memphian. Prior to, she was a reporter at the Memphis Business Journal. A native Memphian and University of Memphis graduate, Michelle covered business in Conway, Arkansas after college. Michelle got her start covering business as an intern at The Commercial Appeal.
---