Herrington: Mike Conley's All-Star odds, trade deadline options, and other Grizzlies midseason notes
The holidays were not a festive time for the Memphis Grizzlies.
Between Thanksgiving and New Year's Day, the Grizzlies went 6-13, turning their 12-5 start upside down. And whatever New Year's resolution the team made, it didn't immediately take, as the bad times carried over into 2019.
But with their losing-streak-ending with a 96-86 home win Wednesday night, the Grizzlies hit the 82-game NBA season's midpoint on a happier note. At 19-22, the team is on pace to go 38-44 on the season. That's a few games better than most outside-of-Memphis prognostications had them pegged, and, well, let's look back at what your humble correspondent predicted on the eve of the season:
[T]he Grizzlies will remain mathematically alive in the Western Conference playoff race heading into April but will fall several games short, finishing at 38-44.
I have to say, I would still register 19-22 a disappointment, because my record prediction baked in more missed games from Mike Conley and Marc Gasol than the combined one (O-N-E) the team has suffered so far, even if there's reason to think the team might have actually benefited from a little more rest for its veteran stars.
At the halfway point, let's take stock, briefly, of what's happened so far and, moreso, look ahead at the biggest questions, moments, and inflection points looming over the next three months.
First-half review: Good, bad, ugly
The Good: Mike Conley's general return to form from ankle surgery, which was not guaranteed. … Jaren Jackson Jr. being a third-option scorer and impact defender as the league's second-youngest player. He's a "project" in the sense that he can get so much better, not in the sense of "he'll be good in a couple of years." … Surprising free-agent signee Kyle Anderson looks like a wise acquisition despite his meager scoring average, operating as an impact defender and playmaker across lots of minutes and four positions. And the Grizzlies will have him at a good price for three more seasons. … Marc Gasol emerged from last season's tanking funk and reasserted himself as a star, with one of the best stretches of his career …
The Bad: … and then Marc Gasol followed it up with one of the worst stretches of his career. … The team's once reliable clutch play has taken a downturn, ranking 21st in clutch effectiveness despite finding themselves in lots of tight games. You can see the result in the standings. … Dillon Brooks' expected sophomore coronation as a new core piece has been sidetracked by two random injuries, and he's unlikely to see the floor in the season's second half. … MarShon Brooks' instant-offense sixth man didn't really take.
The Ugly: The third time's the charm hope on Chandler Parsons was all hype, lasting for 46 minutes before his terminal knee soreness sent him to the bench again, and then he made himself a problem. … The Abbott & Costello trade routine around MarShon Brooks and Wayne Selden was good comedy (from a distance) for a night and may not have been the Grizzlies' fault, but did the locker room no favors. … The resilience the Grizzlies thought they built over the summer proved pretty fragile, and the team was on a 3-13 run before Wednesday night's home win. There's no guarantee that night's good vibes weren't a one-off.
Pivot point: The next three weeks
It feels like the past few weeks have done some sorting in the crowded Western Conference playoff race, and the Grizzlies have been subject to the sorting. But they're still only three games back of a playoff spot in the loss column, with 41 games to play.
The Grizzlies will play 14 games between now and the NBA's Feb. 7 trade deadline, a decision point for most franchises.
Seven will be at home and seven on the road. Only one – Saturday in Miami – will come with the two days' rest that was such a help to the Grizzlies in the early stretch of this season.
Grizzlies Podcast
Chris Herrington, Geoff Calkins and Don Wade take a look at the Grizzlies season at is midway point, including whether they're still in a playoff race, the Chandler Parsons mess, J.B. Bickerstaff's coaching job, trade deadline expectations and more.
Listen on The OAM Network and subscribe on Spotify, Stitcher and iTunes.
These 14 games include a five-game homestand starting with the Jan. 21 MLK Day game against New Orleans, followed by what could be a pretty manageable three-game road trip (Minnesota-Charlotte-New York). The Grizzlies will have a chance to make a move in these two sets of games, but they probably can't wait that long.
The Spurs win broke a losing streak, but here's the next five games: At Miami, at Houston, Milwaukee, at Boston, and at Toronto, the last of these on the second night of a back-to-back. That's a brutal stretch and makes the game Saturday at Miami particularly important. A 2-3 record in that stretch will prevent any "OK, we're back" momentum, but a 1-4 stretch or worse might prematurely snuff out any flickering playoff race hopes.
If the Grizzlies can survive the coming week and manage a winning record in the 14 games before the trade deadline, they can probably still talk themselves into playoff contention, and be poised to make up ground in a schedule that will be lighter (Chicago twice, Orlando twice, Cleveland, Atlanta, Phoenix, Washington, Dallas three times) in the final two months.
Will Mike Conley make the All-Star Game?
Before the trade deadline, the reserves for the All-Star game are going to be announced, likely near the end of this month.
In late November, Marc Gasol seemed like a decent bet, but has fallen so far that he's likely out of contention. Jaren Jackson Jr. is a lock for the "Rising Stars" game, ensuring the Grizzlies some All-Star Weekend representation, while Dillon Brooks' injuries will keep him from joining Jackson.
This leaves an open question that the franchise and its fans have a lot invested in: Will Mike Conley finally make the All-Star Game? The Grizzlies' recent slide makes it seem unlikely, but let's name names to get a better feel for the odds, breaking Western Conference candidates into sure things, probables, off-the-lists, and on-the-bubbles. With 12 spots to claim, I'd say it currently looks like this:
Sure things: I count eight. James Harden, Stephen Curry, Damian Lillard, LeBron James, Kevin Durant, Paul George, Anthony Davis, Nikola Jokic.
Probables: He's shooting an abysmal 24 percent from three-point range and has missed eight games, but Russell Westbrook is also averaging another triple-double on what's currently the West's third best team. DeMar DeRozan is averaging 22-6-6 on a San Antonio Spurs team firmly in the playoff picture despite a mass exodus (via trade, free agency, or injury) from last season's roster.
Assuming those 10 players are in, that leaves two spots. (Side note: Real NBA games now feature 13-man active rosters; not sure why the All-Star Game shouldn't follow suit.) I'd argue that the following theoretical candidates should be relatively easy to cross off.
Off-the-list: Devin Booker's putting up big scoring, numbers, but on the West's lone terrible team. Steven Adams, Lou Williams, Klay Thompson and, yes, Chris Paul are the third-best candidates on their own teams, and no West team is landing three All-Stars this season. C.J. McCollum, LaMarcus Aldridge, Donovan Mitchell, and Marc Gasol just haven't been quite good enough as #2 candidates on their teams. There's only room for one Clipper, if even that, and while it's a close call, I don't think Danilo Gallinari is first in line for that team.
Which leaves, to my mind, nine contenders for two spots.
On-the-bubble: There are only two true bigs among the 10 sure shots, which means at least one more is likely. With Gasol fading, that probably comes down to Clint Capela, Karl-Anthony Towns, and Rudy Gobert. My guess is Capela will be considered still too much a product of system. One of Gobert and Towns will make it, and it could be both.
If the bigs don't take both leftover spots, there are five guards and two forwards wrestling over the last selection. Luka Doncic has fan support (as does non-contender Derrick Rose), but he won't be a starter and I'm guessing that as a rookie not clearly better than other candidates, he won't be a reserve either. Tobias Harris, at forward, is probably the best Clippers representative, but I'm still guessing he'll miss the cut.
That leaves four guards pretty tightly bunched: Denver's Jamal Murray (18-5-5) plays for the best team but probably has the weakest statistical case. Second-year King De'Aaron Fox (18-4-7) has been one of the NBA's most improved players, but his individual production is a draw at best with a couple of more experienced guards perhaps more likely to appeal to voting coaches. That would be the Pelicans' Jrue Holiday (21-5-8) and, right, the Grizzlies' Mike Conley (20-3-6). Holiday has slightly better numbers on a slightly better team, but is a team outside the West's Top 8 going to get two All-Stars? Conley's first in line in Memphis and probably first in line league-wide when it comes to sympathy vote as the NBA's eternal All-Star bridesmaid.
You can make a legitimate case for any of these nine players. Conley's case has been hurt by the Grizzlies recent slide, but his own numbers have held up. I'd bet against him today, but if Conley and the Grizzlies can both play well over the next two or three weeks, he just might squeak in.
Will the Grizzlies be active at the trade deadline?
The trade deadline is Thursday, Feb. 7, and the Grizzlies' precarious perch in the playoff race means it's not at all clear whether they'll be buyers or sellers when that time comes. 
As Matt Hrdlicka has pointed out, when the Grizzlies are trying to get better in the Chris Wallace era, they don't tend to wait until the clock is ticking. We've seen that already this season with the attempted Kelly Oubre trade and the completed Justin Holiday one.
Are the Grizzlies done buying? I suspect they might be. Could they be selling come Feb. 7? I don't think we'll see a fire sale, but some smaller, strategic selling seems very possible.
I'd count nine players on the current roster whose trade would be considered consequential, either due to their stature or contract. I think we can strike four off the list: Jaren Jackson Jr. is untouchable and, for reasons I assume are not worth elucidating, Mike Conley, Kyle Anderson, and Dillon Brooks are very unlikely to be in play.
Of the rest, Marc Gasol is obviously the subject of greatest intrigue. Gasol has an opt-out this summer that could see him walk away from the Grizzlies for no return. The team is already a playoff longshot and could look like more of one in a few weeks. Add in that Gasol will be 34 on a team that is moving forward with a 19-year-old building block, and it all strongly suggests a trade.
Don't count on it.
I'll be very interested to see how much Gasol pops up in trade chatter over the coming weeks, but I've longed believed that the Grizzlies would not deal him in-season unless he asked for it or signaled strongly that he will be departing this summer. And I wouldn't anticipate either of those things happening. We can revisit this as trade rumors heat up.
As for the rest, it's been suggested that the Grizzlies and Chandler Parsons' agent are working to move him this season. I doubt the Grizzlies are working very hard on that. It's possible, but a Parsons trade is more likely this summer, and a buyout of some kind this summer is probably most likely of all.
The Grizzlies will have "Bird Rights" on Garrett Temple and "Early Bird Rights" on Justin Holiday this summer, giving them some flexibility in re-signing either impending free agent. But are they really going to try to bring back both? As long as the Grizzlies are in the race, I think moving either is unlikely, but both are on expiring contracts, can fit in anywhere, and would be easy to move if the Grizzlies decided to cash out early.
Temple, unlike Holiday, can be paired with other players, and you could make a pretty big deal by pairing Temple with JaMychal Green, also on an expiring contract.
The Grizzlies like Green, and could easily try to bring him back next summer in a similar bench role. But Green's starting days in Memphis are over and the team will likely want to start experimenting more with being able to play smaller lineups, such as shifting starting small forward Kyle Anderson up to power forward more often, which was a frequent look when Green was injured early in the season.
If the Grizzlies decide they're unlikely to re-sign Green, they might also conclude that moving him in-season, in more of a forward-thinking move (for players still under contract beyond this season and/or draft assets) is worth doing. And this could well be the case even if the team is hanging around the playoff race.
There could also, of course, be very minor deals involving players unmentioned. (See last spring's James Ennis for a future second-rounder.)
The bet here: The Grizzlies make another trade, but on the small-side.
Does Jaren Jackson Jr. have a chance at Rookie of the Year?
Probably not.
It seems like Dallas forward Luka Doncic (20-7-5) is on a path to be the overwhelming winner here. Can Jackson finish second? Smart observers have him there now, but Jackson's currently fifth among rookies in scoring average, and that would probably hurt him with some voters.
In terms of scoring, Jackson (13.4) is also behind Deandre Ayton (16.5), Trae Young (15.5), and Collin Sexton (14.6). All three are putting up their numbers on terrible teams, Young and Sexton with bad efficiency, and Ayton with bad defense.
At the current pace, it would be embarrassing (to voters) if Jackson didn't finish ahead of Young and Sexton, but Ayton (17-11-2) is a legit candidate for second, and maybe even for the award if Doncic falls off.
Can Jackson take a little scoring leap in the second half of the season? I think all he really needs is the opportunity. If he does, he should be able to hold off Ayton and be Doncic's prime challenger. The Grizzlies and Mavs are currently tied in the standings and Jackson and Doncic will play each other three more times down the stretch.
The end game, or, will there be tanking?
At the moment there's only one team in the West (Phoenix Suns) focused on this summer's lottery. That's going to change, right?
Maybe not. The teams currently on the outside looking in are an interesting mix.
Utah is knocking on the playoff door and I'd bet they end up walking through it. New Orleans and Minnesota are pretty desperate to not be bad and could be trade-deadline buyers as a result.
The Kings do not have their draft pick this summer. The Mavericks will lose their pick if it falls outside the Top 5, and given their relative success and the flatter lottery odds beginning this summer, Dallas is likely to remain all-in. The Grizzlies pick is owed to Boston if it falls outside the Top 8. While the Grizzlies would be happy to lottery-luck their way into a top pick if they miss the playoffs, they do not want to keep a mid-lottery pick in a weak draft and still owe the Celtics. Making the playoffs would assure the pick conveys. But so would missing the playoffs but staying out of the bottom eight. That will be a goal of Grizzlies management, and even if players don't care about that, they'll be happy to have no unspoken pressures to not fully compete.
There will be no tanking, not really, in Memphis this season. And probably not from anyone else in the West outside of Phoenix.
The NBA at midseason
My preseason Finals pick was Warriors over Celtics, while noting that I was really tempted to pick the Raptors to come out of the east.
Half a season in, the race atop the league looks even more wide open. At least five teams (Raptors, surging Celtics, current top seed Bucks, Sixers, and yes even the Pacers) seem to harbor legit hopes of coming out of the East.
The apparently open West is harder to read. Are the Warriors really this vulnerable, or are they going to romp once the playoffs begin? They have the worst depth of this run and Draymond Green isn't right, but I still think the latter is more likely.
And if not the Warriors, then whom? I don't believe in the top-seeded Nuggets as a real playoff threat. More likely the Thunder (elite defense with two go-to guys) or the Rockets (James Harden in supernova form). And I wouldn't fully cross off the Lakers (LeBron James, duh).
"New" pick: Warriors over Celtics
Quick picks, no explanations, for midseason awards:
MVP: 1. James Harden, 2. Giannis Antetokounmpo, 3. Kevin Durant, 4. Joel Embiid, 5. LeBron James
Rookie of the Half: 1. Luka Doncic, 2. Jaren Jackson Jr., 3. Deandre Ayton
Defensive Player of the Half: 1. Paul George, 2. Myles Turner, 3. Rudy Gobert
Coach of the Half: 1. Gregg Popovich, 2. Mike Budenholzer, 3. Mike Malone
Sixth Man of the Half: 1. Montrezl Harrell, 2. Domantas Sabonis, 3. Spencer Dinwiddie
Most Improved Player of the Half: 1. Domantas Sabonis, 2. Pascal Siakam, 3. Buddy Hield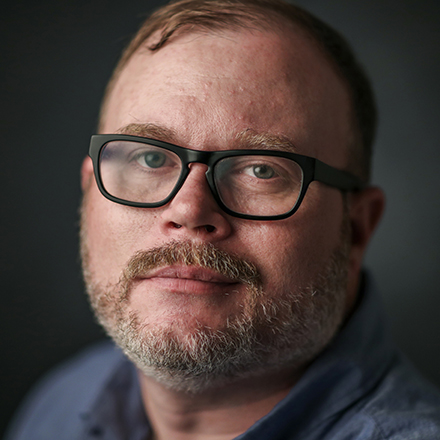 Chris Herrington
Chris Herrington covers the Memphis Grizzlies and writes about Memphis culture, food, and civic life. He lives in the Vollentine-Evergreen neighborhood of Midtown with his wife, two kids, and two dogs.
---