U of M repurposes former library into first phase of research park
Located in the city's former library branch on Highland Street, the first phase of the University of Memphis' research park blends the historic with the innovative.
The boardroom table belonged to former university president Shirley Raines, and the original library shelving has been repurposed into stand-up desks, adjustable by height.
Grand opening of the first phase of CommuniTech Research Park 
When: Thursday, Jan. 17, from 3-4:30 p.m. 
Where: 460 S. Highland St.
Refreshments will be provided.  
The entrance was intentionally preserved, now serving as a portal of sorts to take visitors from the 1950s façade to a bustling hub of cubicles and whiteboards.  
The retrofitted library is the first phase of CommuniTech Research Park, a three-phase effort, in conjunction with the university's Division of Research and Innovation, to drive economic development to the University District.  
A collection of nonprofits, for-profits, startups and scale-ups have signed on to become the first tenants, or citizens as they are called, of CommuniTech.   
Everybody is committed to the same idea – hire U of M students, work with faculty researchers to build innovations coming out of the university, and make Memphis a national center of technology innovation.
"You get the goosebumps when you think about the possibilities," Cody Behles, assistant director of Innovation and Research at the FedEx Institute of Technology, said on a recent tour of the space.  
An "in" for companies
Located in the shadow of the FedEx Institute of Technology, the research park is a continuation of innovation that comes out of classrooms and labs on campus.
"If those innovations take the entrepreneurial route, going through incubators and accelerators, most don't stay in Memphis," Behles said. "We don't have mature resources for growth-stage companies."
CommuniTech aims to support and attract more "growth-stage" startups by connecting them with researchers, through university faculty, and a workforce pipeline, through university students.  
"They aren't looking for a large space, but conglomerate economics," Behles said. "By co-locating, there is a more rapid exchange of ideas and new products. By tying in the research and workforce pipeline of the university, they can grow more quickly."   
SweetBio, a biotech company that applies medical-grade honey to oral surgery and wound healing, was born out of the U of M's Tissue Template Engineering and Regeneration Laboratory, directed by professor Gary Bowlin.
"For us, it was more than, 'Where should SweetBio put our desks?' This was a very head-and-heart decision," said Kayla Rodriguez Graff, SweetBio co-founder and CEO. "U of M is where we started. As much as we're back to the basics using honey for healing, we are back to our roots and it feels really good."
The company has raised more than $3 million to develop its solution using honey to heal body wounds, which is close to FDA clearance and anticipated to go to market in mid-2019.
"For me as a researcher, to have all of that access to the labs … When you leave the university and have a for-profit company, you have to outsource the work," said Isaac Rodriguez, co-founder and chief scientific officer of SweetBio. "The goal of this facility is to open up university resources, whether it's faculty to do research with these companies, undergrads or grad students, this is an 'in' for companies."
A different approach
Typically, research parks are established through universities entering into ground leases with major corporations that plan to build a lab or office to collaborate with university researchers.
The final expectation could take decades or never come to fruition, Behles said.
"The model we have targets smaller companies while creating momentum and excitement," he said.  
Instead, the U of M is taking a more organic approach, engaging with midsize companies like IMC Cos., a Memphis-based family of brands providing container drayage, customs brokerage, freight forwarding and warehousing, among other transportation services.
"You can't do traditional transportation and logistics anymore without being tech savvy and innovative," said Joel Tracy, chief information officer of IMC Cos. "To make it profitable you have to use technology to gain efficiencies."
IMC was one of the first partners to secure a seat at the table as a collaborator.
"We see ourselves as not only contributors but also reaping the benefits or seeking benefits from our partners," Tracy said. "The confluence of blockchain and logistics talent that have signed on to participate is unlike anything I've seen outside places like San Francisco. It's really amazing."  
Collaborators, like IMC, pay $100 a month for use of collaborating areas and access to networking events. Citizens – the tenants of CommuniTech – pay $500 a month, which includes designated desks, discounts on training, funding pitches and other university perks.
Rent revenues will be used to fund further renovations of the library as well as for future phases of the research park.  
The second phase of CommuniTech will be an expansion on the U of M's South Campus in conjunction with UMRF Ventures, a wholly owned subsidiary of the U of M Research Foundation that provides jobs for students by contracting with companies.
CommuniTech Citizens
BookLocal, a direct booking and communication service company for hotel operators and guests
DayaMed, a population health company focused on medication adherence and disease management
Green Mountain Technology, a parcel spend management company
Minute School, a scaled learning platform out of Canada
OPS-FUEL, a wellness and nutrition technology startup
SweetBio, a Memphis-based medical device startup specializing in tissue regeneration
XYO Network, a blockchain company developing secure spatial analytics and mapping
CommuniTech Collaborators
Blockchain901, a nonprofit focused on promoting Memphis as a blockchain and emerging technology hub
CodeCrew, programs that teach diverse student populations computer programming and software development to help fuel the tech workforce pipeline
dexFreight, a decentralized logistics platform built on blockchain and machine learning for shippers and carriers
Epicenter, a nonprofit that helps scale programs and investment for Greater Memphis entrepreneurs
IBM, a New York-based international information technology company
IMC Cos., a family of brands providing container drayage, customs brokerage, freight forwarding, warehousing, among other transportation services
Memphis Women in Technology, a nonprofit dedicated to empower, attract and promote women of tech
Remedichain, a blockchain solution to address the financial and environmental problems of prescription waste
Tech901, nonprofit that seeks to address IT workforce shortages by providing affordable training in computer science and technology
Web3devs, a Memphis-based blockchain development company
Once enough momentum is built, the third phase could resemble the more traditional research park model in which a large company could be attracted to build a facility to work with university researchers.
"Companies have to be committed to working with students," Behles said.     
From library to tech hub
About a year ago, DayaMed, a medication adherence company out of Waterloo, Canada, that is developing technology to measure where, when and how much medication is taken, signed a memorandum of understanding to establish its U.S. headquarters in the University District with its eye on the Highland library.
As discussions continued, DayaMed was the first tenant to sign on to the research park initiative.
"It seemed like a natural fit to be part of a research park," said Troy Parkes, DayaMed's chief blockchain officer. "We'll have our U.S. operations there and continue conversations around involving the university for research studies and workforce pipeline." 
Prior to CommuniTech, the former library was underutilized, with just a few desks being used by campus police and Tk Buchanan, community safety liaison for the University District.
"We want that interjection of community in the space," Behles said, so the officers and Buchanan will join in when community groups hold meetings in the space.
Over the years, the U of M has made a number of improvements to maintain the building, and spent $300,000 to establish the first phase of the research park. The majority of the investment was updating utilities and HVAC.  
The ground-floor space is anchored by a colorful, floor-to-ceiling mural by local street artist and illustrator Michael Roy, who works under the moniker Birdcap.    
It is of Hephaestus, the Greek god of fire and metalworking, which the tenants, or citizens, credit as the god of innovation and technology.
The mythological mural joins a historic mural from the 1970s that depicts a human silhouette surrounded by scientific images.
"It was one of the first public displays using computer-generated graphic design in the city," Behles said. "We kept it because it has this great history of technology innovation mixed with the community and it made so much sense to hang on to that."   
The open mezzanine is a laid-back collaboration space with a Ping-Pong conference table, medicine-ball chairs and a TV connected to several gaming systems.  
"We're really excited to have a space where we can hang out, have powwows and work with interns," said Rebecca Bramlett, director of operations for CommuniTech citizen OPS-FUEL, a wellness and nutrition technology startup.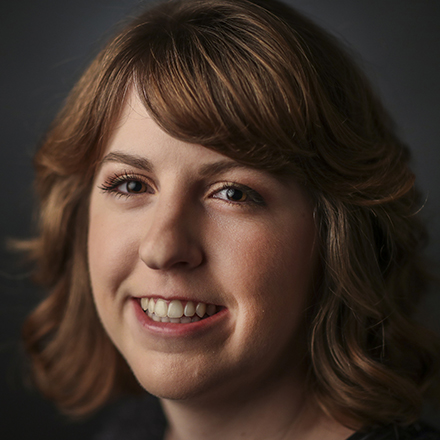 Michelle Corbet
Michelle Corbet covers business for The Daily Memphian. Prior to, she was a reporter at the Memphis Business Journal. A native Memphian and University of Memphis graduate, Michelle covered business in Conway, Arkansas after college. Michelle got her start covering business as an intern at The Commercial Appeal.
---