Grizzlies Mailbag: To tank or not to tank, Marc Gasol predictions, and more
Over the past couple of weeks, the Grizzlies have been less successful but more newsy: Chandler Parsons' exile, the Justin Holiday trade, and Marc Gasol whispers.
These issues aborted one in-progress weekly mailbag and sidetracked another, but this week -- barely -- we're back. The first answer below is a longer response to a complicated question. The rest are dispatched in one or two grafs.
Grizzlies Questions of the Week
If the Grizzlies plan for it now, isn't there a better chance to have their 2021 draft pick be outside the top 8 if they draft well and use free agent money wisely?

— ChrisRTS (@ChrisRTS) January 17, 2019
To tank or not to tank? That is, essentially, the question. And it's a much more complicated one than it was a year ago at this time.
The notion that the Grizzlies, even in missing the playoffs, would prefer to send their draft pick to Boston this summer rather than carry that future obligation forward, started, more than a year ago, as a thing I whispered and has evolved into a common refrain, a truism, at least among people who cover the team or follow it very closely. It probably deserves a little scrutiny at this point, and our questioner here has been a knowledgeable skeptic about this strategy. I'll shoot this down directly and then backtrack.
Assuming a best-case scenario out into the future is what got the Grizzlies into this situation to begin with. The Grizzlies traded a first round draft pick (for Jeff Green!) with protections that could take it into 2021 under the assumption that they would remain a playoff-level team at least into 2019, when the pick would safely convey outside the lottery. How did those plans work out?
Assuming this team can be good enough in two years to send a pick in the late lottery or beyond seems, if anything, a bolder, more wishful assumption. It also embeds the problematic assumption that a late lottery pick in 2021 is less valuable than a mid-lottery pick in 2019 or 2020, and there's a decent chance this is not the case.
But there is a simpler counter-argument implied in the question: Get on with it already. Start building a future around (or with) Jaren Jackson Jr. Worry about what you can control, not what you ultimately can't. It would certainly be more satisfying to go into a rebuild next season with a second lottery pick to pair with Jackson. And there's a downside in playing too much of a waiting game now that the team has a true foundational piece in place.
To say that the Grizzlies prefer to send Boston their pick this summer is a simplification. In the absence of a playoff return, their real preference is to jump into the top two, where apparent star-level talents (Zion Williamson, R.J. Barrett) do await. That would be worth taking on the future risk of still owing the Celtics a pick. Would anything else in this draft? I'm not sure myself, and also unsure of at which pick the incentives flip for the Grizzlies.
The problem isn't just that the Grizzlies won too much early to tank their way into a top pick. It's also the changing nature of the lottery itself, which now includes more picks (four rather than three) with flatter odds. Your pre-lottery positioning guarantees you less than it once did.
This question has become a kind of personality test: Do you seek the best outcome or seek to avoid the worst? But that question is weighted here: The Grizzlies have much more control over avoiding the worst. There's nothing the team can do to guarantee or even make likely their first choice (a top pick). But finishing outside the bottom eight would guarantee their second choice (moving the pick unless it jumps into the top four).
The Grizzlies are seventh from the bottom today, half a game "behind" the sixth worst team, but still five games "behind" the fifth-worst. Ninth place, which guarantees avoiding what they consider the worst case (keeping the 8th pick in a bad draft and still owing Boston) is only half a game away. Further losing could change these calculations, but that's where they are.
Is Marc still good enough to be an elite third option to Championship level team or would he just be a role player?

— Christian Lemon (@ClemonTme) January 17, 2019
I worked through most of the decision-making angles on Gasol's Grizzlies future earlier this week, but I'll follow up with a series of shorter, more opinionated answers to Gasol questions here.
The complicated answer is that it depends on the specific nature of a team's personnel. (If the top two guys are Steph Curry and Kevin Durant? Sure.) But generally, I think the time has come for Gasol to shift into a secondary offensive role wherever he plays, something the Grizzlies don't currently have the talent to allow. So: How about elite role player?
Several years ago, before Gasol added the three-point shot to his game, I would half-joke about this late-Sabonis future: Setting picks, dropping dimes, and firing flat-footed threes. And I think that future has come, or needs to: A third or fourth option who takes every open three he gets. A better Brook Lopez, who saves his energy for defense, and defensive rebounding. Is Gasol willing to commit to that in the final stages of his career?  
What's the most the fans could hope for in a Marc Gasol trade? It feels like sacrilege to even think about it, but clearly Jackson is the franchise cornerstone now. If there was a Buddy Hield for Boogie type deal on the table, should the FO bite? Would they?

— ?? C. Grrrrrbrrr ?? (@CGrrrrrbrrr) January 2, 2019
The Boogie Cousins/Buddy Hield example is a good one. Sacramento's return was panned at the time, but Hield has taken a leap and it looks pretty good now. Boogie, whatever his problems, was in his prime. Gasol, now, is not. But if the Grizzlies did trade him, that would be the idea: Is there a future-oriented asset available that can become something greater than what it currently is? You're not getting a good pick or a young player whose star-level path seems certain.
Should the Grizzlies bite if they got the same offer that Boogie fetched? Sure. But I don't think they're getting that. Should they settle for a little less if they can get it? Reluctantly, I'd say probably so. I also think the true spirit of this question might apply more down the road in discussion of theoretical Mike Conley trades.
If not traded, do you think Marc opts in after this season, and if he opts out, does he leave or sign elsewhere?

— The Michael Gallup Poll (@BallFromGrace) January 17, 2019
I hinted around this in my Gasol piece, but I'll say it plainly here: My bet is that Gasol is not traded before the deadline but does end up leaving in the summer. I think he opts out and either leaves in free agency or via a sign-and-trade. I am not hugely confident in that assessment. I'd put it at about 60 percent right now. If Gasol's game is going to transition into a lesser role, I think he'd prefer to do so on a team with a clearer path to contention than the Grizzlies will have in the near-term. And I'm not convinced the Grizzlies really want to offer a multi-year extension, even at a far-reduced salary, for what I think they must now see needs to be a rebuild.
But I know at least a couple of people whose guesses are as educated as mine who tilt the other way, who think Gasol is more likely to be back. That maybe he cares about his connection to the franchise and city too much. That maybe he doesn't want to disrupt his life -- off the floor as much as on it -- that much.
If Marc opts out, Grizz renounce all cap holds, do nothing with Chandler until next year's trade deadline, roughly how much cap space would Grizz have this summer to pursue young free agents?

— scott mccullough (@bking53) January 17, 2019
Unless I've missed another update, the NBA's salary cap is currently projected to be around $109 million this summer. As the question suggests, there are many variables at play in projecting what the Grizzlies' relationship to the cap (or the luxury tax line, projected at $132 million) will be. But if we take this scenario -- all impending free agents, including Gasol, off the books; Parsons still on -- then you're looking at an initial payroll number of roughly $76.5 million. That is including Dillon Brooks but excluding Ivan Rabb (both non-guaranteed), which seems consistent with the spirit of the question. It does not include a cap hold for the first round pick the Grizzlies may or may not have or minimum cap holds for open roster spots. But even adding in all of that, that's still some real cap space. Let's say $20-25 million, give or take. And that's with Parsons on the books at full value. If you stretched Parsons in this scenario, you could slash another $16 million or so (while pushing that obligation into the future).
Let's say you get there. What do you do with it? If you're rebuilding around Jaren Jackson Jr., quick strikes at veterans seems like a bad idea. You're going to be shopping from the B and C list and overpaying. Overpaying a little bit to try to pry away a younger, restricted free agent you might like, like the Grizzlies did with Kyle Anderson? That makes more sense, as the reader implies. "Renting" out your space to other teams -- i.e. taking bad contracts in trade in exchange for future draft picks or young players? Now you're really talking.
That's a glimpse into what a rebuilding future for the Grizzlies would most likely entail, initially.
Is is possible to trade January Marc for November Marc &, if so, what kind of value could we get?

— Sherman Willmott (@ShermanWillmott) January 17, 2019
November Marc Gasol: 20-10-4 on 50 percent shooting
January Marc Gasol: 12-8-5 on 41 percent shooting
If you want to trade January Marc for November Marc, you're probably going to have to throw in at least a couple of lightly protected first-round picks, and since you already owe a future pick to Boston, you can't really do that. Sorry.
2.5 - Over/under on how many present Grizzlies will still be on the team in 2021-2022 season

— scott mccullough (@bking53) January 17, 2019
This is a good question, as it forces a consideration of how far along the Grizzlies are in building a Jaren Jackson Jr.-oriented team. Jackson and Kyle Anderson are the only Grizzlies currently under contract for 2021-2022. If both are still here (a decent but uncertain bet, I'd say), that would get you to two. Anyone else? Conley or Gasol on extensions or new deals. (Maybe, but I'm guessing no.) Jevon Carter, Ivan Rabb, or Dillon Brooks on second deals? I'm going to say at least one of those five, and most likely Brooks, remains. I'll take the over, but not by much.
How concerned are you about losing affecting JJJ's play and overall development?

— Lauren Harvey (@DragicKingdom) January 17, 2019
In the fourth quarter against Milwaukee, the game long over, Jackson was still up on the bench, applauding and encouraging his teammates on the floor. I'd be concerned about any young player growing too accustomed to losing, but Jackson's own personality and his family grounding will hopefully make him more resilient than most.
But this ties into the lead question this week: The long-range strategic play might be to punt this summer's draft pick to preserve picks in the next two summers. But then you're losing the chance of pairing another young lottery pick with Jackson now, of building chemistry, building a new core, and giving your new cornerstone a feeling of progress rather than a feeling of purgatory. I do not dismiss this consideration.
What about the future of Dillon Brooks?

— Phil Naessens (@flashtennis31) January 2, 2019
This question pre-dates Brooks' season-ending toe injury. But let's pause to note what a bummer the dual injuries of Dillon Brooks and Kyle Anderson have been. Even amid losing, it would be more interesting to see Brooks, Anderson, and Jackson getting reps together than to watch so much game time taken up with players less likely to be here next season (and beyond).
As for Brooks' aborted season, it was pretty eye of the beholder, but I actually find some encouragement. In 18 games, his 15-40 three-point shooting (38 percent, after 36 percent as a rookie) offers confirmation that this is a real skill. And while he was very inconsistent, I saw enough of Brooks' attacking off the dribble and finishing on pull-ups or in the paint to feel good about his ability as a useful secondary scorer. He plays a position of great utility and plays with an edge and energy that any team needs. I don't know if the ceiling is more than a decent 7th or 8th man, but I feel a little better, actually, that he's part of the answer rather than a one-year, terrible-team fluke.
Do you have any knowledge of what the Grizzlies' SIX assistant coaches actually do? JB takes all the blame or credit, but surely the assistants have some part to play, and I've never read anything on who does what with the team.

— Scott Pollan (@scottpollan) January 17, 2019
I'll confess I haven't spent a lot of time investigating this, though it's a worthy pursuit. Historically, I don't try to evaluate assistant coaches or secondary executives. If you're not in the meetings and practices, you're just guessing. And the buck stops with the head coach, the lead executive, and the controlling owner. Whatever strengths or weaknesses of their staffs are ultimately on them.
The Grizzlies have six full assistant coaches and a couple of player development guys, which seems to be towards the high end of the normal range around the league. It is not unusual. Chad Forcier seems to be the lead assistant, though Jerry Stackhouse seems to have a similar stature. (Wikipedia calls Forcier an "associate head coach," though the Grizzlies media guide does not.) Vitaly Potapenko works with bigs. Nick Van Exel with guards. Typically, assistants divide up scouting duties for coming opponents. I would guess that Grizzlies assistants, so many of them recent former players, are more active participants in practice than most, especially when injuries reduce the available participants.
I have my own thoughts about this one, but all things considered, do you think this downturn was avoidable, or was the 12-5 start illusory because of the early schedule?  (Or, how does the same group of guys look so good and then look so bad if it ISN'T the schedule?)

— Jason Mullenix (@MemphisOB) January 17, 2019
I think it's a bunch of discrete factors snowballing into an avalanche: Gasol and Conley wearing down. Temple and Mack coming back to earth in performance but not in role. All the well-known locker-room disruption. Losing wing depth and energy via a bad trade and worse injury. Some questionable rotation and usage decisions. And, yes, a big one: The rest built into the early schedule dissipating into a rather unforgiving stretch.
The schedule will ease up, starting next week and even more so after the All-Star break. But will this team have enough fight left for it to matter? They've talked a good game this season about being tough-minded and resilient, but they certainly haven't shown it.
Which is most likely to happen this season? JB fired? Chris Wallace fired? Marc is traded? Chandler agrees to buy out? Something has to change?

— Charles Hurley (@CharlesHurley2) January 17, 2019
My guess is that none of these things happen in-season. The least likely would probably be Chris Wallace. If there's a management change, I think that's something that would wait until after the season. I also see very little incentive for buying out Parsons now rather than negotiating his future this summer.
So I guess Gasol and Bickerstaff are the most likely among the unlikely. I don't think there's much appetite in making another in-season coaching change, but constant losing as a way of making the status quo untenable. I couldn't rule it out. And while I've said I doubt a Gasol trade now, a better-than-expected offer would need to be considered. I guess my answer is Gasol.
The 'There's More to Life Than Basketball' Question of the Week
What is this about Hog and Hominy expansion? There was a quick line about it in your recent Memphis 2019 column. Is Porcellino's coming back? It was supposed to move but I never heard anything else. Best single dish you had in 2018? Go basketball!

— Chase (@deepfriedcouch) January 2, 2019
This is an older question from the aborted mailbag, but I'll go ahead and answer as a closing reprieve from basketball.
Per my colleague Jennifer Biggs, Hog & Hominy plans to remodel its main dining area (in a manner that will reduce how loud it gets) and expand its back area, but there's no firm date for that to happen. And there are no current plans for Porcellino's to return. I believe the building that housed it, next to Hog & Hominy, is currently empty and for sale.
Best single dish I had in 2018? I have to confess that my most memorable meals came during travels, which is less a commentary on the food scene in Memphis and more a commentary on having a couple of school-aged kids and sticking (too much) to the tried and true at home.
So it was mapo doufu, a spicy Sichuan pork and tofu dish, sitting outside at Xiao Bao Biscuit and sous-vide lamb, lima beans, and cocktails at the bar at Stella, both in Charleston. It was the fish taco torta and pan-roasted cauliflower at the bar at Tilia in Minneapolis, where watching the open kitchen in action became a kind of dinner theater. And it was stone ground baked grits, seared duck with sour cherry sauce, and peach cobbler at Highlands Bar and Grill in Birmingham.
In Memphis: Brisket polenta and nduja cornbread at the aforementioned Hog & Hominy, spicy tan tan with pork belly at Lucky Cat, Indian-spiced eggplant lasagna at Bounty on Broad, country ham and red-eye gravy at Barksdale Restaurant, and a simple papas con chorizo y huevos (potatoes, eggs and chorizo sausage) breakfast at Caminos de Michoacan.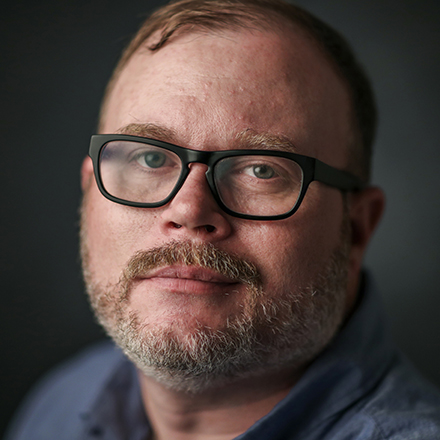 Chris Herrington
Chris Herrington covers the Memphis Grizzlies and writes about Memphis culture, food, and civic life. He lives in the Vollentine-Evergreen neighborhood of Midtown with his wife, two kids, and two dogs.
---