Trenary recognized for 'promoting racial harmony'
When Black Lives Matter protesters picketed the Greater Memphis Chamber for promoting the city's low-cost wages to potential businesses, not only did the organization's late president and CEO listen, he invited them in to work it out.
Phil Trenary was posthumously presented with the 2018 Memphis City Council Humanitarian Award Tuesday, Jan. 22.
The award commemorates the legacy of Dr. Martin Luther King Jr. by recognizing individuals who dedicated their lives to the betterment of their fellow man and the promotion of racial harmony among all men.
"What stands out to me about Phil is how he cared about everyone. When protesters picketed the chamber after the bridge protest, Phil invited them up to the office," said City Council Chairman Kemp Conrad. "The chamber and protesters cared about the same things, and they found common-ground items to work on together."  
---
WAYNE RISHER: Trenary remembered as charming, passionate advocate of Memphis
---
Trenary was nominated by Councilman Berlin Boyd, who invited Trenary's daughter, Brittney Rowe, to join him Tuesday for the proclamation and presentation.
"Let's get the chamber that's here to come up and join us," Boyd said.
A large group of chamber executives, board members and business leaders gathered around Rowe, who Trenary adopted after he married his now ex-wife, Bridget.  
"This year's recipient is the late Phil Trenary, who truly embodies the spirit and emulated the work of Dr. King," Boyd said. "The untimely passing of Phil leaves a significant void in our community as Trenary was a steward and ambassador of his adopted city, the city of Memphis, for which he boldly had optimism."
---
BILL DRIES and YOLANDA JONES: Greater Memphis Chamber president and CEO Phil Trenary shot and killed Downtown
---
As Boyd read the proclamation that outlined Trenary's accomplished career and service to the community, the group of business leaders stood with their heads bowed and arms folded.
In June 2014, Trenary took the helm of the chamber, becoming a "prominent trailblazer for reforming poverty and attracting better jobs to the Memphis community," Boyd said.
As Boyd concluded that all Memphis residents will remember Trenary for his life of leadership, vision and commitment to the city, Rowe accepted the award and framed proclamation on her father's behalf as those in attendance stood and clapped.
Rowe thanked Boyd for nominating her father and for being with her and her family the night Trenary died at Regional Medical Center.
"It's my honor to be here today to represent my family, and I mean that both in my family and the family standing behind me on dad's behalf," she said. "I know he would have been honored, but knowing him, he would also feel extremely undeserving of such an award, but I believe that's exactly why he doesn't deserve this. He didn't pursue progress for recognition. He pursued it because it was a part of his fabric."
After her remarks, Rowe was embraced by Boyd; Eric Miller, the chamber's senior vice president of economic development; and Richard W. Smith, chamber board chairman and president and CEO of FedEx Logistics.
"When I see a group come in that's not just the chamber but the true firepower here in Memphis — for the true leaders of Memphis to come in and support him like this, I know he would be humbled and I know you would say he doesn't deserve this, but I disagree with you respectfully," said Councilman Frank Colvett Jr. "He very much did, and it's his vision that we carry on and I look forward to carrying on."    
---
OTIS SANFORD: Trenary's legacy lives on and we're all obligated to help carry his work forward
---
Councilwoman Patrice Robinson recalled Trenary was the first person who met her at the emergency room when her uncle, Clifford Stockton, one of the first African-Americans to serve as an executive at the chamber, was ill and passed away. He stayed with Robinson and her family all night.
"That was not part of his job, that was his heart," Robinson said to Rowe. "I pray that you and your family will carry on the tradition of loving people unconditionally."   
Last year, on the 25th anniversary of the award and 50th anniversary of King's assassination, the City Council honored more than a dozen surviving members of the 1968 sanitation workers strike as well as the AFSCME in memory of the 1,300 striking sanitation workers who are no longer living.  
"I can't think of anyone we could have possibly honored more this year," Conrad said. "Phil's spirit of togetherness will guide me as chairman this year as we work to build broad coalitions for the solutions that always exist in the middle."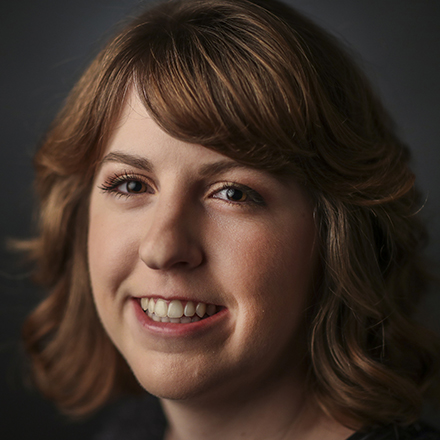 Michelle Corbet
Michelle Corbet covers business for The Daily Memphian. Prior to, she was a reporter at the Memphis Business Journal. A native Memphian and University of Memphis graduate, Michelle covered business in Conway, Arkansas after college. Michelle got her start covering business as an intern at The Commercial Appeal.
---