Small businesses create 'mutually beneficial' value through charitable giving
In the early 2000s, a group of local chefs came together and got really honest with a few nonprofits in town.
For years, the restaurants had been providing everything pro bono – the food, the rentals, the waiters.
"The restaurants were tired of being asked," said Cindy Brewer, a principal at LEO Events. "So, the chefs came together and said, 'We will donate the food, but you have to pay for labor.' We started shifting the focus so that everyone is happy to be involved, if it is mutually beneficial."    
Leaders of several local small businesses shared how they engage in charitable giving during a panel discussion Thursday at Memphis Brooks Museum of Art. The panel was moderated by Eric Barnes, president and executive editor of The Daily Memphian.     
While LEO Events does not do full pro bono work, it provides a discounted rate of sorts to organizations that have worked with the company in the past.
"When we apply a certain amount of hours, we come in with what we consider a discounted rate, though I don't like calling it that because it demeans the value of the services we provide," Brewer said.
Organizations, such as the National Civil Rights Museum, are given a retail invoice at the end of the event that shows the total number of hours LEO employees worked and a pro bono credit applied toward the event.
"It shows there's a trade and value to what we do, so if anyone switches hands, it shows what work was provided," Brewer said. "We can also show a value of pro bono work at the end of the year."  
LEO Events also gives its time and expertise through nonprofit roundtables in which it invites six nonprofit representatives to each sit with nine LEO employees. The six tables of 10 work for an hour to solve a problem, such as an expensive event or cranky board member, and then share ideas with the room.  
"One of the biggest takeaways is a fresh perspective," Brewer said. "Then, they have (the attention of) nine people who didn't know the organization from Adam, and hours of consulting work they'd have to retail for somewhere else."  
J.W. Gibson of Gibson Cos. began his career loaning his time and expertise. When he returned from one term in the U.S. Navy, he went to work for Memphis Light, Gas and Water Division.
He immediately was selected for United Way's Loaned Executive program, which MLGW saw as a way to ready young, upcoming employees for management positions.
"My first three years on the payroll at MLGW, I was working at United Way," Gibson said. "All I knew was South Memphis. I didn't know Downtown or Shelby County. Working for United Way opened my eyes and planted that entrepreneurial seed that's always been in me."
In his fourth year, Gibson returned to MLGW and learned "quick, fast and in a hurry" that it wasn't for him. He resigned and started Gibson Cos., which would go on to encompass several successful businesses, including a medical, office and janitorial supply company; a development corporation; and a printing company for the Tennessee Lottery.
After his development company helped save the historic Chisca hotel and James Lee House, Gibson has turned his development efforts to the New Daisy Theatre on Beale Street.
"We're taking on a challenge we know nothing about," Gibson said. "I don't know anything about music, but I love it."
While Memphis is widely known for its music history, Gibson wants to create a place where the city's artists of today have a place to showcase their talents and "be respected for what they do."  
"We're proud to serve the community we live in, work in and call home," Gibson said.
Philanthropy also helps LEO Events recruit and retain talent, Brewer said.  
"We've learned if you aren't doing philanthropy, you're not on the radar of young folks looking for employment," she said. "It's very important to them."
Local family-owned communications company Power & Tel has maintained a company culture of giving through three generations, and it now shares that philanthropic culture with its employees.
Starting with founder Miller Pentecost, the company has donated 10 percent of its profits since 1963.
When Pentecost's son, Jim, took over the company in the 1990s, he made charitable giving more employee-driven with a one-to-one matching program.
If employees give $100 a month to charity, they will have an additional $1,200 at the end of the year from Power & Tel to give either to the same charitable cause or another of the employee's choice.  
"In my family, we give to church first," said Power & Tel co-owner and board member Martha Pitts. "So we said, 'Let's include church giving,' which makes it very distinct. I haven't heard of many others who've done this."
As the need came for making larger gifts to philanthropy, the children of Power & Tel created the Family Giving Fund.
Laurie Yarbrough, who is one of 14 grandchildren, has chaired the fund for the past eight years.
"I have a heart for Memphis and wanted to stay connected without being a Power & Tel employee," she said. "I now have a family and three young kids. I'm hopeful this rhythm continues of looking out of our own lives and into the lives of other Memphians."  
Coming up on its 50th anniversary of growing and empowering philanthropy, the Community Foundation of Greater Memphis sponsored the event.
The Community Foundation serves as the "back office of philanthropy" for each of the companies who participated in the discussion as well as Greater Memphis companies of all sizes.
The Community Foundation manages about 1,000 charitable funds totaling $480 million. Last year, $178 million was given away, mostly in Memphis and Shelby County.
Recent community amenities, including Shelby Farms and Crosstown Concourse, were directly or indirectly the result of charitable giving.
"Building wealth should not be through one individual, but the collective action of many," said Community Foundation president Robert Fockler.
The Daily Memphian is supported in part by the Community Foundation.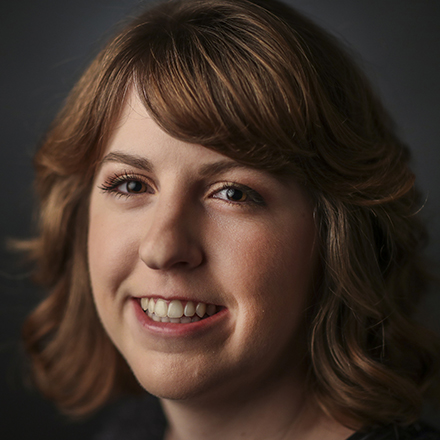 Michelle Corbet
Michelle Corbet covers business for The Daily Memphian. Prior to, she was a reporter at the Memphis Business Journal. A native Memphian and University of Memphis graduate, Michelle covered business in Conway, Arkansas after college. Michelle got her start covering business as an intern at The Commercial Appeal.
---