Methodist Germantown hires former resident as next president
New Methodist Le Bonheur Germantown Hospital president Rebecca Cullison joked and visited with a 100-year-old patient in one of the hospital's rooms last week.
The patient was a familiar face. It was Dr. Martin Hinchin, a retired rabbi who Cullison came to know during her time as chief executive of The Village at Germantown.
Cullison served as CEO of the Village since December 2016. Hinchin has been a resident since May 2013.   
"We never saw her," Hinchin said, half-kidding. "She was not there long enough."
Hinchin likes to sit on what he calls his throne in The Village lobby, next to the baby grand piano, where he oversees his people.
"That's when we would visit," he said of Cullison.  
"The Village did it up right," Hinchin said of a party the retirement community held on his 100th birthday, Jan. 30. "I say, 'If you don't like the Village, I'll meet you at the door.' "
Hinchin was at Methodist-Germantown for a procedure.
"Old age is not for sissies," he said.
Cullison was doing what she was hired to do – take care of the community.
Taking the reins of Methodist Le Bonheur Healthcare's Germantown hospital comes full circle as Cullison started her career there in 2004 as an administrative resident after graduate school at the University of Alabama at Birmingham.
"I interviewed all over the country, and when I came here, Memphis wasn't top of my list of where I thought I was going, but it felt different," Cullison said. "It got my attention and I've been here for almost 15 years."
Originally from a small town in Alabama, Cullison's mother was a nurse. Her father was a banker. She found the best of both worlds in administrative health care.
After her residency, Cullison quickly moved up the ranks, becoming corporate manager of operations, assistant administrator at Methodist-Germantown in 2007 and vice president in 2012.
When The Village at Germantown was looking for a new CEO, William Kenley, who served on The Village board and was CEO at Methodist-Germantown at the time, suggested Cullison.
"I told him before, I really enjoyed going over there and helping them," Cullison said. "It was one of those things I knew I would regret if I didn't do it."
Located nearby, Methodist-Germantown has always had an affiliation with The Village.
"It's such a great set up," Cullison said. "When you talk about continuum of care, it's a really neat thing."   
Cullison remained a Methodist Le Bonheur employee through a management contract, so she was still plugged in.
Diane Ridgway, who started her career as a nurse at Methodist University Hospital in 1983, served as president when Kenley got a corporate job, with the intention of retiring soon thereafter.  
At 38, Cullison is one of the youngest CEOs to lead the hospital.
"When I walk into this office, I'm like, 'This isn't mine,' " Cullison said as she names the chief executives she's worked with through the years. "My office used to be over there. I'm very thankful for it."
She is ready for the job because of how much those mentors invested in her.
Kenley taught her how to motivate and inspire associates. Ridgway taught her how to focus on the patient.
"If you keep that as your primary objective, you'll never make a bad decision," Cullison said.  
If Cullison didn't really believe in what she was doing, the job would be too hard.
"It has to be more than a job," she said. "It is a mission."
The next evolution of taking care of the community will include innovative procedures to help more people, Cullison said, like transcatheter aortic valve replacement (TAVR), which is giving patients once regarded as too sick for open heart surgery a less invasive option.   
"People think – and I love that about it – that Germantown is tucked away back here, but we're no longer this tiny community hospital," Cullison said. "We do advanced procedures, but we still have that community-hospital feel and that's what people love about it. It's very important to me that we maintain that."
The community feel not only attracts patients, but helps the hospital recruit associates and physicians.
"I hope people will see me as someone who is very approachable," Cullison said. "To me, it's really all about building the team and keeping them focused on taking care of patients and each other."
On the way back to her office from Hinchin's hospital room, a lost visitor approached Cullison about where to go.
"Right this way," she said.
Cullison is married to optometrist Chad Cullison of Cullison Eye Care in Collierville. They have two children, Ella, 8, and Henry, 4.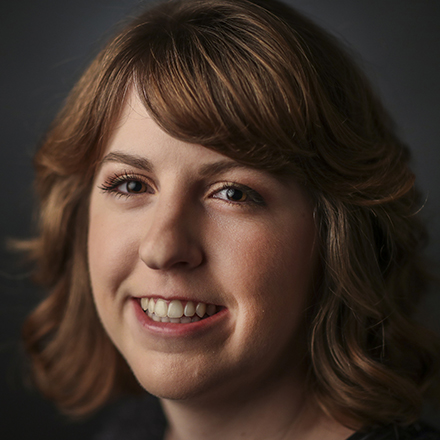 Michelle Corbet
Michelle Corbet covers business for The Daily Memphian. Prior to, she was a reporter at the Memphis Business Journal. A native Memphian and University of Memphis graduate, Michelle covered business in Conway, Arkansas after college. Michelle got her start covering business as an intern at The Commercial Appeal.
---