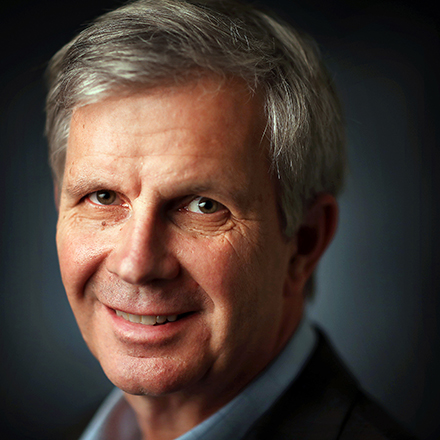 Geoff Calkins
Geoff Calkins has been chronicling Memphis and Memphis sports for more than two decades. He is host of "The Geoff Calkins Show" from 9-11 a.m. M-F on 92.9 FM. Calkins has been named the best sports columnist in the country five times by the Associated Press sports editors, but still figures his best columns are about the people who make Memphis what it is.
Season One, Chapter 14: Memphis defeats UConn to tip off what should be a (bleeping) great rivalry
With 3:43 left in the game, Memphis leading by just six points, Kyvon Davenport missed a shot but – tweet – drew a foul.
UConn coach Dan Hurley did not like the call. He did not like the call so much, he began to stride straight across the court, all the way to the court-side seats across from the UConn bench.
Whereupon he got into a shouting match with a Memphis fan. Some witnesses report Hurley yelled, "SIT DOWN." Others report he yelled, "SIT DOWN, (EXPLETIVE)!"
"I really didn't know where I was at that point," Hurley said. "Somehow I found myself by the Memphis dance team. I apologize to the dance team coach. I'll be better next time."
Yeah, here's betting he won't.
Hurley won't be any better. But his team will be immensely better. And Penny Hardaway's team will be immensely better, too.
That was the beauty of Memphis' 78-71 win over UConn at FedExForum Sunday afternoon. It wasn't just a much-needed win for a Memphis team that had lost three straight games. It was the beginning of what could be a spectacular rivalry.
"I said to Penny in the handshake line, I don't expect us – with what we've got coming in and with what we're going to build, and with what he's got coming in and what he's going to build – I don't expect us to come into these matches 13-10 in the future," Hurley said. "Obviously, I think the programs are going to spike in terms of what we look like the next time we meet on the court. It could look a little bit different, not in terms of necessarily the result, but in terms of what it looks like and in terms of what's at stake."
The Memphis and UConn programs have striking similarities. Both programs have struggled the last few years. At the end of last season, both programs fired coaches with roughly $10 million left on their deals. Both programs then went out and made headline hires. Both programs have seen attendance and recruiting rankings soar. The Memphis recruiting class is currently ranked No. 12 in the country. The UConn recruiting class is currently ranked No. 16.
"Danny and I, we've been knowing each other a very long time," Hardaway said. "He shook my hand at the beginning of the game and was like, `Hey man, it's going to be a good ride for us over the years.' We both agreed that there were going to be some competitive games between us going forward and today was one of those."
Memphis – intent on ending its losing streak – leapt out to a 24-12 lead.  But Hurley's team did not go away. Nor did Hurley ever shut up. Like, ever. The soundtrack to this game was both loud and profane.
"GET THIS S*** UNDER SIX!" he screamed to his players.
And: "GREAT JOB, GREAT JOB, WAY TO BEAT THAT S**** UP!"
And: "PLAY DEFENSE EVEN IF HE TRAVELS!"
And (referring to Jeremiah Martin): "HE BETTER SHUT HIS F****** MOUTH!"
---
Geoff Calkins chronicles Season One with Penny Hardaway
---
It was both hilarious and astonishing. Bob Byrd – a Memphis fan who has been known to heckle opposing coaches from time to time – said he simply gave up trying to go word-for-word with Hurley.
"He makes Bob Huggins look like a Boy Scout," Byrd said. "He is the most obnoxious, foul-mouthed coach I have ever seen."
I know. And he'll be coming back to FedExForum every single year. Isn't that great?
Editor's note: As Penny Hardaway begins his first year as coach of the University of Memphis Tigers, Geoff Calkins is going to write the book.

That's right, a book. Written in chapters, with a new chapter arriving every Monday, Calkins will capture all the anticipation, the excitement and the challenges of the season.

He'll explore what Hardaway and Memphis basketball mean to the city and the people who call it home.

It'll be the definitive chronicle of the return of an NBA icon, as he tries to restore the basketball program he loves.
This season isn't just about this season at Memphis or at UConn. This season is about establishing a culture, recruiting promising players, setting the stage for games and glories to come.
Sunday's game was a matchup between two teams that have already accumulated 21 losses. Neither Memphis nor Connecticut is expected to make the NCAA Tournament this year.
So it was nice to see Kyvon Davenport get back in the groove with 26 points. And it was nice to see Tyler Harris deftly setting up teammates for dunks. And it was nice to see the Tigers make timely plays down the stretch, the biggest of which may have been Raynere Thornton's put-back dunk.
But the real fun was watching the start of the rivalry, and imagining what it might turn into in the coming years. 
So I understand why a Memphis fan ended the game by yelling, "SIT DOWN, DANNY. IT'S OVER WITH!"
But happily, it's just begun.
---