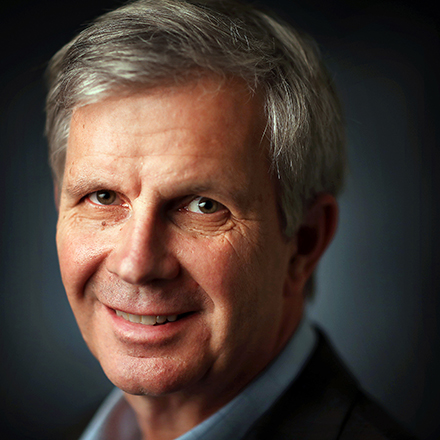 Geoff Calkins
Geoff Calkins has been chronicling Memphis and Memphis sports for more than two decades. He is host of "The Geoff Calkins Show" from 9-11 a.m. M-F on 92.9 FM. Calkins has been named the best sports columnist in the country five times by the Associated Press sports editors, but still figures his best columns are about the people who make Memphis what it is.
Calkins: John Kilzer — former Tiger, musician, minister — lived a life of recovery and grace
John Kilzer started to grow a Fu Manchu mustache. Memphis coach Wayne Yates told him to shave it off.
"I was listening to a lot of Bob Dylan and Dylan had a cool Fu Manchu," Kilzer said. "We were going to play a big game in Freedom Hall and Yates said, 'You can't have that.' Well, some games I'd play a lot and some games I wouldn't play at all. This game I didn't play at all. I was so mad, on the plane back for Memphis I started ordering Jack Daniels and drinking them. I got thrown off the team but my teammates voted me back on. I'd like to say I saw the light right then but it took me a good long while after that."
Kilzer told me that story a few years ago. It was — like Kilzer himself — self-effacing, sad and funny all at once, and searingly true.
"St. Francis said, 'Preach the gospel at all times and, if necessary, use words,'" Kilzer said.  
Kilzer died suddenly Tuesday at the age of 62. He preached until the end.
---
Kilzer was a basketball-player-turned-English-scholar-turned-rock-star-turned-minister.
His stats include 294 points, 194 rebounds, two David Geffen records, one top-10 hit with "Red Blue Jeans," a master's degree in English, a master's degree in divinity, a Ph.D. from Middlesex University and a recovery ministry that touched hundreds of lives. 
"John was more than a powerful musician, he was able to convey the angst of life," said Scott Morris, Kilzer's longtime friend and former colleague at St. John's United Methodist Church. "He was able to reach down and bring people up from the depths of despair and show them there was hope."
Kilzer knew that because he lived that. He was the son of an alcoholic who then became an alcoholic, the way so many do.
"My father was a railroad man and he drank every day," Kilzer said. "He drank Old Charter and grapefruit juice. The only reason he put grapefruit juice in there was he saw on TV it was good for you. And around about when I was 14, he kept the Old Charter under the kitchen cabinet, and I started drinking it. I thought it was good stuff."
Kilzer's college basketball career wasn't what it could have been, in part because of the drinking, in part because he was interested in so many other things.
"I loved Bob Dylan and one day, Teenie Hodges, Al Green's guitar player, he came into the athletic dorm and I had my guitar and I must have looked kind of pitiful and he showed me how to play," Kilzer said. "After that, I brought it on the road with me for every game."
At the time, Kilzer was planning to be an academic. After graduation, he got a full-time job as an English instructor at Memphis. But stardom intervened.
"I was going to go to Emory to work with a William Butler Yeats scholar, but at just about that exact time I got this Geffen record deal and it was kind of like, 'Do I go to Emory and study Yeats or do I have my own tour bus and make MTV videos and go around the world with the Moody Blues and Little Feat?' I chose door No. 2.
"Well, you can imagine what life is like for someone who is an alcoholic and has David Geffen's credit card and is touring around the world doing late-night shows. That's when things started swirling and swirling and swirling."
Here's the thing Kilzer would tell people about swirling: It never completely stops. Life never becomes simple and easy. But recovery is possible, and grace is real, and if angst is always just around the corner, so too is hope.
---
"John was more than a powerful musician, he was able to convey the angst of life. He was able to reach down and bring people up from the depths of despair and show them there was hope."
Scott Morris, CEO, Church Health
---
Kilzer kept making music. He just released a new record and was scheduled to play the Beale Street Music Festival. But his real calling was his weekly recovery ministry at St. John's United Methodist Church called "The Way."
"It took me a long time to sense that I'm not mine anymore," Kilzer said. "God has blessed me. I was able to teach English at a major university, play basketball on a major basketball team and tour around the world on my own tour bus. I experienced life, drank to the dregs in every sense of the word. And then I realized I'm not mine anymore. William Sloane Coffin said he loves the recklessness of faith, first you jump and then you grow wings. Alcoholism, substance abuse, is one of the few things you have to diagnose yourself. If you are worn out with worry, we provide a safe place."
Morris has one final story about Kilzer. It's about the first time they met. 
"We were in the old Seessel's on Union," Morris said. "It was very late and we were the only two people in the store. Well, he's 6-7 and he wore a leather jacket and he started following me. I had no idea who he was. But everywhere I went, he kept following me. As you might imagine, I was wondering, 'Who IS this guy?' He finally introduced himself at the check-out counter. He said he admired our work at the Church Health Center and he just wanted to help." 
That was John Kilzer, more than any of the gigs, the triumphs or the job descriptions he ever had. He wanted to help with the burdens of others because he carried his own. 
"He always said we have a God-sized hole in our hearts, which I have found to be true," Morris said. "But right now that hole is bigger than I can make sense of."
Related stories:
BILL DRIES: Memphis singer, songwriter John Kilzer dies  
G. SCOTT MORRIS: Remembering John Kilzer: 'The theme of his songs was always love'
YOLANDA JONES: John Kilzer's death ruled suicide 
ELLE PERRY: Mourners recall John Kilzer's message of 'hope, love and recovery'
MARK WINBORN: Reflections on the death of John Kilzer
DONNA DICLEMENTI: For John Kilzer's mourners: Remember 'shared sorrow is half sorrow' 
---