Grizzlies end-of-season questions: What did we learn about Jaren Jackson Jr. and Kyle Anderson?
At the beginning of this week, Grizzlies head coach J.B. Bickerstaff made (quasi-) official what had been assumed for weeks: That Jaren Jackson Jr. (deep thigh bruise) and Kyle Anderson (shoulder soreness) would not play again this season.
The team's starting forwards for a large chunk of the season, Jackson and Anderson haven't take the court together since January 30 and the Grizzlies have been without both for a month and a half.
Two other crucial things they have in common: They are the only Grizzlies players under contract beyond the 2020-2021 season and it's not yet entirely clear what's the optimal position for either to play.
Anderson and Jackson played 43 and 58 games, respectively, in their first seasons in Memphis (and Jackson's first in the NBA). How much did we learn and what is left to figure out?
But before we get into that … Standings Watch.
The Grizzlies resume action on their four-game western road trip tonight in Portland (9 p.m. tip, Memphis time), where injury will deny us the hoss-on-hoss battle between centers Jonas Valanciunas and Jusuf Nurkic, who are both out. Mike Conley is also doubtful with left ankle soreness, so this one is a longshot.
With four or five games to go, the Grizzlies are locked in tightening race-of-sorts for lottery positioning in the 6-9 pre-lottery slots. The Grizzlies and Mavericks are 31-46. The Wizards and Pelicans are 32-46. All four play tonight. The games:
Bulls at Wizards
Hornets at Pelicans
Timberwolves at Mavericks
Grizzlies at Blazers
On paper, the Grizzlies are the most likely loss of the group, but at this time of the season, when which players will be active is a night-to-night mystery, you never can tell.
UPDATE: All four teams lost on Wednesday night, leaving these teams still all separated by only half a game, with the Grizzlies tied with the Mavericks in the 6/7 slots. 
On to Jackson and Anderson ... 
Jaren Jackson Jr.
Even as an early advocate, I didn't quite expect Jackson to be this good this quickly. I had Jackson rated third in the 2018 NBA draft (behind Deandre Ayton and Luka Doncic, just ahead of Marvin Bagley), but even in suggesting the Grizzlies stay put at #4 and pick him, I still warned that Jackson would likely come off the bench and average about 7 points and 4 rebounds as a rookie, an initial disappointment for the fan base of whichever team drafted him.
Jackson was a two-way player with All-Defense upside and a longer initial growth curve than the other top prospects. He wasn't going to score as much his rookie season as fellow Top 5 picks Ayton, Doncic, Bagley, and Trae Young. And that was going to be ok.
Well, Jackson didn't quite score as much as those players. But it was a lot closer than expected.
Rather than coming off the bench with a nightly 7 and 4, Jackson started 56 of 58 games as the youngest rotation player in the NBA, and was averaging a 14 and 5, on strong 51-36-77 shooting splits when the Grizzlies shut him down. (The list of teenagers to shoot 50-35-75 in an NBA season: Jaren Jackson Jr.)
By and large, Jackson's mix of strengths (defensive versatility/impact, shooting) and weaknesses (rebounding, fouling) matched expectations. But some elements of his game arrived well ahead of schedule, while some weaknesses, despite his youth, offer a degree of caution going forward.
---
GRIZZLIES END-OF-SEASON QUESTIONS: Is Jonas Valanciunas for real? 
GRIZZLIES END-OF-SEASON QUESTIONS: Will Mike Conley be traded this summer?
---
As an outside shooter, Jackson's low, unconventional release was a source of some concern. But that release was so quick, Jackson is so long, and he shoots was such great balance that this concern has pretty quickly faded. Jackson's 36% three-point shooting on 2.4 attempts a game was an appetizer. His 3.5 attempts on over 50% shooting in February before his season was ended suggests a shooting growth spurt on the horizon. While Jackson was a poor three-point shooter from the corners and the top of the key, he made 40 of 81 from the left and right wings.
While Jackson didn't finish at the rim quite as well as more power-oriented rookies Ayton and Bagley, he still scored more on post-ups than expected. Partly this was a result of his being more skilled in this area -- an ambidextrous finisher (if not dribbler), not resistant to taking contact -- than he was able to show in college.
But it was also a result of team factors. Playing at power forward next to Marc Gasol, Jackson often -- especially early on -- drew smaller defenders. In Gasol, he had a frontcourt partner that could space the floor and send in expert post feeds. Jackson's eagerness to get early post position in transition and the Grizzlies' willingness to find him evoked pleasant memories of Zach Randolph.
Jackson playing finisher -- catch and turn in the post, catch and shoot on the perimeter -- while Gasol remained the team's true frontcourt fulcrum limited the degree to which the Grizzlies explored Jackson's offensive repertoire. It was effective in the short term, and the team was probably right to ease Jackson into the physical demands of playing center. But over time, Jackson needs more reps in the pick-and-roll, which starts with the picks he wasn't great at setting as a rookie. And he needs more opportunities to create off the dribble.
Jackson may remain someone who can exploit different matchups: Take smaller bigs into the post and bigger bigs off the dribble. But the bet here is that his more significant offensive upside will come as a face-up player.
Jackson can shoot stand-still threes and can attack the rim. Can he create jumpers for himself off the dribble? Not many players his size can, and that's one area where his shot release still seems a limitation. (Though, to be fair, he certainly had his moments.)
That's why Jackson's post-deadline departure from the lineup was such a bummer. The Grizzlies missed an opportunity to shift more responsibility Jackson's way, and to test whether moving Jackson up in the pecking order and playing him alongside low-post monster Jonas Valanciunas are things that can work in unison.
Defensively, rookies are rarely good at the NBA level and teen rookies even less so. Projecting Jackson as a future impact defender was just that -- about the future. But this was a nice start.
The Grizzlies were significantly better defensively with Jackson on the floor this season. According to ESPN's Defensive Real Plus/Minus stat (imperfect as all total stats are), Jackson has been one of the NBA's 40 best defenders on the season. It remains to be seen if Jackson can reach his full upside defensively -- his full upside defensively is best in the world -- but it's fair to consider him ahead of schedule even there.
There are a couple of problems in this department, however. One, obviously, is fouling.  Jackson averaged 7.2 fouls per 100 possessions. Among rookies who played meaningful minutes, only raw centers Harry Giles and Mitchell Robinson were more foul prone.
This could be a problem going forward, but I wouldn't assume it's one until it becomes one. Foul rates for young big men, like turnovers for young guards, tend to be something that swiftly improves early in their careers.
Among NBA bigs who have had foul rates over 7.0 per 100 possessions before turning 21 are a long list of notables, including Shawn Kemp, Al Jefferson, Jusuf Nurkic, Steven Adams, Derrick Favors, Serge Ibaka, Demarcus Cousins, and Jermaine O'Neal,
Ibaka, a common Jackson comp, put up these foul rates in his first four seasons: 7.6 - 6.2 - 5.2 - 4.4. He settled in at that 4.4 range for most of his prime. A source of optimism: Jackson's foul rate in six October games (9.2 per 100 possessions) was significantly higher than in his six February games (5.9).
A bigger concern is on the boards, where Jackson was pretty bad for a big, even accounting for his youth and still-developing frame.
This needs to improve, and if it doesn't improve significantly it may force the Grizzlies into some tough decisions about how to build a team with Jackson and how to use him.
Will compensating for Jackson's rebounding lead to pairings that limit how much the team can exploit the strengths of his game?
At the most stark, you can say Jackson is a big man who combines the unicorn-ish skills of three-point shooting and shot-blocking, but that this union is mitigated by some pretty bad rebounding.  
By itself, that trio of markers (two good, one bad) turns up odd comps: Some skinny project bigs whose theoretical potential either didn't (Jonathan Bender, Thon Maker) or hasn't (Jonathan Isaac) panned out. One unconventional but enduring true center (Brook Lopez). A generational anomaly who started out as a wing (Kevin Durant).
Those non-Durant comps would be more concerning if Jackson weren't so clearly more than that bundle of attributes. A lead-footed center, Lopez never had the kind of switchable defensive ability that Jackson brought into his NBA career. Those skinny project bigs never/have never scored at the volume or ease that Jackson did as the NBA's second youngest player.
That ability to generate points is the key departure. Earlier in the season, I compared Jackson to the rookie seasons of some pretty highfalutin comps: Kevin Garnett, Anthony Davis, Pau Gasol, Rasheed Wallace, and Ibaka. Four months later, without Jackson getting the benefit of a post-deadline boost in role, this hasn't changed much. And the comp that so-far rings truest remains the same.
Blocks and steals + three-point shooting + post game + weak rebounding? That's Rasheed Wallace, not quite a superstar, but a four-time All-Star and core starter on a title team. Wallace's 10.0 rebounding rate in his rookie season (at age 21) is similar to Jackson's this season. Wallace got better on the boards, but remained below-average for a big man of his size. It probably bears noting that Wallace's title team featured him alongside an elite rebounder in Ben Wallace.
That Jackson has more all-around defensive ability and a head start on being a significant three-pointer shooter suggests a greater upside. But at 19, Evolutionary Sheed is a pretty good start.
This rookie class is so fantastic that Jackson's better-than-expected surface stats don't quite pop compared to Doncic, Young, Ayton, or even Bagley. But Jackson's full projection picture would put him, at worst, in the middle of that group.
Kyle Anderson
Since I went so long on Jackson, I'll keep it shorter on Anderson.
Take a look at Anderson's half-season in Memphis and his career performance with the Spurs and try to find significant differences. Any distinctions are pretty marginal.
That's not that surprising for a 25-year-old player in his fifth NBA season. Maybe Anderson simply is what he is: A good defender and playmaker, a solid rebounder, a bad outside shooter, and a low-usage role player.
But when the Grizzlies gave Anderson their full mid-level exception for four years last summer, they were placing a bet that they could develop his game further, and that didn't really happen.
The idea was that, immediately, they'd boost Anderson's usage, putting the ball in his hands more, and letting him function as more of a playmaker with four shooters around him. In the daydream weeks of a post-free-agency summer, head coach J.B. Bickerstaff even talked about playing Anderson at point guard in lineups when Mike Conley went to the bench.
Down the line, they were intrigued with shifting Anderson more to power forward as Jackson evolved into a center.
The first thing never happened. Was never really tried. Anderson's 12.6 usage rate in Memphis was lower than his previous season in San Antonio, the second-lowest of his career. With backup point guard Shelvin Mack getting off to a doomed-to-regress hot shooting start, Mack soaked up all the backup point guard minutes and even bled into the wing rotation.
The second thing did happen early on, though not alongside Jackson. With opening-night starter at power forward JaMychal Green out to injury and Bickerstaff reluctant to play a foul-prone Jackson late, the Grizzlies' go-to closing lineup had Anderson shifting to power forward alongside Marc Gasol. When the Grizzlies jumped out to a promising 12-5 start, they were winning a lot of games with this lineup.
That didn't last -- the lineup or the winning. Over time, injuries and returns shifted the Grizzlies' roster. Green came back and wing Dillon Brooks went down and Anderson found himself playing almost exclusively on the wing again, where his unconventional skillset was often used too conventionally. Spotting up in the corner is not his game.
Defensively, Anderson was a plus wherever he played. The same ESPN stat that slots Jackson as a Top 40 defender this season has Anderson 23rd, and third (behind only Robert Covington and Paul George) among all perimeter players. The Grizzlies were great defensively this season with Jackson and Anderson on the floor together.
Anderson's three-point shooting (relatively speaking) and free-throw shooting both declined this season. Maybe that's random. Maybe it's team-related. Maybe the mysterious shoulder soreness that ended his season early was impacting his shot all along? A Spurs fan who watched Anderson closely before this season suggested to me that Anderson's shot in Memphis seemed to have an additional hitch.
Personally, I find Anderson a fascinating watch: The disruptive defensive impact of his long arms and quick hands. His under-utilized ability to make pretty much any kind of pass. The barge-on-the-Mississippi tempo of his still-effective end-to-end drives.
But one year into a four-year deal, the Grizzlies don't seem to have made much progress at maximizing Anderson's unusual skill set. And perhaps, as Anderson has sat, they've gone backwards on this particular front.
Anderson played his last game on January 30, before the February trade deadline, a day that reoriented the roster in a way that makes Anderson's fit even more curious.
Before, Anderson started alongside a center (Marc Gasol) who was an outside shooting threat. Now, the Grizzlies' employ a center (Jonas Valanciunas) who lives primarily in the paint.
Before, the Grizzlies had a backup point guard (Shelvin Mack) who was primarily a jump shooter. Now they have one (Delon Wright) who is primarily a slasher.
Can Anderson, a non-shooter, start on the wing for a team that puts non-shooter Valanciunas in the middle?
While Anderson and Wright could be dynamite together defensively, how do they fit offensively?
When Anderson was signed, he slotted high in the pecking order of how this team was building for the future. A season later, Anderson's future fit has grown murkier.
Deflections
We've all wondered if there will be changes for the Grizzlies in the front office or on the sidelines when this season ends. It looks like at least one assistant coach may already be on the move, as Jerry Stackhouse is reportedly in talks to become the next head coach at Vanderbilt University.
Mike Conley is a finalist for the NBA's "Teammate of the Year" award, and the list of finalist includes two other former Grizzlies and another Memphis native:
The 12 nominees for the 2018-19 Twyman-Stokes Teammate of the Year Award.

The award recognizes the player deemed the best teammate based on selfless play, on- and off-court leadership as a mentor and role model to other NBA players, and commitment and dedication to team. pic.twitter.com/56BEl0n3VH

— NBA (@NBA) April 1, 2019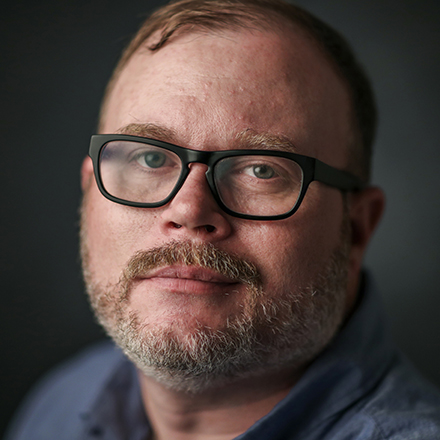 Chris Herrington
Chris Herrington covers the Memphis Grizzlies and writes about Memphis culture, food, and civic life. He lives in the Vollentine-Evergreen neighborhood of Midtown with his wife, two kids, and two dogs.
---