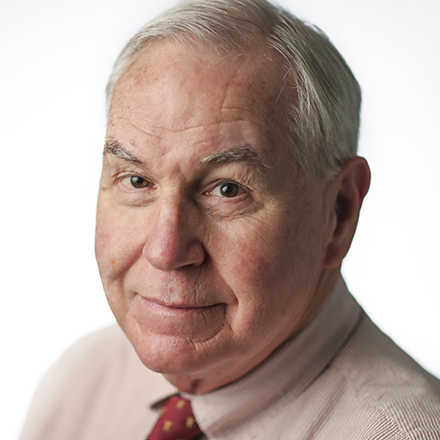 Michael Nelson
Michael Nelson is contributing editor and columnist for The Daily Memphian, the political analyst for WMC-TV, and the Fulmer professor of political science at Rhodes College. His latest books are "Trump: The First Two Years" and "The American Presidency: Origins and Development, 1776-2018."
25 years ago we thought the NFL screwed us; turns out it did us a favor
In an alternate universe the Memphis Hound Dogs are playing the NFL's Thursday game tonight. In the real world it's the eve of the Memphis Grizzlies' first NBA preseason home game against the Atlanta Hawks.
I'm glad we live in the real world.
Granted, that world seemed cruel 25 years ago when the NFL announced that its two new franchises would go to Charlotte and Jacksonville, not us. And then, just three years later, it seemed even crueler when Houston Oilers owner Bud Adams declared he was moving his team to Nashville and oh, by the way, they'd be playing in the Liberty Bowl for two years while Nashville built them a new stadium.
Whaaaaa?
Memphis had the history of successful pro football franchises: the WFL Grizzlies and especially the USFL Showboats before their leagues folded – even the CFL Mad Dogs before it became obvious that the Canadian game had limited appeal in the United States.
Memphians packed the Bowl whenever the NFL staged an exhibition game here – 34 of them from 1929 to 1991. Nashville hosted only nine.
Memphis had the massed commitment of the city's home office heavy hitters, including FedEx's Fred Smith, Dunavant Enterprises' Billy Dunavant, and AutoZone's Pitt Hyde.
But it was Nashville that Adams saw as the geographic center of the 500-mile-long state he thought would unite behind a franchise with Tennessee in the name. He was encouraged in this regard by Nashville Mayor Phil Bredesen, who doesn't talk much about this part of his resume when he's in Memphis.
Adams made the same mistake Gannett made in folding Memphis (he called us "Memphanites") into something called the Tennessee Network.  That didn't work, and neither did Adams' decision to name his team the Tennessee Titans.
The Nashville team's sojourn in Memphis – where they played but did not live or even practice – went comically wrong. Although it went 6-2 in "home" games, attendance was terrible, sometimes less than 20,000 – and even then the number was pumped up by out-of-town supporters of the visiting team.
The only time 50,000 people showed up was when the Steelers played. An estimated three-fourths of the crowd rooted for them. Twenty years later, Memphis is still a Steelers town, with the Cowboys at least a strong second.
Here's what I think about this sad history: Lucky us. We got the NBA instead.
Instead of succumbing to NFL rejection syndrome, a few individuals and corporations from the football pursuit team joined with a new and diverse group of rising civic stars and in 2001 they got us the Grizzlies.
The NBA has always been a better fit for Memphis than the NFL would have been. Even before the Grizzlies came, television ratings for NBA games were higher in Memphis than in any other city that didn't already have a team.
Basketball is the ultimate city game, one of the few that doesn't require any equipment except a ball, a hoop and a relatively small flat surface. Football takes more of everything – and therefore costs more, to say the least.
Here are some other points of comparison worth noting:
NFL teams play eight home games per year and ticket prices are monumental. Guess who in the community can afford to see them? NBA teams play 41 games and almost anyone can pay for the not-bad cheapest seats now and then. Home games are also one of the few public places where blacks and whites congregate un-self-consciously.
NFL teams typically play in suburban stadiums surrounded by enormous paved-over lots. Fans drive in, park, and then drive out after the game. NBA teams mostly play in downtown arenas. People can grab a bite in a local place before the game, then have a drink in another local place afterward.
NFL stadiums occasionally host a megaconcert or two in addition to the games, but sit empty the other 350-plus days of the year. NBA arenas work for lots of events and can easily be scaled to seat 8,000 or 12,000 if that's the right number.
NFL games are played far from your seat by players encased in armor. In the NBA you not only see the players' bodies – and therefore their amazing athleticism – you can also tell from the expressions on their faces what emotions they are feeling.
NFL owners are geriatric and cranky. They talk about their players like guys at the country club bar complaining about "the help." NBA owners have avoided confronting players about public protests, knowing that it takes two to rumble and in the absence of fight-club-style publicity, the media, the public, the players – and the president – are less likely to turn up the volume.
The NFL plays an American game that sets us apart from the rest of the world. The NBA plays an international game that knits us into the world.
Apart from these particulars, broader historical trends are underway that indicate we're not far from the day when pro basketball replaces pro football as the nation's most popular sport, not just Memphis'.
Michael Mandelbaum argued in his deeply thoughtful 2005 book "The Meaning of Sports" that during much of the 20th century baseball was America's leading sport because it served as a pleasant reminder of an agrarian past to city dwellers who often were just a generation or two away from the farm.
Football, according to Mandelbaum, was the right game for the mid- and late-century urban industrial nation. It was, he wrote, "the sport of the machine age because football teams are like machines, with specialized moving parts that must function simultaneously."
Not football but basketball, with its free-flowing, networked action may soon come to dominate the post-industrial age we live in today.
What's more, although basketball is intensely physical, it's seldom debilitating. Basketball players bang hard, but it's shoulder-to-shoulder and elbow-to-chest, not head-to-head. Concussions are rightly scaring off kids and their parents from football and into other sports. One effect will be to shrink both the talent pool and the fan base that football will need to keep going.
A 2013 ESPN survey found that basketball has already surpassed football (and everything else) as kids' favorite sport to play. The NBA generates far more action on Twitter than any other professional league. Grown-up spectators still rank football first, but a January Gallup Poll showed that just 37 percent do so now, down from 43 percent as recently as 2007. NBA ratings are up and NFL ratings down.
One more thing while I'm on the subject: a November 2001 quote from Geoff Calkins in his book "Jump": "Memphis didn't become major league because the Grizzlies moved here; the Grizzlies moved here because Memphis had become major league."
So, hey, fellow Memphians. Twenty-five years ago we thought we lost. Turns out we won.
---