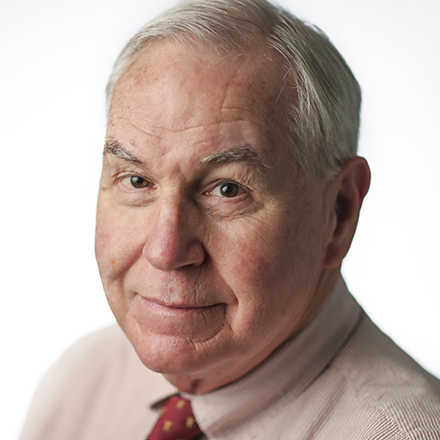 Michael Nelson
Michael Nelson is contributing editor and columnist for The Daily Memphian, the political analyst for WMC-TV, and the Fulmer professor of political science at Rhodes College. His latest books are "Trump: The First Two Years" and "The American Presidency: Origins and Development, 1776-2018."
Author appearing Monday urges free speech – even on college campuses
"Liberal science" is one of those terms that sort of makes sense after somebody takes 10 minutes to explain it but seems baffling on first hearing. Is it an oxymoron – science isn't supposed to be ideological, right? Or is it, as conservatives might fear, science from the left end of the political spectrum?
The answers are no and no, in that order. Bear with me for a bit – or better yet, come hear Jonathan Rauch, a senior fellow at the Brookings Institution and a contributing editor at The Atlantic, explain and defend what he calls liberal science in his 1993 book, recently updated, called "Kindly Inquisitors: The New Attacks on Free Thought."
Rauch, who says that characterizing himself as "56 percent conservative, 44 percent liberal" is "about right," will be interviewed Monday, Sept. 17, at Rhodes College by professor Daniel Cullen in a public forum from 3 p.m. to 4 p.m., with a panel discussion on free speech, diversity, and inclusion involving other visiting scholars at 4:15 p.m.
Parking and entry to the McNeill Concert Hall on Rhodes' West Campus (the former Evergreen Presbyterian Church) on University Avenue are free.
Liberal science, it turns out, is Rauch's admittedly "flawed attempt" to come up with a term for the best way to "seek truth in a diverse society."
"Capitalism" pithily describes our economic system and "constitutional democracy" our political system, but we don't have an equally concise term for how knowledge of ourselves and the world becomes more accurate.
Rauch accepts without really crediting John Stuart Mill's rationale for not only tolerating, but actively listening to, people with whom we strenuously disagree.
I know: Why bother with them when there's a series to binge watch on Netflix or a half-dozen social media accounts to update? Listening makes sense not just for politeness' sake, although Memphians in particular will appreciate that that's not a bad reason.
No, listening to opposing voices is good for you, Mill and now Rauch argue. Consider: You may be wrong and "the other fellow may be right," as former Tennessee Sen. Howard Baker often said. If that's the case, then – as with Galileo, Socrates, and Jesus – you'd do well not to shut him or her down.
Or maybe the other fellow is mostly wrong, but has a valid point or two that you would do well to adopt. In truth, that describes nearly every argument I've ever had that broadened my understanding even if it didn't change my mind.
Or maybe he or she is wrong. Listen anyway, because in the course of explaining (rather than just assuming) their error you'll have to work some mental muscles that otherwise would probably go to flab. How much of what we rightly believe do we so take for granted that we couldn't actually defend it if we had to?
Sadly – no tragically – what Rauch calls liberal science is in greatest danger on the very college and university campuses where you'd think that the free exchange of ideas is most secure. And it's not even the overt cries of "you're a lousy (fill in the blank: racist, sexist, ableist, ageist, homophobe, cisgenderist) – that do most of the silencing of dissent. It's self-silencing by those who, out of fear of being harshly labeled, keep their heads down, their mouths shut, and their opinions to themselves.
For the most part, Rauch said in an interview with The Daily Memphian, professors are not the problem. I mostly agree. They – we, in my case – want free-flowing discussions in the classroom among competing points of view.
Instead, it's "peer pressure from other students" who have grown up thinking that the best response to ideas they find uncomfortable is to brand those who express them with a socially disreputable label.
The result is that when raw racism, sexism, or homophobia – the real thing, not a misplaced pronoun, awkward choice of words, or some other micro-aggression – appears on campuses like the University of Virginia, its critics refuse to engage.
"Shut up, he explained" was a funny line when Ring Lardner wrote it in 1920; now it's the default response to opinions or even evidence we don't like to hear. But when confronted with genuine prejudice, wouldn't it be better to explain to listening students and a watching world why are those people are wrong?
Not all silencing of speech originates on the left, of course. Historically, it's come from the right, aimed with particular fervor in the 1950s at critics of Sen. Joseph McCarthy and in the 1960s at antiwar protesters.
How ironic is it that President Donald Trump, who recently claimed to be a victim of McCarthyism, wants nothing more than for NFL players who protest police violence to shut up or be fired.
Happily, Memphis-area college campuses haven't surrendered completely to the dangers of which Rauch warns. Christian Brothers University and the University of Memphis have hosted controversial speakers without incident.
And three years ago, just a few months after he dissented in the Obergefell case in which marriage equality was legalized, Justice Antonin Scalia gave a public lecture on the same campus where Rauch will be speaking today.
Many in the overflow crowd strongly disagreed with Scalia on this and other intensely controversial issues. But they greeted him courteously, listened to him respectfully, and expressed their disagreements agreeably.
So should we all when those with whom we differ ask to be heard.
And who knows? We may even learn something.
---