Grizzlies Notebook: A first head coaching candidate emerges
As the Grizzlies solidify the upper tier of their new front office and turn toward filling their head coaching vacancy, the franchise is keeping quiet and appears to be keeping their own counsel.
Some have suggested the Grizzlies would be best served hiring someone with experience as an NBA head coach. Others have suggested the Grizzlies wait until after the May 14 NBA draft lottery or even after July's free agency to make a coaching decision.
The franchise might well choose either or both of those directions, but it appears to have begun the coaching-search process now and the first reported candidate would be taking a top job, at least in the NBA, for the first time.
---
GRIZZLIES: European coach, former NBA player Sarunas Jasikevicius a reported Grizzlies coaching target
---
The Grizzlies have interviewed Utah Jazz assistant Alex Jensen, as first reported by the Athletic's Utah Jazz writer Tony Jones. (The Grizzlies officially declined comment on the coaching search.)
Jensen, 42, has been on the Jazz staff since 2013 and  previously was identified as a candidate for the Cleveland Cavaliers' head coaching vacancy as well as the head coaching job at Brigham Young University.
In his first interview as new Grizzlies lead basketball executive, Zach Kleiman offered a list of coaching qualities the franchise would be pursuing:
"There are a number of attributes that we intend to prioritize in a coaching search. First and foremost is X's and O's. We want an individual who can come to the table strong both in in-game strategy and big-picture schemes. That's critical. Communication is also paramount. We want someone who communicates effectively to players, to their own staff, and manages a staff effectively. We want someone who's going to work with us effectively, of course. Ability to develop players, to support them on and off the court."
Jensen is highly regarded particularly as it relates to schemes and strategy, and unlike many assistants pursuing their first NBA head job, he does have head coaching experience. Jensen was named NBA D League Coach of the Year in 2013, in his second season with the Canton Charge, the Cavaliers' developmental affiliate. Jensen also has playing experience, if not at the NBA level.
Before entering coaching, Jensen played college ball at the University of Utah, where he started alongside future pros Andre Miller and Michael Doleac on the 1997-1998 team that lost to Kentucky in the national title game, and then spent several years playing professionally overseas.
There's a history of professional head coaching experience in other leagues translating to the NBA, with examples such as George Karl (CBA), Phil Jackson (CBA), Flip Saunders (CBA), Mike D'Antoni (international), and Dave Joerger (D League) having honed their skills in head jobs in other leagues before finding NBA success. Two current NBA head coaches -- Toronto's Nick Nurse and Jensen's boss, Utah's Quin Snyder -- are also former D League Coach of the Year winners. 
Another is former Grizzlies assistant Jerry Stackhouse, who took the top job at Vanderbilt University this spring.
Jensen's success with the Canton Charge had put him on the NBA head coaching radar early.
Last week, I had ESPN's Kevin Arnovitz on our Daily Memphian Grizzlies Podcast to talk about coaching and organizational issues. Arnovitz has written an annual ESPN column on NBA head coaching candidates. In the 2013 column, Jensen is the fifth of seven names mentioned. The first four: David Fizdale, Dave Joerger, Fred Hoiberg, and Steve Kerr.
Arnovitz wrote of Jensen then:
Jensen was the near-unanimous answer to the question, "Who's the most likely future NBA head coach currently in the D-League?"
The 36-year-old Jensen just finished his second winning season as the head coach in Canton, the Cleveland Cavaliers' owned-and-operated affiliate, but he's best known in basketball circles as the late Rick Majerus' star protegee. Jensen played for Majerus at the University of Utah in the mid-90s and was the starting forward on the Utes team that lost the 1998 title game to Kentucky. After bumping around the Turkish league -- with a few stops in between in Japan, Spain and the CBA -- Jensen reunited with Majerus, joining his staff at Saint Louis for four seasons.
Jensen has preached Majerus' doctrine in Canton, where the ball must be shared and players must defend. He's taken Majerus' motion offense and peppered it with some of the basic high ball-screens and pin-downs that dominate NBA offenses.
"[Jensen] is cerebral and smart," an NBA coach says. "He already had a great feel for the game, then he soaked up everything Rick [Majerus] taught him."
D-League players have been getting call-ups and making key contributions at the NBA level. It's just a matter of time before we see an NBA team dig into the D-League ranks for a head coach.
Jensen pops up again in the 2017 column.
If the Grizzlies were to interview other current NBA assistants, the pool is vast but the names that tend to be mentioned most frequently in discussions of potential head coaches are Portland's Nate Tibbetts and David Vanterpool and Dallas' Stephen Silas.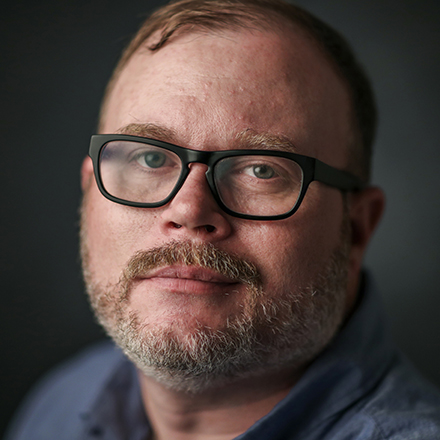 Chris Herrington
Chris Herrington covers the Memphis Grizzlies and writes about Memphis culture, food, and civic life. He lives in the Vollentine-Evergreen neighborhood of Midtown with his wife, two kids, and two dogs.
---