GWERC director working to help Whitehaven businesses unlock economic incentives
With a population of 40,000 in 2016, the U.S. Census Bureau estimates that Whitehaven's median income was $39,000 – higher than the city of Memphis at $37,000.
Graceland, located in Whitehaven, reports 600,000 people visit annually.
Yet some argue Whitehaven lacks amenities that other neighborhoods enjoy, from upscale restaurants to retail to banking offices.
"I grew up in Whitehaven," said Trey McKnight, executive director of the Greater Whitehaven Economic Redevelopment Corp. (GWERC). "Whitehaven was African-American affluence. We want to bring that perception back, because the residents are mostly still here."
McKnight said the lack of economic development is because nobody has been "beating a drum for Whitehaven."
While the discretionary income exists, he said, there is a perception issue.
McKnight began as GWERC's first executive director in January. The mission of the organization, in his words, is "to hunt for opportunities for the Whitehaven area." GWERC is a reconstitution of the Whitehaven Economic Development Corp., which originally formed in 1990.
Hunting for opportunities in Whitehaven includes both helping businesses locate in Whitehaven or helping businesses already located in Whitehaven expand.
For example, GWERC helped Eggxactly, a new breakfast and deli on Marlin Road, obtain a $20,000 Inner City Economic Development Loan from the Economic Development Growth Engine for Memphis & Shelby County (EDGE).
Before joining GWERC, McKnight spent five years as an economic development specialist with EDGE, managing economic incentives, mainly through its payment-in-lieu-of-taxes (PILOT) program.
"I think with my background there, I'll have the ability to help either existing or new businesses, navigate those waters of unlock economic incentives to help those businesses grow and to expand," he said.
McKnight has been working with River City Capital Investment Corp, an affiliate of Community LIFT. River City Capital is a Community Development Financial Institution (CDFI), with a mission to increase economic development in underserved Memphis neighborhoods.
Currently it provides loans in Binghampton, Frayser and South Memphis. But soon, it will add Whitehaven.
"We have long wanted to work in Whitehaven due to its significance to the city, and now that GWERC is up and running, we feel that the time is right to begin deploying capital along the commercial corridors in the area," said Anthony Young, River City Capital director of economic development. "We've already begun working with Trey McKnight to engage business owners in the community, and our next step will be to work with our banking partners to aggregate a loan fund for Whitehaven."
McKnight said that loans up to $100,000 would be offered for businesses to locate in Whitehaven.
"We're also going to offer façade improvements," he said. "A lot of these businesses, they're just old. They need to be updated. They need to look better."
Recently, the Egg King Café, a breakfast/lunch diner, as well as Electrolyfe Juice Bar have opened on Elvis Presley Boulevard.
A building-permit application was filed for a location of Rock n Roll Sushi on Winchester Road, near Elvis Presley Boulevard.
And an indoor trampoline park is in the works on East Shelby Drive.
Financial institutions have come too.
In March, Pinnacle Financial Partners opened a loan production office on Elvis Presley Boulevard, with business and mortgage advisers.
In May, BancorpSouth held the grand opening for its new loan-production office on Raines Road. The location offers consumer loans, as well as loans for home improvement, home purchase and mortgage refinancing.
McKnight said he is working with Memphis Mayor Jim Strickland's office to locate an upscale restaurant in Whitehaven, though he cannot discuss the project. He's also working on luring a coffee shop.
And he wants to create change around the neighborhood's entrance.
"What we want is an inviting presence to the 600,000 people who visit Graceland every year to venture further down the street," he said.
To facilitate that he became a Clean Memphis board member.
"I joined that board because I want the area cleaned up," he said. "They do a really good job. They've got lots of trucks in the area, helping to clean it up. Getting off the interstate, so we want to grass cut. That invites another problem once you cut the grass, because then you see all the trash. So thankfully Clean Memphis was there to clean up (Interstate) 55 getting onto Elvis Presley.
He's also beginning to work with UrbanArt Commission, in hopes of getting some sort of public art at that interstate entrance into Whitehaven.
For the past six months the commission has collected stories and narratives about the history of Whitehaven, according to commission community and development manager Ebony Archie.
"We are using (residents') feedback to determine the site, the type of art work, the scale, and other elements that will be important to folks going forward," Archie said. "We still have not finalized a site, though it does seem like the favorite placement would be just off the interstate. Based on our conversations with residents, some sort of large-scale sculpture is the desired project for that location."
Also in the works from McKnight is a Food Truck Friday, taking place regularly.
"I want to show business that a brick-and-mortar restaurant can and will be supported," McKnight said. "Not only by the residents, but you have to think about all the businesses that are located in Whitehaven.
"There are Fortune 500 companies: FedEx, Medtronic, Smith & Nephew," he said. "That's just to name a few. Where do they go for lunch? They have discretionary income. They need and deserve a brick-and-mortar sit-down, nice restaurant that would be supported by the area."
He's working on getting Explore Bike Share into Whitehaven and with Methodist Le Bonheur Healthcare on a new YMCA location in Whitehaven.
"We're so glad to have Trey McKnight on board as one of our Explore Bike Share Pathfinders and community ambassadors, who share insight and provide guidance for the nonprofit," said Trey Moore, Explore Bike Share's executive director. "As we look to expand the system, while Whitehaven is not currently in our plan in writing, we are actively exploring the neighborhood alongside Trey for our future."
For the YMCA, Methodist is donating the land, and is in the process of fundraising.
"We are in the process of working with GWERC to donate a piece of land that is currently part of the Methodist South Hospital campus," a Methodist spokesperson said. "MLH and the YMCA share a common vision to improve the health and wellness of those we are committed to serve and we are excited to be exploring this opportunity, which will be a valuable addition to the Whitehaven community."
When asked about efforts to stem the flow of retail south of the state line, McKnight said: "Some of the problem is us. You have to shop where you live. You have to eat where you live. The flip side is, the things where people live have to be nice."
McKnight hopes his organization can help with that.
"I'm from Whitehaven," McKnight said. "My mom and dad still live in Whitehaven. My mother-in-law lives in Whitehaven. I went to elementary school in Whitehaven. That's one of the reasons why I chose to take the role of executive director. Because I have a very fond love for the area. Because I know what it can be and what it should be."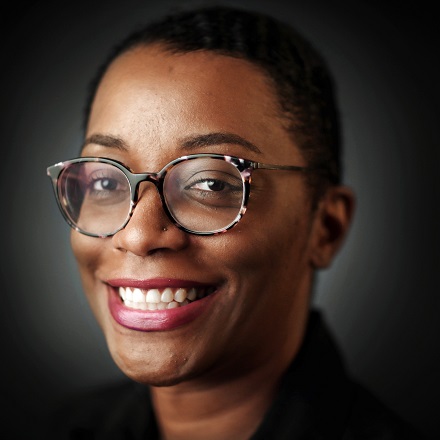 Elle Perry
Elle Perry covers arts and culture and other news for the Daily Memphian. She is a native of Memphis and a two-time graduate of the University of Memphis. Elle previously worked for the Memphis Business Journal and has written for publications including The Memphis Flyer and High Ground News.
---