Grizzlies: Everything you need to know – and more – about this year's NBA Draft lottery
We're less than a week away from this year's NBA draft lottery, where the Grizzlies could score the top pick, come away with no pick at all, or fall somewhere in between.
There are a lot of moving parts, consequences aplenty, and some squirrelly franchise history as backdrop. Let's sort through it:
When it is
This year's lottery broadcast will be on ESPN at 7:30 p.m. local time on Tuesday, May 14. Unlike last season, the Grizzlies are not sponsoring an official watch party.
Who will represent the team?
Last season, it was Elliot Perry, the Grizzlies director of player support and a minority owner. This season it will be … Elliot Perry again. A great choice then and now. New team lead basketball executive Zach Kleiman will represent the franchise at the actual lottery drawing, which takes place off-camera before the broadcast.  
How it works now
This NBA draft lottery will be different from those that have come before. New rules meant to limit the incentive for "tanking" have expanded the picks subject to the lottery drawing from 1-3 to 1-4 while also considerably flattening the odds. After picks subject to the lottery are drawn, the remaining teams are slotted according to record.
For instance, last year, having the NBA's worst record (Phoenix Suns) guaranteed a top four pick and gave 25% odds of getting the top pick. This season, having the worst record (New York Knicks) guarantees a top five pick and gives only 14% odds of having the top overall pick.
The draft may hold to form after next week's lottery – it's only drawn once – but the odds of volatility have gone up dramatically. Fourteen teams are in the lottery, but nine of them have a better than 5% chance at the top pick.
Grizzlies odds and the Boston complication
The Grizzlies are in the 8th slot in the lottery drawing. With four picks drawn, that means the Grizzlies can't pick 5-7 and can't fall lower than 13. The individual pick odds for the Grizzlies:
No. 1: 6.0%
No. 2: 6.3%
No. 3: 6.7%
No. 4: 7.2%
No. 8: 31.2%
No. 9 or lower: 42.6%
I stopped specifying odds after pick No. 9 because for any pick No. 9 or lower (right, this isn't new; it's review) the Grizzlies will send their pick to the Boston Celtics to satisfy the 2015 trade for missing-piece-that-wasn't Jeff Green. If the Grizzlies don't send their pick to Boston this summer, they will still owe a future pick. That future obligation will be protected for picks 1-6 in the 2020 draft and unprotected in 2021 if it hasn't already been sent.
Insult to injury: Boston also has the No. 20 pick in this year's draft, which comes from the Los Angeles Clippers, but via Memphis. After sending a future pick to Boston for Green, the Grizzlies later traded Green to the Clippers to recoup a future pick. This (No. 20) is that pick, except that the Grizzlies traded it to Boston a couple of years ago for two second-round picks, which they used to select Deyonta Davis and Rade Zagorac, who combined for 107 NBA games (all Davis) and are both already out of the league. Oops!
So, to review: For their Jeff Green Experience, the Grizzlies effectively swapped what might be the No. 9 or No. 10 pick in this summer's draft (or maybe higher next year or the year after) for the No. 20 pick in this year's draft, except they traded that away early for … effectively nothing.
Anyway, there's a new management team now.
What each outcome probably means
The NBA draft lottery happens in Chicago in conjunction with the NBA's draft combine, where prospect measurements and interviews will take place, along with (in some fewer cases) athletic testing and workouts.
From there, individual workouts and meetings will begin. (And in minor cases already have. The Grizzlies have two local draft workouts scheduled this week with prospects likely to go in the second round or be undrafted.)
The draft itself is Thursday, June 20. So the draft landscape could change over the next month and a half. But for now, this is what the outcome range looks like:
No. 1: Duke forward Zion Williamson. The near-certain top pick for any team.
No. 2: Murray State point guard Ja Morant or Duke guard/wing RJ Barrett. There's a real debate here about who is the second-best prospect in the draft, but a pick other than Morant or Barrett would be a surprise. Given that Morant is a point guard, obviously this decision would intersect with the future of Mike Conley. But if the Grizzlies get the second pick, they should try to make these two decisions (who to pick and whether to trade Conley) individually if they can.
No. 3: Morant or Barrett: Whichever player isn't taken at No. 2 would be a heavy favorite to be picked No. 3.
No. 4: Here's where the possibilities really open up and where you could see a lot of fluidity and surprise over the coming weeks. Right now, the most likely candidates for the Grizzlies would seem to be three wings (Virginia's De'Andre Hunter, Texas Tech's Jarrett Culver and Duke's Cam Reddish) and two guards (Vanderbilt's Darius Garland and North Carolina's Coby White). It's hard to imagine the Grizzlies taking a frontcourt player at No. 4 after taking Jaren Jackson Jr. last summer.
No. 8: Whomever is left from the group at No. 4 – and at least one would be left – seems most likely, although this would open up some other wild-card picks. Among them would be some young, raw wings (French teen pro Sekou Doumbouya, Indiana's Romeo Langford, North Carolina's Nassir Little) or frontcourt players who could be seen a long-term Jackson partner (Gonzaga's Brandon Clarke, Texas's Jaxson Hayes).   
What Grizzlies fans should root for
The whole Boston thing complicates "root for the highest pick, duh," which would be the operating principle in most circumstances.
It's crystal clear that the Grizzlies do and should want the No. 1 pick and pretty clear to most that they should prefer the No. 2 or No. 3 to dropping back and sending their pick to Boston.
At the other end of the spectrum of possible, most seem to think that it would be better to fall to No. 9 or later and send the pick to Boston this summer than to pick at No. 8 in what seems to be a middling-at-best draft. For what it's worth, I co-sign all of this conventional wisdom.
The benefits of sending the pick now are at least two-fold: First, the franchise would take a worse scenario – giving up a No. 7 or No. 8 pick next summer or, much worse, a pick as high as No. 1 in 2021 – off of the table. Second, they could move forward without restriction or contingency.
But there are arguments for wanting to keep the pick even if it's not in the Top 3. This draft is considered average at best, but there's no guarantee either of the next two are better. The early word – greatly subject to change – is that they aren't.
Jaren Jackson Jr. is a cornerstone, but not alone a foundation. In today's NBA, the clock starts ticking on the future of good young players the second you get them. There's an imperative to start adding young talent with Jackson now. That nightmare scenario of owing an unprotected pick in 2021? If it gets to that point, it will mean that the Grizzlies would have had three consecutive picks in the Top 8. If that doesn't yield the raw material with which to build a competitive team, well, that would be a bummer.
The most debatable question is at No. 4, where most see the draft taking a dip into a broad, uncertain third tier of players. While I'd still conclude that No. 9 (and lose the pick) is preferable to No. 8 (and keep it), for the reasons outlined in the previous graph I'd rather have No. 4 this summer and take my chances on booting this draft obligation down the road. The draft may drop a tier at No. 4, but you'd have your pick of the litter. But the lack of consensus starting at No. 4 could also yield some decent trade-down possibilities. Either way, I think that asset is strong enough that having it trumps removing the Sword of Jeff Green dangling over the franchise.
So, to sum up: On Tuesday night, movement (up or down) should be the wish. As in so many other things, the Grizzlies might fall behind by standing still.
The Zion fit
Zion Williamson is the big prize for any team this season, but what team would be the big prize for Williamson? ESPN asked four of their writers that question this week and the collective answer was no surprise: The Atlanta Hawks. The Hawks have a dynamic young point guard (Trae Young), a long, rim-running big man (John Collins), and defender/shooter role players on the wing (Kevin Huerter, Taurean Prince, Kent Bazemore). Williamson could be the big piece that quickly completes their puzzle.
Beyond Atlanta, it's a more debatable proposition. Among the lottery teams, ESPN had Dallas next (Luka, Luka, Luka) and Philadelphia (via the Kings pick) last. The Grizzlies came in middle of the pack at No. 6. In writing up the Grizzlies, Kevin Pelton (who actually voted the Grizz No. 3 here) notes that a Williamson/Jaren Jackson Jr. combo could develop into a special frontcourt-of-the-future, but also notes that Mike Conley's potential departure could leave the Grizzlies without the perimeter playmaker to aid the development of young bigs.
Wider rooting interests
Because all things in the NBA are relative, your Grizzlies-centric lottery rooting interests should be broader than just where the Grizzlies pick. For one thing, if Williamson isn't coming to Memphis can he at least go to the Eastern Conference?
Last season, in a loaded draft, four of the top five picks went to West teams. This season, five of the top six teams in terms of pre-lottery odds are in the East. The Grizzlies don't want the draft to hold to form, but would like to see any top prospects not coming to Memphis not be going to Dallas or Minnesota or the Lakers (or, sure, Phoenix or New Orleans either).
A more strategic rooting interest: The potential Mike Conley trade market. I think it's unlikely the Grizzlies would get a lottery pick back in a Conley deal, but are almost certain not to get a Top 4 pick. So root for longshot Conley trade candidates Chicago and Phoenix to get pushed back into the mid-lottery and perhaps more likely candidates such as Minnesota and the Lakers to not move up.
Grizzlies lottery history
This will be the ninth NBA draft lottery the Grizzlies will be in since moving to Memphis. (We're going to cheat and include 2001, even though the franchise relocated between the lottery and the draft).
In terms of moving up (theoretical win), moving down (theoretical loss) or staying put (theoretical tie), the Grizzlies' draft lottery record is 2-5-1. And the two "wins" ended up being bitter disappointments. How previous lotteries went down for the Grizz, with some scattered personal memories:
2001: Fell from fourth to sixth after the Clippers and Hawks both moved up. The Grizzlies took Shane Battier at No. 6 but ended up trading for Pau Gasol at the Hawks' third slot.
2002: Fell from third to fourth after the Rockets jumped up to the top pick. The Rockets got Yao Ming. The Grizzlies took Drew Gooden and moved him along (for Mike Miller) a few months later.
2003: Jumped from sixth to second, but it was one spot short and the wrong year to have "good" luck. The Grizzlies sent their pick to Detroit (which took Darko Milicic) to satisfy a previous trade. They'd have kept it (and taken LeBron James) if they'd jumped up to No. 1. This is the doomsday scenario that looms as a repeat in 2021, though there doesn't seem to be any LeBron James on the horizon.
I watched this one at a friend's house with a few hardcore hoops fans and a dog named Hubie. The lasting memory is the look of contained fury on Jerry West's face after the next to last envelope was opened, giving Cleveland King James and his team jack BLEEP.
2007: Fell from first to fourth as the Blazers, Sonics and Hawks all jumped them. This was perhaps an even more cruel blow than 2003, where the lottery show theatrics got everyone's hopes up but most fans had assumed the pick was headed to Detroit. Here, the Grizzlies had the worst record in the NBA in a season which seemed to have two surefire superstars (Greg Oden, Kevin Durant) at the top of the draft, and the Grizzlies didn't just miss out on both, but got pushed down as far as the rules would allow. It turns out, of course, that the No. 1 pick (Oden) was a landmine and the "worst case scenario" (Mike Conley) ended up being one of the franchise's greatest players.
I was at the team's official watch party at the Downtown Flying Saucer, with a camera crew providing footage to the national lottery broadcast and team radio voice Eric Hasseltine as master of ceremonies. The place was packed and ready to celebrate Greg Oden or Kevin Durant.
When the lottery started, it went to form for picks No. 14 through No. 7, and the cheering built every time an envelope opened that didn't show a Grizzlies logo. I was standing near the back of the room, the pre-lottery list in hand, crossing off teams.
When the card for pick No. 6 was opened and revealed to be the No. 3 slotted Milwaukee Bucks, the television announcer said only that the No. 6 Portland Trail Blazers had moved up, and everyone in Memphis kept cheering. But the Bucks moving down three spots meant that the No. 5 Seattle Supersonics and No. 4 Atlanta Hawks had also moved up into the top three, and it meant the Grizzlies were locked into No. 4.
I turned to friends and made the International Vince Carter symbol for "it's over." The rest of the room didn't register this and just kept cheering, growing louder when the Boston Celtics came up at No. 5. I could just stand and wait for everyone around me to get hit with the NBA lottery version of a Mario Chalmers overtime 3. Not the most enjoyable night in franchise history.
2008: Fell from fourth to fifth as the Chicago Bulls jumped up to the top pick. The Grizzlies made a good pick at No. 5 (Kevin Love) but then traded it late into the night for the No. 3 (O.J. Mayo), which didn't work out.
2009: Jumped from sixth to second in a year with a surefire No. 1 (Blake Griffin) and an unsettled second tier. They took Hasheem Thabeet, the sad trombone of NBA draft picks.
The official lottery party was at Buffalo Wild Wings at Eastgate. The lottery again held form No. 14 through No. 7, but this time it was the Grizzlies that jumped from No. 6. When the Minnesota Timberwolves were instead revealed with the No. 6 envelope, the room went from mild buzz to full-on cheers. Coming up a little short at No. 2 was bittersweet, but this was still a big win. Until draft night.
2010: Stayed put at No. 12 and selected Xavier Henry.
2018: Fell from second to fourth as the Hawks and Kings jumped them. Took Jaren Jackson Jr.
This watch party was at Railgarten. The conventional wisdom at the time was that the draft had a firm Top 3 and the Grizzlies had missed out on them. When Grizzlies general manager Chris Wallace said that night that the team saw the draft as having a four-player top tier (I agreed) and he was happy they didn't fall out of it, it was derided as spin. It turned out to be unusually candid, and only wrong because in retrospect the top tier went five deep.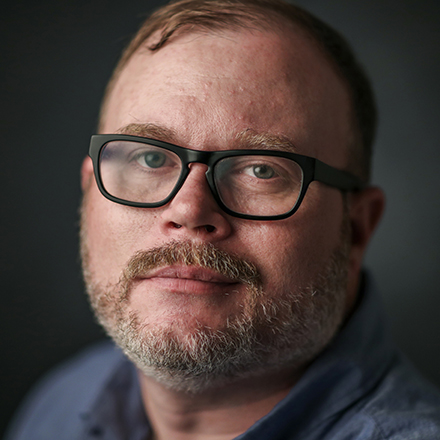 Chris Herrington
Chris Herrington covers the Memphis Grizzlies and writes about Memphis culture, food, and civic life. He lives in the Vollentine-Evergreen neighborhood of Midtown with his wife, two kids, and two dogs.
---