Run, hide, fight: Local colleges, universities bolster security as campus shootings persist
The director of Police Services and Public Safety at Southwest Tennessee Community College even carries a weapon when she goes to church.
"It's very sad that these are the times we live in, where people feel like they have to be armed everywhere they go. I don't go to church without at least one weapon," L. Angela Webb said.
The public safety officer's remarks came about a week after a gunman opened fire at the University of North Carolina-Charlotte's campus on the last day of classes April 30, killing two people and injuring four others.
A few days later, another campus shooting took place at a K-12th grade school in suburban Denver, leaving one student dead and eight others injured.
As more mass shootings occur on school campuses across the country, local colleges and universities are investing millions in preventative measures to protect students, faculty and staff against an active shooter.
Investing millions for 'worst-case scenario'  
Historically, crime prevention on college campuses has been from the outside in, focusing on parking lots and perimeters. As the potential for on-campus violence has increased, universities are now securing from the inside out.
"Each individual classroom has to be secured to the point that if someone hears a noise or there's any threat, you can shelter in place, locking yourself inside a classroom," said Bruce Harber, former University of Memphis police chief, who now serves as the university's chief operations officer.
For the past three years, the U of M has been working to replace all interior and exterior doors with more secure locking systems. With about 70,000 doors on campus, that's a $4.8 million investment.
The University of Tennessee Health Science Center (UTHSC) is in the midst of more than $30 million in security improvements, including installing 500 access-controlled doors, 3,000 wireless door locks and a 3,500-plus surveillance camera system that rivals the Memphis Police Department's (MPD) Real Time Crime Center.
"It becomes a big deal because we can do a campus lockdown at the push of a button without having to physically send someone over with a key," said UTHSC Campus Police Deputy Chief Clete Knight.
This year, UTHSC ranked among in the top 10 (No. 9) of the 2019 Safest Colleges in America, according to the National Council for Home Safety and Security, based on data from law enforcement and FBI crime reports.
When Ike Sloas, director of Campus Safety, first came to Rhodes College in 2010, the private liberal arts college was surveilled by 16 black-and-white Digital Video Recorder cameras.
Now, nine years later, the campus is blanketed with more than 200 internet-based, enterprise-level cameras and is adding more each year.
Southwest Tennessee Community College (SWTCC) has 41 officers who are responsible for maintaining safety for more than 10,000 faculty, staff and students at two campuses and three centers in Shelby County.
Since Webb, a retired MPD major, became director in 2015, SWTCC has invested in campus safety improvements such as license plate-reading cameras, riot gear and patrol rifles.
What she can't put a price on is the amount of training her officers, faculty, students and staff have received to know what to do in the event of an active shooter.
"We at Southwest are being proactive. We are not waiting on disaster to strike to prepare, we are preparing now for the worst-case scenario," Webb said.
Over the past few years, Webb has empowered SWTCC officers to respond at a level that is on par with MPD or the Shelby County Sheriff's Office.
Officers have been trained in Krav Maga, terrorist bombings, active shooters and crisis intervention.
"In the event we are faced with the unfortunate situation of a shooter on our campus, we will be able to enter into the space they are in and eliminate the threat as soon as possible," Webb said.
Three of SWTCC's officers have the additional distinction of being patrol-rifle certified.
"If we have an event, they will serve as what people typically refer to as snippers, eliminating the threat from a distance," Webb said.
Christian Brothers University is continuing to increase camera system coverage and has joined the U of M in adding the LiveSafe app, which enables real-time, two-way communication with police including the ability to send photos of suspicious activity.
LiveSafe costs the U of M $46,000 annually. SWTCC, UTHSC and Rhodes all have similar apps.
"We would like be able to say it (a campus shooting) will never happen here (at UTHSC)," Knight said, "but the reality is it could, so we are taking every measure possible to limit the ability for that to happen."
The school shootings generation  
"Columbine — that's really when the world started changing," U of M's Harber said in reference to the 1999 shooting at Columbine High School in Colorado, where two teens killed 13 people and wounded 21 others before turning the guns on themselves.  
As the years have gone by and more incidents have occurred, college administrators would get questions from students, faculty and staff about their plan in the event of a campus shooting.
For the U of M, it is, "Run. Hide. Fight," a directive from the U.S. Department of Homeland Security.  
Seeing signs in the hallway instructing students to fight for their life is not a new concept for the current generation of traditional college-aged students.  
"The students who are in college now were coming around about the time of Columbine 20 years ago. They participated in drills in their elementary, middle and high schools," Harber said. "They want to know what to do and be clear about it. They don't want you to sugarcoat it. They want direction about what to do and what to expect from law enforcement."
Another campaign, "See Something, Say Something," helped U of M campus police apprehend a non-student who was armed with a gun in the University Center last spring.  
"The student called and we were able to get over there really quickly," said U of M Chief of Police Mary Balée.
As unfortunate as active shooting events are, for campus safety professionals they provide a learning opportunity.
"We can look at those situations and see what we would do differently at our own campus," Knight said. "We can build off of those incidents, unfortunately. What took place? How they got in the building. Their relationship with the school, and build a security platform around how to prevent those things that happened."  
If someone has a concern about the behavior or mental health of a U of M student, faculty or staff member, they can report it anonymously through an online form.
The concern is then assessed by the university's Behavioral Intervention Team, which interacts with the individual of concern to prevent an incident from occurring.  
"It's hard to predict, but it's all in the preparation," said Ted Townsend, U of M's chief economic development and government relations officer. "You don't want to be left thinking what if we could have done this? What you can't predict is human desperation and their expression of that."
Rhodes also has a crisis awareness response team made up of multiple disciplines, including residence life and campus safety, that meets weekly to address student concerns before they escalate. The college also offers an employee assistance program for faculty and staff.
"We talk about the tragedies out there with students, but most campuses also have lots of employees," Sloas said.  
Since state law was changed in 2016 allowing full-time faculty and staff to obtain a permit to carry firearms on campus, about 55 full-time U of M employees carry a concealed weapon on campus.  
"It's not as many as we thought," Balée said.
SWTCC has extended its police force by creating the Southwest Emergency Response Team, comprised of faculty, staff and students who serve as "team captain" for each campus building during a crisis.
The captains are advanced CPR trained. They know how to properly apply a tourniquet and address a chest wound in the event someone is shot or stabbed.
Last month, Webb traveled to Orlando, Florida, to accept a national award on behalf of the department and her role in creating a culture at SWTCC where campus safety is a responsibility shared by all.
Those safety efforts went above and beyond the nation's other 1,200 two-year, associate degree-granting institutions to win the American Association of Community Colleges 2019 Award of Excellence for Community College Safety and Planning.
Addressing the threat
The fact that there are suddenly millions of dollars being invested to secure local college and university campuses against active shooters is not by accident.
In 2016, U of M's Harber chaired a task force to research safety and security, appointed by the Tennessee Board of Regents, which represented six universities, 13 community college and 27 colleges of applied technology at the time.
"We had already been installing cameras and securing auditoriums, but other institutions didn't have the resources," Harber said. "We were having to find the funds within our appropriations as best we could."
Six months later, the recommendations led to state funding specifically earmarked for campus safety improvements.
As U of M's government relations officer, Townsend sat through several state higher education committee meetings this past legislative session.
"It is absolutely top of mind for legislators that the ensuring of student safety is truly critical," he said.
Tennessee has gone in the opposite direction of other states, increasing funding for both K-12 and higher education.  
"You also have to establish the basis of need," Townsend said. "It's hard to answer why it hasn't been done before, but creating the awareness, commissioning a study like that and then seeing the results allow for the establishment of that type of investment to occur."
Once the funds started flowing, universities were able to show the return on investment with improved crime rates.
U of M's reported crimes dropped 4.8% in 2018 compared to the previous year, according to the Tennessee Bureau of Investigation Crime on Campus - 2018 report, released last month.  
"It's so much more than just lights and locks. It's education and services you provide to students — students who may be in crisis," Harber said. "How are you prepared to work with them, so they don't get to a desperate level."  
Harber fears if school shootings continue to increase and become a regular part of life in America, people will become desensitized to the tragedy.
"Personally, and professionally that concerns me, that we'll lose sight of how tragic those events are," he said.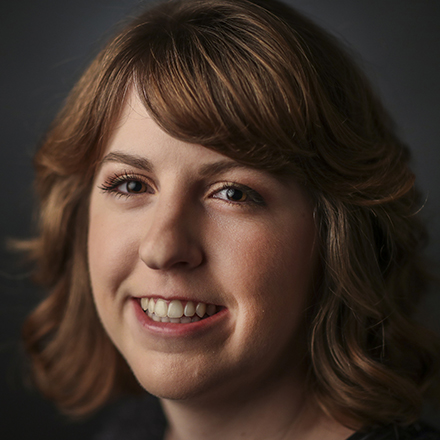 Michelle Corbet
Michelle Corbet covers business for The Daily Memphian. Prior to, she was a reporter at the Memphis Business Journal. A native Memphian and University of Memphis graduate, Michelle covered business in Conway, Arkansas after college. Michelle got her start covering business as an intern at The Commercial Appeal.
---