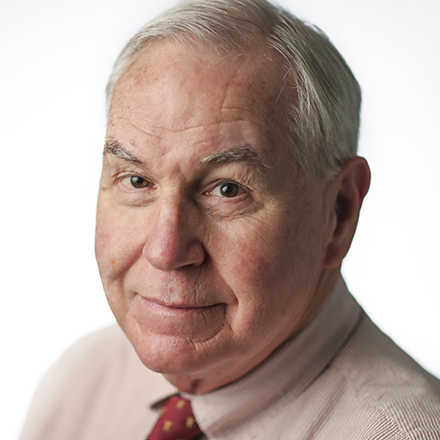 Michael Nelson
Michael Nelson is contributing editor and columnist for The Daily Memphian, the political analyst for WMC-TV, and the Fulmer professor of political science at Rhodes College. His latest books are "Trump: The First Two Years" and "The American Presidency: Origins and Development, 1776-2018."
Nelson: Why Sinatra came to Memphis
Frank Sinatra spent most of his life not liking us much. 
The South during the early and middle years of Sinatra's career as the preeminent vocalist of his era — the 1940s through the 1960s — was a hotbed of racial bigotry, one of the things he hated most.
Sinatra made an Academy Award-winning short film — "The House I Live In" — in 1945 to teach young people about the virtues of inclusion and diversity. He forced the Las Vegas strip to integrate: Either let black musicians stay in your hotels, Sinatra threatened, or I'm out of here. The only city in the South in which he performed was Miami, the least Southern of all Southern cities.
So what was Sinatra doing headlining shows at the Mid-South Coliseum in May 1970 and May 1971, not long after the assassination of Dr. Martin Luther King Jr., whose crusades he had raised money for?   
It sure wasn't to hang out with Elvis, whose music Sinatra despised.
Credit lots of people for bringing about Sinatra's Memphis appearances, starting with a Lebanese American comedian from Toledo, Ohio; a Catholic cardinal who first made his mark as a parish priest in Memphis; and a local liquor salesman.
The comedian, Amos Jacobs Kairouz, is best known by the name he ultimately adopted as a performer: Danny Thomas.  His career was going nowhere until, during a dark night of the soul in Detroit, he prayed to St. Jude, asking the patron saint of lost causes to intercede with God on his behalf. 
Give me a successful career, Thomas promised, and I will build you a shrine.
Thomas' popularity in radio, night clubs, and as star of the 1950s TV sitcom "Make Room for Daddy" took off.  He started thinking about how to make good on his pledge. 
Enter Sam Stritch, a native Tennessean who had risen to become cardinal in the Chicago archdiocese by the time Thomas began seeking advice about what to do. If you see a Memphis connection, you're right. Think: Stritch Hall on the Christian Brothers University campus.
Stritch's first assignment as a priest was at St. Patrick's on South Fourth Street. He served there from 1910 to 1913 before becoming the youngest bishop in the country in Toledo. His altar boy, young Amos, sought Stritch's counsel decades later in Chicago when, as Danny Thomas, he was looking for a way to honor St. Jude.
I was thinking of a stained-glass window, Thomas told Stritch.
Think bigger than that, Cardinal Stritch replied. Much bigger.
Thomas, like Sinatra, was disturbed by the rampant racial bigotry he saw in the South. For years he carried in his wallet a newspaper clipping about a young black accident victim who died when all the whites-only hospitals that could have saved his life turned him away.
Thomas decided to build a children's hospital, not a standard facility in which kids are treated, but a research hospital that would also seek cures for cancer and other catastrophic diseases affecting children.
All children, black and white, rich and poor. At no charge.
But where to build this hospital? 
How about the place where I shepherded my first flock, Stritch suggested: a centrally located Southern city with a big heart and a lot of need?
St. Jude Children's Research Hospital, founded in 1962, did not instantly become the deep-pocketed institution stocked with world-class scientists that it is today. 
Raising money for St. Jude became Thomas' mission in life.  He founded ALSAC — the American Lebanese Syrian Associated Charities — as the fundraising arm of the hospital.  He was helped by fellow Lebanese Americans around the country who went door to door collecting dimes and quarters for the cause. Fred Gattas and his family were big supporters here in Memphis.
Thomas also recruited friends and colleagues in the entertainment business who were willing to donate their time and talent to benefit concerts like the annual "Shower of Stars" at the coliseum. The concerts were scheduled in May to coincide with the Danny Thomas Memphis Classic golf tournament, a major stop on the PGA tour.
At this point another Memphian entered the story: Angelo Lucchesi, who in 1953 became the first — and the best ever — salesman for Jack Daniel's Old No. 7 Tennessee Sour Mash Whiskey. If you visit the distillery in Lynchburg you'll get oriented in the Angelo Lucchesi Theater.
Sinatra loved his Jack, which for years was hard to get.  Lucchesi loved Sinatra, and made sure he was always well-stocked with cases of the stuff. The two men became friends. As late as 1996, when Sinatra was 80, he called the 75-year-old Lucchesi "kid."
Lucchesi worked his connection with Sinatra to get him to Memphis. It was an easy sell to the singer who in 1961 had shown his devotion to helping kids by doing an around-the-world concert tour, paid for out of his own pocket, to raise money for children's charities in places as far-flung as Israel, Japan and France.
On May 30, 1970, Sinatra headlined the "Shower of Stars," with Jerry Lewis and Dinah Shore among those on the bill.
Sinatra was appearing in London at the time of the concert.  He flew to Memphis, did the show, and flew back to London that night.
Sinatra also brought in, at his own expense, his conductor and drummer from Los Angeles. They rehearsed an excellent 27-piece orchestra of Memphis musicians for two-and-a-half hours on the day of the performance. It was time well-spent because after the rehearsal, someone stole the conductor's sheet music.
Sinatra raised so much money for St. Jude and enjoyed the experience so greatly that he did another concert on May 31 the following year, this time with Bob Hope and Sammy Davis Jr.
After the 1971 performance Memphis Press-Scimitar columnist Robert Johnson wrote: "Sinatra once again worked his charisma, holding the audience as though he and they were sharing an intimate experience in the cavernous room filled with over 12,000. All the old subtle, caressing, yearning, despairing, prideful magic was there."
There's a superficial narrative about mid-20th-century popular music that has Sinatra emerging as the first teen idol during the 1940s, dominating the scene as a mature star in the mid-1950s, and then being shunted aside by Elvis and the Beatles.
The truth is that by the time Sinatra arrived in Memphis in 1970, he was riding a recent winning streak of Emmy-winning television specials, Grammy-honored albums, big box-office movies, and several hit singles: "Strangers in the Night" in 1965, "Summer Wind" in 1966, "That's Life" in 1966, "Somethin' Stupid" (with daughter Nancy) in 1967, and "My Way" in 1969.
In what surely was a gesture to Memphis' musical and cultural heritage, Sinatra opened his 1971 set with "That's Life," his bluesiest, grittiest hit. He also included his stunning version of "Old Man River," the song written by Jerome Kern and Oscar Hammerstein for the path-breaking musical "Showboat." And, of course, he sang the standards fans expected to hear, such as "Fly Me to the Moon" and "One for My Baby."
The sold-out shows raised about $300,000 from the ticket buyers, whom Sinatra held "in the warmth of his voice and the palm of his hand," according to a Billboard review of the second show.
The 1971 performance at the coliseum was nearly Sinatra's last before his retirement concert two weeks later in Los Angeles.  Recordings don't exist of the set he performed in Memphis, but you can easily find an HBO-released Alex Gibney documentary centered on the farewell concert called "Sinatra: All or Nothing at All."  It features many of the songs he sang in Memphis. Sinatra soon unretired, but that's a different story.
This is an opinion column, so here's my opinion: Frank Sinatra was the greatest singer of popular music in recorded history. His performances in Memphis for the worthiest imaginable cause – made possible by Danny Thomas, Cardinal Stritch and Angelo Lucchesi – make May 30, 1970, and May 31, 1971, red-letter days in the musical, medical and charitable history of our city. 
---