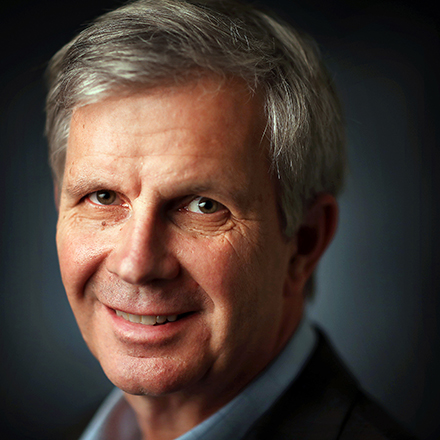 Geoff Calkins
Geoff Calkins has been chronicling Memphis and Memphis sports for more than two decades. He is host of "The Geoff Calkins Show" from 9-11 a.m. M-F on 92.9 FM. Calkins has been named the best sports columnist in the country five times by the Associated Press sports editors, but still figures his best columns are about the people who make Memphis what it is.
Calkins: Forrest Goodman was the gentlest of Tigers
The elderly woman was struggling into the elevator so Forrest Goodman offered to give her a hand.
This was on one of Goodman's trips to East Tennessee, where he liked to fish and hike.
"He was wearing his Tiger stuff, the way he always did," said Matt Dillon, Goodman's longtime colleague on Memphis football and basketball pregame and postgame shows. "Well, after he got her into the elevator, the woman looked at him and said, `We don't want your kind here.' Can you imagine that? She was nasty about it. Forrest just smiled."
Of course he did. That was Forrest Goodman. Patient and understanding. One of the gentlest Tigers there has ever been.
Goodman died earlier this week at the age of 48. I don't know if God needs anyone to handle His angry prayers these days, but Forrest would be the man for the job.
"Hello, you're on."
"Yeah, this is Junior! And listen to me, God is in over his head! Have you seen the climate going crazy? He has no idea what he's doing! My grandmother could do better than that!" 
"Thank you, Junior. I understand your frustration. I'm sure God is even more frustrated than you are."
Seriously, can you imagine anyone better than Goodman for that gig?
Goodman handled postgame callers during the Tic Price and Larry Porter eras. He handled postgame callers during the last days of Josh Pastner and Larry Finch.
Many of these callers were angry. The rest of them were utterly unhinged.
"The worst stretch might actually have been during John Calipari's first couple years," Dillon said. "John came in making a million bucks. People weren't used to that. He struggled a little bit early. We were taking howitzer shells."
But the job description didn't involve lobbing howitzer shells back at the callers. As satisfying as that may have been.
"Forrest would let them vent," Dillon said. "He didn't cut them off, he didn't get nasty. He'd let them talk. He was real good with that."
And he listened. That may have been the key. You'd be surprised, how disarming it can be to really listen to someone. Not enough people do it these days.
But Goodman listened. The callers seemed to sense he listened. And having been heard, they often calmed right down.
"It was astonishing to watch him work," said Phillip Gathright, Goodman's best friend since their days at Collierville High School. "He never let anyone get to him. I think it was his love of the Tigers that allowed him to be the way he was."
Goodman had dreamed of working Tigers games since his high school days, back when he filled in as a disc jockey at WPLX. After a few years in Mississippi radio, he got the call to come home.
"He hit a home run with that job," Gathright said. "Once he got the job doing the Tigers, you couldn't wipe the smile off his face."
It didn't matter that Goodman didn't have the glamour or pay that comes with play-by-play. It didn't matter that the Tigers weren't always that good.
"It was family first and Tigers second," Gathright said. "That's just how he was wired."
The last couple years were hard on Goodman, who got a new kidney from his wife, Michelle.
"The anti-rejection medicines were difficult and he had some other health problems," Dillon said. "It got so he had a hard time getting up to the press box. His last basketball game was the Tennessee game. He had to be rushed to the hospital before he went on the air."
On Memorial Day, Michelle and Forrest celebrated their wedding anniversary in the hospital. It was their 18th and their last. A GoFundMe page has been set up for those who wish to help the family. There will be a celebration of Goodman's life this Saturday at Bartlett Baptist Church.
"Michelle said don't wear black, he'd want you in your blue," Gathright said. "But please don't wear orange."
---