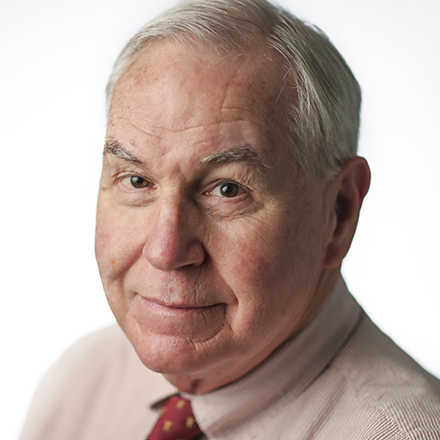 Michael Nelson
Michael Nelson is contributing editor and columnist for The Daily Memphian, the political analyst for WMC-TV, and the Fulmer professor of political science at Rhodes College. His latest books are "Trump: The First Two Years" and "The American Presidency: Origins and Development, 1776-2018."
Seeds of poisonous court fights planted 50 years ago when Memphian Abe Fortas' nomination went down
In almost any previous era of our history, it would have been possible to begin a column two weeks after a controversial Supreme Court nominee was confirmed by writing, "Now that the dust has settled …"
That isn't possible today. But I want to pretend that it is. Because to place the brutal politics of modern judicial nominations in any kind of perspective, we need to look at the events not just of this month but of the past 50 years.
We especially need to go back to October 1968 when one of Memphis' most famous native sons, Abe Fortas, was rejected in his bid to become chief justice of the United States.
The son of immigrants, Fortas was born and raised in South Memphis, living with his family at various times on McLemore, Linden and Pontotoc. Precocious beyond all measure, he was a popular dance band fiddler and an all-star student at Rhodes College (then called Southwestern) when it relocated in 1925 from Clarksville to its present North Parkway location.
After graduating with honors at age 20, Fortas went north to law school at Yale, worked for several New Deal agencies, and forged a close and lifelong friendship with an equally ambitious young congressman from Texas named Lyndon B. Johnson. As Johnson's star ascended in the political world, Fortas' rose in the legal world. Look up "Washington lawyer" in a dictionary of the '50s and you'll probably see a picture of Abe Fortas.
Therein lay the rub.
Having grown up, in his words, "as poor as you can imagine," Fortas made tons of money through a combination of law and lobbying. Even as he did pro bono work on the side for indigent defendants and falsely accused communists, he lived large off his corporate clients, spending lavishly.
When Johnson became president and nominated Fortas to the Supreme Court in 1965, he did so against his friend's will. Johnson even had to field an angry phone call from Fortas' wife, who was hopping mad about the severe reduction in income that the Fortas household was about to experience. Justices made $39,500 a year, barely enough to meet the payments on the Fortases' Rolls Royce.
Once Fortas was on the Court, movers and shakers in Washington were all too happy to flesh out his income by, for example, arranging for him to earn $15,000 for teaching a law school class that ordinarily paid $2,000. Despite being a justice, Fortas also remained an inappropriately close confidant of the president, secretly hanging out at the White House and privately advising Johnson on a wide range of political and legal issues.
None of this mattered until Johnson tried to promote Fortas to chief justice when Earl Warren told the president he was retiring in June 1968. In an election year that, without Johnson on the ballot, was destined to produce a new president, Republican senators resisted LBJ's efforts to replace Warren (shades of 2016). Although the minority party, the GOP was able to bring Fortas' indiscretions to light in a way that doomed his appointment.
On Oct. 1, the Senate fell 14 votes short of cutting off debate on Fortas' nomination. Three days later, Johnson pulled it. Mid-South senators, all of them Democrats except Howard Baker of Tennessee, were mostly opposed. Albert Gore Sr. and Baker canceled each other's votes: Gore for Fortas, Baker against. Mississippi's senators, James Eastland and John Stennis, and Arkansas' J. William Fulbright and John McClellan all voted no.
Woe followed woe, first for Fortas and then for the court.
Suspicions aroused during Fortas' failed nomination set in motion a cascade of subsequent revelations that led to his forced resignation in 1969. It turned out that his money-making schemes included taking $20,000 a year for consulting with a foundation headed by a shady character.
Yet Fortas' travails were more than personal. They inaugurated the age of Supreme Court nominations as political footballs that we live in today.
Prior to 1968, nominations to the 20th-century court almost always were waved through by senators. From 1900 to 1967, 42 of 43 nominees were confirmed, usually on a voice vote in a Senate that – again almost always – was controlled by the president's party. Until 1955, nominees were not even expected to testify before the Senate Judiciary Committee.
Fortas' rejection, joined with the new era of divided government in which the president's party usually does not control the Senate, helped transform Supreme Court nominations into partisan food fights like the one we just witnessed.
Two of Republican President Richard Nixon's first three nominations were voted down by the Senate's Democratic majority in 1970 – revenge hits in retaliation for Fortas. Then came the failure of two Ronald Reagan nominees to be confirmed in 1987.
Clarence Thomas squeaked through when George Bush nominated him in 1991, but only after facing charges of sexual misconduct by law professor Anita Hill rivaling those faced by then judge, now Justice Brett Kavanaugh. Once again in the majority, Senate Republicans refused even to consider Barack Obama nominee Merrick Garland in 2016.
Not all nominations since Fortas have been rejected. Most have received Senate confirmation, usually when – as was the case for Kavanaugh and President Donald Trump's first nominee, Neil Gorsuch – the president's party was in the majority. But in every instance since Fortas, the party opposed to the president has dug around searching for something that could be used to discredit the nominee.
Of the nine justices now on the court, only Thomas was confirmed by an opposition party-controlled Senate. That was 27 years ago, and until this month Thomas' confirmation vote was the closest in modern history: 52-48. Kavanaugh slipped through by an even narrower 50-48. All but two senators –Alaska Republican Lisa Murkowski (con) and West Virginia Democrat Joe Manchin (pro) – voted with their party.
Congressional Democrats and grassroots activists still hope to do to Kavanaugh what Republicans helped do to Fortas: run him off the court he's already on through further investigations into his service in the George W. Bush administration. If they take control of the House of Representatives in next month's election, as seems likely, they may even try to impeach Kavanaugh.
Appointments to judgeships on the lower federal courts, including two of Trump's excellent nominees for the Western District of Tennessee, Mark Norris and, especially, Tommy Parker, normally make it through the confirmation process, but only after a long delay (15 months in Norris' case).
As for the Supreme Court, despite the majesty of its temple-like building, columned courtroom, black-robed justices and fabled traditions, it has been politicized far beyond what is healthy in a constitutional democracy.
It all started a half-century ago with Memphis' own Abe Fortas.
---