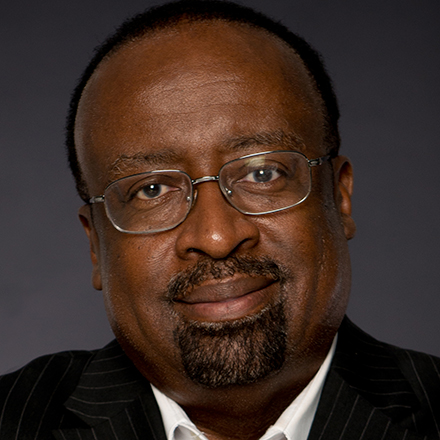 Otis Sanford
Otis Sanford holds the Hardin Chair of Excellence in Journalism and Strategic Media at the University of Memphis and is the political analyst and commentator for WATN Local 24. Contact him at 901-678-3669 or at o.sanford@memphis.edu. Follow him on Twitter @otissanford.
Sanford's goals: Inform, enlighten and provoke (when necessary)
It was unusually cold in Memphis – even for the dead of winter – with a couple inches of fresh snow on the ground when I checked in at the metro desk of The Commercial Appeal on Jan. 10, 1977, for my first day as a general assignment reporter. My initial assignment, of course, was to write a weather story. Then as now, even a minor snowfall is a serious disruptor in Memphis and front-page news.
I was three months shy of my 24th birthday and was positively giddy over the chance to work as a journalist in the city I had loved since childhood. General assignment meant covering twisters and train wrecks, banquets and bank robberies, Ella Fitzgerald live and Elvis Presley dead.
Ten years and several hundred bylines later, I moved on to larger journalism pastures – first at the now defunct Pittsburgh Press and then to the Detroit Free Press, before returning to The CA in 1994 for another dream job as a senior editor overseeing local news, business, photography and sports.
Eventually, my love for the daily newspaper grind gave way to a second passion – teaching fulltime at the University of Memphis and helping the next generation of journalists navigate the ever-changing 21st century media landscape.
But writing, particularly about politics and social justice, is embedded in my DNA. Which is why I am thrilled to now be penning a weekly column for The Daily Memphian. My views will no doubt continue to irritate a few, particularly those in elected office or with a decidedly different political bent. But my goal, as it has been for more than 11 years of weekly column writing, will always be to inform, enlighten, provoke when necessary and generally help Memphians have a meaningful conversation about issues of public interest.
Memphis is the ideal place for that. Throughout its nearly 200-year history, this city has been a fascinating, colorful and controversial news town. From the legendary "Moving Appeal," in which the printing presses of The Daily Appeal traveled by train and wagon around the South to escape the clutches of Union troops during the Civil War, to the less bloody – but no less fierce – newspaper wars at the turn of the 20th century, Memphis has always been a hotbed for journalism.
Powerful politicians, from E.H. "Boss" Crump to Harold Ford, Wyeth Chandler and Dr. Willie W. Herenton, maintained a robust love-hate relationship with the press. And the press, more often than not, fulfilled its role of holding officeholders and policymakers accountable.
Each iteration of political and governmental leadership was astute enough to pay close attention to media coverage and respond accordingly, even if the response included sharp criticism of the media.
That's how it should be. And The Daily Memphian is poised to play its role in that process. Yes, this new online medium will be competing against other news organizations that have been around for generations. But there is more than enough news in Memphis for us all – whether it's print, broadcast or online.
So in the coming weeks, my columns will be addressing the pivotal and hotly contested political campaigns for the U.S. Senate and governor in Tennessee, and the role Memphis and Shelby County voters will play in the outcomes.
I intend to keep a close eye on the Memphis City Council as members work to name interim replacements for three of their colleagues – Edmund Ford Jr., Janis Fullilove and Bill Morrison – who were elected to county offices in August, but stubbornly refused to resign in time for those council seats to appear on the November election ballot. In particular, I will be looking for signs of backroom dealing in the appointment of applicants for those seats.   
In addition, I will be paying attention to how Memphis police officials and Mayor Jim Strickland respond to a still pending federal court decision over surveillance activities by police of local activists.
And I will weigh in from time to time as Memphis prepares to observe its 200th anniversary, and as candidates gear up for the 2019 city elections.
That's a full plate, and I love it. I am as excited now as I was that frigid January day 41 years ago. And after a three-month hiatus from column writing, it's time to crank it up again in a city where news never stops.
---