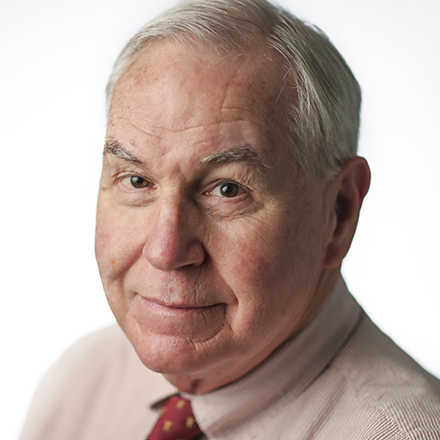 Michael Nelson
Michael Nelson is contributing editor and columnist for The Daily Memphian, the political analyst for WMC-TV, and the Fulmer professor of political science at Rhodes College. His latest books are "Trump: The First Two Years" and "The American Presidency: Origins and Development, 1776-2018."
When it comes to casinos, Arkansas politics still gets wacky – with Memphis and Tunica in the crosshairs
Early voting started in Arkansas on Monday. Memphis and Tunica aren't on the ballot, but they may as well be.
Arkansans are once again deciding whether to legalize full-blown casinos – slots, craps, blackjack, roulette, sports betting, and the rest – at Southland in West Memphis and three other locations around the state: the Oaklawn horse track in Hot Springs and unspecified sites near Russellville in northwest Arkansas' Pope County and Pine Bluff in the Delta's Jefferson County. Southland and Oaklawn would each be authorized to rebuild their existing facilities or even add a second one.
If approved by the voters, the vast majority of Southland's customers will be Memphians, who will leave their money there instead of in Tunica's eight casinos.
Thirteen years ago Arkansas' state legislature, not its voters, enacted a statute allowing Southland and Oaklawn to offer machine-based games, many of which look almost exactly like the real thing, in hopes of saving the tracks. Southland in particular was in danger of folding. Dog racing is a dying business, illegal in 40 states and active in only six others.
As was true when Arkansas flirted with changing its constitution to allow all-out casino gambling in the past, this year's initiative – it appears on the ballot as Amendment 4 – is shrouded in sketchiness. The fact that voters will be staring at 707 words of legalese on the ballot is a clue as to just how sketchy.
The history first.
As recently as the early 1960s, Hot Springs trailed only Nevada as a center of casino gambling, even though it was (and still is) illegal in Arkansas. Al Capone and Murder Inc.'s Owney Madden were regulars in the resort town. Lucky Luciano was arrested while strolling the promenade behind the Ozark Bath House.
Arkansas' governors typically railed against the casinos while winking at them – until, that is, Winthrop Rockefeller, whose more famous New York brother, Nelson, always confused Arkansas with Alabama, moved to the state, defeated incumbent Orval Faubus (yes, that Orval Faubus) in 1964, and shut them down for good.
Hot Springs' city fathers immediately launched a series of amendment campaigns to gain constitutional authorization for casino gambling, all of which were either voted down or stricken from the ballot by the courts.
"We are on the move in Arkansas," Hillary Clinton told one opposition rally when she was the state's first lady. "Why on earth would we want to give ourselves a burden we can't carry and an image we don't want?"
In the mid-1990s, Tunica casinos donated more than a million dollars to help fund anti-casino lawsuits and advertising campaigns in Arkansas. At that point "politics gets wacky," as Rhodes colleague Jay Mason and I titled the Arkansas chapter in our 2007 LSU Press book "How the South Joined the Gambling Nation: The Politics of State Policy Innovation."
In 2000, for example, a pop-up entity called the Arkansas Casino Corporation placed an amendment on the ballot proposing to add language to the state constitution granting it the exclusive right to operate six casinos and "not be regulated by the Gaming Commission or the legislature." The outfit's two owners promoted the amendment as a way to keep the profits from casino gambling in the state, an argument belied by the fact that both of them were Texans. Voters rejected the measure handily.
The current proposal is championed by a group called Driving Arkansas Forward, whose name and advertising are meant to suggest that taxes on the new casinos would fund road and highway improvements. Not so, says the state's Highway Commission, which points out that there's nothing in the amendment about how the money would be spent except to set aside 17.5 percent for bigger purses at the horse and dog tracks. Another state agency, the Finance and Administration Department, has disputed claims that casino legalization would add to the state's revenues any time soon.
Both incumbent Gov. Asa Hutchinson and his Democratic opponent, Jared Henderson, have said they will vote against the casino amendment. Even Mark West, the Libertarian candidate, is opposed.
Not surprisingly, support for the amendment campaign has come from those who expect to own and operate three of the four casinos.
Southland obviously would like to have both the greater profits (most of which would flow across the newly lit bridge from Memphis) and lower tax rate (13 percent, down from 18 percent) that the amendment promises.
Oaklawn, which on the face of it also stands to benefit, has taken no position. Here's why.
The main funders of Driving Arkansas Forward are two Oklahoma-based Indian tribes that hope to own the two non-track-based casinos authorized by the amendment.
As of Sept. 30 (the latest date for which campaign finance reports are available), the tribes had contributed $4.33 million to the pro-casino campaign, basically paying for it. Opponents have spent virtually nothing, focusing their energy instead on turning out church members.
What's in it for the tribes? The Cherokee Nation, which has nine casinos in Oklahoma, including two just across the Arkansas state line, has its eye on the Pope County site. The Quapaw tribe, which has two Oklahoma casinos adjacent to Arkansas' northwest corner, has expressed interest in Jefferson County.
The Quapaws' choice seems odd at first blush. Jefferson is a relatively poor county (even by Arkansas standards) and its rural location makes it less likely to attract enough gamblers to turn a profit.
Odd, that is, until you discover that in 2013 the Quapaws bought the 160-acre Thibault Plantation near the Little Rock airport. Under federal law, it would be very hard for any state that votes to legalize casino gambling to deny a tribe permission to build a casino on land that it owns.
Metropolitan Little Rock, not off-the-beaten-path Pine Bluff, is surely the prize on which the Quapaws have their eyes. That's got Oaklawn, which currently dominates the Little Rock market less than an hour away, worried.
First-rate polling by Hendrix College political scientist Jay Barth in conjunction with Talk Business & Politics indicates a closer vote on Amendment 4 than previous casino proposals have gotten.
In early September Barth found that the amendment was trailing 41 percent to 48 percent among likely voters. The latest results, from the poll conducted Oct. 17-18 after six weeks of nonstop, unanswered pro-casino ads, show Amendment 4 in the lead by 49 percent to 43 percent. Its greatest support is concentrated among African-Americans and younger voters.
A semi-personal note, the point of which is that the politics of gambling in Arkansas is not only wacky but comical: 10 years ago, when Arkansas was deciding whether or not to vote for a lottery, I gave a talk at the Clinton School of Public Service in Little Rock about "How the South Joined the Gambling Nation."
Because interest was so high in the lottery (all four Little Rock television stations showed up – a first, I was told, by Clinton School Dean Skip Rutherford), I was asked several times how I would vote. I declined to say but did lay out the advantages and disadvantages a lottery would bring, including the research-based finding that the vast majority of lottery tickets are bought by poor and working-class people but fund scholarships for mostly middle-class and upper-middle class college students.
The next day – another first for me – the Arkansas Democrat-Gazette devoted its lead story to my talk and, especially, to comments by Bud Jackson, a pro-lottery political consultant. Jackson said he was confident that Arkansans "are smart enough to trust the facts over some kooky college professor trying to turn a quick buck with a buck."
Well, here I am a decade later, still trying to turn a quick buck by writing about the never-ending saga of wacky casino politics in Arkansas.
---