Thesis competition uses Harry Potter references to make scientific research relatable
Three minutes. That's how long a group of Ph.D. candidates will have Friday night to explain the years of research and hundreds of pages that make up their dissertations.
The challenge is part of the international Three Minute Thesis (3MT) phenomenon developed by the University of Queensland in Australia.
The competition culminates students' academic, presentation and communication skills by cramming years of research into a three-minute presentation. Their only prop? One static Power Point slide.  
"Students essentially take their, say, 80,000-word Ph.D. dissertation and explain it in three minutes using only layman terms," said Rachael K. Wood, vice president of the Graduate Student Executive Council at the University of Tennessee Health Science Center.  
Daniel Bastardo Blanco, a UTHSC doctoral candidate who is conducting research in the Department of Immunology at St. Jude Children's Research Hospital, is planning to use a Harry Potter reference for his presentation.
For the past five years, the Venezuela native's research has been focused on understanding how metabolic processes at a cellular level change the way immune cells are activated and respond to the bacteria, viruses and fungi that invade and hurt the human body.
Working with St. Jude Dr. Hongbo Chi, Bastardo Blanco helped discover a molecule that helps determine which lineage T cells commit to.
"In thinking creatively about my work, I see this molecule working as a Sorting Hat of the cells," Bastardo Blanco said. "Like in Harry Potter, how the students go to different houses, it's important to tell cells where to go to complete a job. The discovered molecule acts as the Sorting Hat for certain T-cells of the immune system."
For those who aren't familiar, in the Harry Potter series the students who attend Hogwarts School of Witchcraft and Wizardry are divided into four houses, based on the characteristics of their founders: Godric Gryffindor, Helga Hufflepuff, Rowena Ravenclaw and Salazar Slytherin. The Sorting Hat is placed on students' heads and determines in which house they belong, based on their thoughts.              
Bastardo Blanco, who has read all the books and seen all the movies, said he'd likely be in Hufflepuff based on his personality and tendencies to be honest and very friendly.
"This is such a great opportunity for me as a scientist to think deeply about research and recognize how my discoveries can be translated to the general public, who might not know anything about what I do or why it is relevant and meaningful," he said. "I can learn how to be a good storyteller about my work and be able to communicate science, which is a science in itself."
The 3MT challenge on Friday, Oct. 26, will be the third year UTHSC's Graduate Student Executive Council has hosted the competition, and this year they are inviting the public.
Growing up in Memphis, current executive council president Robert "RJ" Autry always knew UTHSC was a medical college, but he didn't realize the level of biomedical research students were conducting at local hospitals until he became a Ph.D. candidate himself, conducting research at St. Jude on how genes respond to drugs.  
"The community doesn't know about all the amazing work being done by our students at St. Jude," Autry said. "It's super important to bring in the public because the more the community knows about and engages in our programs, they will only get better by bringing in more students and diverse students."  
In addition to St. Jude, students are also conducting research at UTHSC, Le Bonheur Children's Hospital and the Memphis VA Medical Center.
So far, 14 competitors have signed up. Most of the presentations this year will be on integrated biomedical sciences and pharmaceutical sciences, Autry said.
---
"We want the community to understand science is important and you should fund science. Right now, the country is headed in the opposite direction. We want to bring people up and inform them that they should vote for people who fund science."
Robert "RJ" Autry, UTHSC Graduate Student Executive Council president
---
While Autry said he is looking forward to having more members of the community in attendance, the competition is most beneficial to students.
"Scientists tend to be more introverted," he said. "A big thing for Ph.D. students is learning how to network and give an elevator pitch. You have to be prepared to present your research in a colloquial way. You could be interviewing for a job with an HR person or nonscientist who doesn't know the jargon. You have to be able to explain science to them in a way that's understandable."    
Judging the competition this year is Lori Gonzalez, UTHSC vice chancellor of academic, faculty and student affairs; Dr. Chad Epps, executive director of UTHSC's Center for Healthcare Improvement and Patient Simulation; and UTHSC alumna Dr. Jan Young, executive director of the Assisi Foundation of Memphis.
The winner will go on to compete at the regional competition in Knoxville. Cash prizes of $200 will be given to 1st place and $100 for 2nd place and a people's choice winner, which the audience will select using their smartphones.
"We want the community to understand science is important and you should fund science," Autry said. "Right now, the country is headed in the opposite direction. We want to bring people up and inform them that they should vote for people who fund science."
Food and drinks will be available starting at 5 p.m. with catering by Mulan Asian Bistro and Nothing Bundt Cakes.
The competition will take place from 5:30-7 p.m. in the Freeman Auditorium on the 3rd floor of the Hamilton Eye Institute on the UTHSC campus, located at 930 Madison Ave.
The after party will be held at Silly Goose Lounge.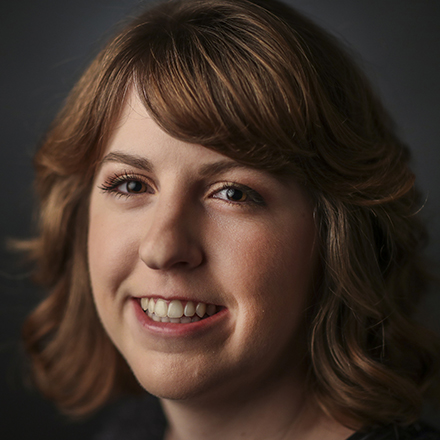 Michelle Corbet
Michelle Corbet covers business for The Daily Memphian. Prior to, she was a reporter at the Memphis Business Journal. A native Memphian and University of Memphis graduate, Michelle covered business in Conway, Arkansas after college. Michelle got her start covering business as an intern at The Commercial Appeal.
---