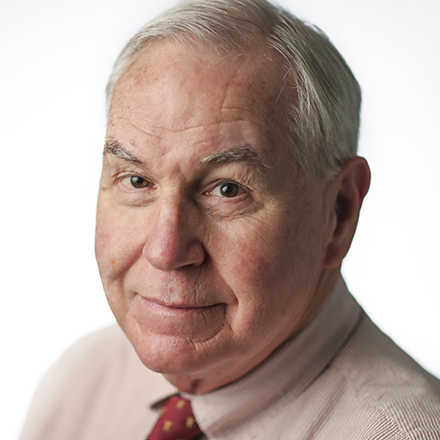 Michael Nelson
Michael Nelson is contributing editor and columnist for The Daily Memphian, the political analyst for WMC-TV, and the Fulmer professor of political science at Rhodes College. His latest books are "Trump: The First Two Years" and "The American Presidency: Origins and Development, 1776-2018."
Nelson: Is Big Shelby back?
Memphians of a certain vintage may recall a time when the rest of Tennessee disparaged us as Big Shelby. It was a backhanded way of expressing East and Middle Tennessee's resentment of – and, truth be told, our own vaulting pride in – the power wielded by Memphis and Shelby County in the state's politics and government.
This was an era, long since past, when the Democratic primary decided who controlled the state government and Memphis political boss E.H. Crump decided who would win the Democratic primary.
Boss Crump and his organization reigned longer than any other urban political machine in history, statewide from the 1920s through the 1940s and locally until his death in 1954.
In return for minor concessions – some low-paying jobs here, a park there – Crump allowed Memphis' swelling African-American population to vote at a time when few other Southern cities and counties did. Joined with a strong majority of Shelby's white voters, black supporters enabled Crump to determine the outcome of most Tennessee elections.
Political scientist V.O. Key, the author in 1949 of the landmark "Southern Politics in State and Nation," illustrated Crump's power by recounting the political fate of one Gordon Browning.
In 1936, Browning was elected governor with Crump's backing and the votes of 59,874 citizens of Shelby County. Once in office, Browning fell out with Crump, who said of Browning that "in the art galleries of Paris there are 27 pictures of Judas Iscariot – none look alike but all resemble Gordon Browning."
To make sure everyone got the point, Crump added: "He would milk his neighbor's cow through a crack in the fence. Of the 206 bones in his body, there isn't one that is genuine. His heart has beaten over 2 billion times without a single sincere beat." Crump could have taught Donald Trump a few things about literate political invective.
When Browning ran for re-election in 1938, his vote count in Shelby County was 9,315. Needless to say, he lost. Crump's reputation as both a classic king maker and a "Game of Thrones"-style king slayer was secure.
The era of Big Shelby seems long gone. The current governor (Knoxville's Bill Haslam) and both senators are East Tennesseans: Lamar Alexander of Maryville and Bob Corker of Chattanooga. Lt. Gov. Randy McNally, who leads the state Senate, is another East Tennessean, and Speaker of the House Beth Harwell is from Nashville. Two of the leading candidates to succeed them, state Sen. Jack Johnson and state Rep. Glen Casada, are from Williamson County.
In next week's election, every candidate for governor (Karl Dean of Nashville and Bill Lee of Franklin) as well as for senator (Phil Bredesen of Nashville and Marsha Blackburn of Brentwood) is a Middle Tennessean. Blackburn blew off Shelby County by refusing to appear in a scheduled debate on the Rhodes College campus in September.
Both Lee (clearly) and Blackburn (probably) seem headed for victory. But if they lose this year or, less implausibly, if the Democrats ever become as competitive in future Tennessee elections as they recently have in Georgia and Texas, it will be because Big Shelby is back. Not all the way back to the Crump era, but back.
The reason is the revival of the Shelby County Democratic Party.
Memphis and Shelby County are chock full of Democrats who in recent years have only shown up to vote in presidential elections. In doing so, they not only carried the county for the Democratic nominee (62-35 percent for Hillary Clinton over Trump in 2016; 63-37 percent for Barack Obama over Mitt Romney in 2012), but also provided more votes for the party than any other county in the state: 206,640 in 2016 compared with runner-up Davidson County's 148,473.
For what it's worth, Trump also got more votes in Shelby County (116,344) than in second-place Knox County (105,767). In the early voting period that ends Thursday, Nov. 1, for the midterm election, Shelby's turnout figures lead the state.
Presidential elections generate their own enthusiasm every fourth November. Other elections don't. Worse, we have an insane number of them. Just this year, there were partisan primary elections for county offices on May 1, most of which – like trustee, register of deeds, and four different court clerks – shouldn't even be on the ballot. Other than a few insiders, who knows what these positions entail, much less which of the candidates seeking them are more qualified – or qualified at all?
On Aug. 2 – a Thursday, just to make things even more confusing – the general election for those county offices was held, along with the primary elections for state and federal offices. Try explaining that bizarre combination to anyone not from around here.
Next week, on Tuesday, Nov. 6, voting will conclude in the general election for state and federal offices, along with three scandalously misleading amendments to the Memphis city charter. The whole thing will start over again in 2019 with city elections, this time nominally nonpartisan, for mayor and council.
To get massive numbers of folks to the polls in nonpresidential years – a minimum requirement for Shelby to become Big Shelby again – takes grassroots activism. The lack of an even minimally effective Democratic organization until recently explains why Republicans usually dominated the county government even though there are many fewer of them in solidly blue Shelby than there are Democrats.
The presence of a revitalized Democratic organization this year explains why Democratic candidates did so well in August and have a shot at winning a few contests next week. Who would have thought Republican state Sen. Brian Kelsey would have a fight on his hands, for example – or the GOP nominee for the U.S. Senate?
In 2016, the state Democratic Party disbanded the wildly dysfunctional Shelby County organization and appointed lawyers David Cocke and Carlissa Shaw to reconstitute it. Things came together in 2017, in plenty of time for the August county elections.
The reorganized party, led by 36-year-old Navy veteran Corey Strong, ran candidates for all 26 positions on the August ballot and won 21 of them, losing only five county commission races in strongly Republican districts to give Democrats an 8-5 majority on the commission. The vote total for most countywide Democratic candidates – including Mayor Lee Harris and Sheriff Floyd Bonner – exceeded 80,000, compared with fewer than 60,000 four years ago.
We're still not the Big Shelby of yesteryear, and absent another Crump we never will be. But Shelby is big enough not to be marginal. It is the reason why, win or lose, Bredesen and Dean have been able to compete more seriously statewide than any other Democrats in recent history. And it is the foundation on which a Tennessee Democratic Party that can offer the voters true two-party competition will have to be built if it is to be built at all.
---