Sheriff's office promotes first African-American woman to chief inspector
Rosalind Harrison has made history twice in the last year with the Shelby County Sheriff's Office.
First, when she became one of two African-American women to be promoted to captain in 2017, and this year when she became the highest-ranking black woman in the history of the 198-year-old agency.
Harrison was promoted in September to chief inspector when newly elected Shelby County Sheriff Floyd Bonner took office and became the first African-American to lead the sheriff's office.
Harrison said her promotion has put a dent in the brass ceiling at the sheriff's office, but there is still work to be done for the next generation of women in the male-dominated law enforcement world.
"History has been made, and I really feel good about being part of that change," Harrison said. "Being able to be looked at by younger African-American female officers and them say, 'You know, I can do that too,' makes me feel good, but I did the work to get here."
In 1985, just a few years after graduating from Hamilton High School, Harrison began her career in law enforcement. The Memphis native joined the sheriff's office as a corrections officer at the Shelby County Jail at 201 Poplar.
Three years into the job overseeing inmates at the jail, she was impressed and inspired when she saw the "brown shirts" – as corrections officers nicknamed the deputies because of the tan-colored uniforms they wore – coming and going at the jail.
"I saw the deputies, especially the African-American female officers in court and in the jail, and they just held themselves in a certain way," Harrison said. "Shoulders back, head held high and they talked with conviction, and I said, 'I have to take this thing a step further to advance my career.'" 
She applied to become a deputy sheriff and graduated from the police academy in 1989.
Her first assignment was in the narcotics division right at the beginning of the crack-cocaine epidemic across the country.
 "The crack epidemic had just hit the city and a member of my family, and at first, it wasn't my passion working with the unit, but it was something I needed to do," Harrison said about working undercover in the drug unit. "We saw the crack houses and the babies in the crack houses. I promise you we saw a little weed on the street, but crack was an entire different level."
Harrison said it was a tough job, but she learned from and sought advice from her two mentors in the department, Sgt. Silver Lomax and Inspector Irish Jones. Jones was the first black woman inspector with SCSO, and she and Lomax inspired Harrison to further her career in the department.
But after leaving narcotics, Harrison's career path was stymied. She left narcotics and went to work in the civil levy division, serving court papers. It would be 11 years before she was promoted in the department, and it took a lawsuit to make the promotion happen.
In 1998, Harrison was one of several African-American deputies to file a racial discrimination lawsuit against the sheriff's office. In 2001, Harrison was promoted to sergeant after passing the exam.
"The lawsuit was hard, but it was necessary," Harrison said.
After that, Harrison worked her way up in the department as she took and passed promotion tests to advance her career from deputy sheriff, to sergeant, to lieutenant and finally to captain and chief inspector.
As chief inspector, she now commands 27 investigators in the Internal Affairs Bureau.
Bonner said he selected Harrison for the job because she is knowledgeable and hard-working.
"She is a role model for not only females but anyone in the department," Bonner said. "She is very deserving of this promotion. I was very proud to promote her."
Still, the sheriff's office remains an agency dominated by men. Women make up 12 percent of SCSO's ranks, and African-American women make up 8 percent.
By contrast, African-American women comprise 28 percent of Shelby County's population.
Harrison hopes that the achievements of other highly qualified but underrecognized women and people of color are increasingly rewarded.
"I am straight out of Lauderdale Court to chief inspector," Harrison said. "I see the young women in the department today and I think they are in my shoes back in 1989. With my promotion, I think that I give them hope that the brass ceiling for African-American females is breaking."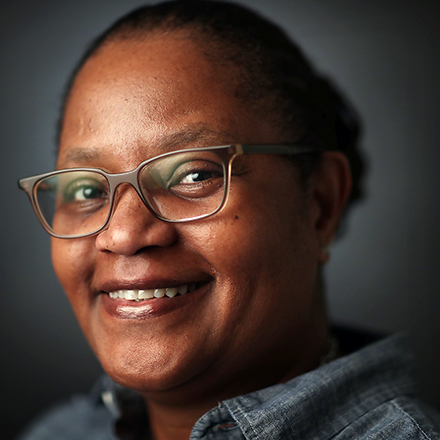 Yolanda Jones
Yolanda Jones covers criminal justice issues and general assignment news for The Daily Memphian. She previously was a reporter at The Commercial Appeal.
---