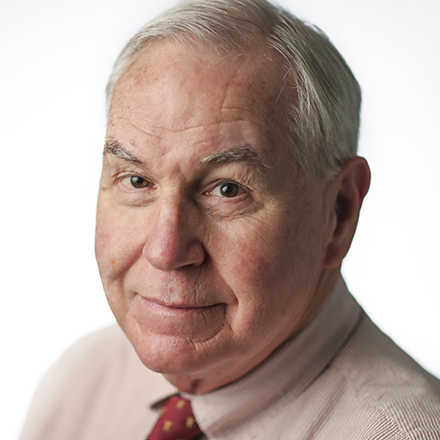 Michael Nelson
Michael Nelson is contributing editor and columnist for The Daily Memphian, the political analyst for WMC-TV, and the Fulmer professor of political science at Rhodes College. His latest books are "Trump: The First Two Years" and "The American Presidency: Origins and Development, 1776-2018."
Nelson: Politically, Steve Cohen's days are numbered
Should Congressman Steve Cohen, re-elected Nov. 6 with an even higher than usual 80 percent of the vote, be worried about holding on to office into the 2020s (and his own 70s)? 
Yes, he really should. 
Not because of the Republicans, who aren't remotely competitive in the overwhelmingly Democratic 9th Congressional District. But rather because of his own party, whose recent revival as a vibrant political organization in Memphis and Shelby County has already produced a new generation of political leaders. 
Younger Democrats may be willing to wait two years for Cohen to make a graceful exit on his own, but probably not four years before one or more of them decides that the now seven-term incumbent is old and in the way.
Lee Harris, Tami Sawyer, Corey Strong and Van Turner – the spotlight's on you. 
Am I thinking of race when I predict the inevitable challenge that other talented Democrats will make to Cohen? In one sense it would be hard not to. 
After all, Cohen was thinking of race when he lost to Harold Ford Jr. in his first bid for the seat in 1996. Soon after losing the primary by a 25-point margin, he complained, "It is impossible for a person who is not African-American to get a large vote in the African-American community. ... The fact is I am white, and it doesn't seem to matter what you do." 
Petulance aside – how dare those benighted black voters withhold their support from someone who has done as much for them as me! – did Cohen have a fair complaint?  
Not when you consider that – no less white than before – he won the seat after Ford vacated it in 2006 to run as the Democratic nominee for the U.S. Senate. In doing so, Cohen defeated several black rivals, including one of Ford's cousins in the primary and one of his brothers in the general election. 
As the only white congressman in the country to succeed a black member in a majority-black district, Cohen has brilliantly fended off a series of African-American challengers in subsequent Democratic primaries. The recurring charge he's had to overcome is, as Rev. Robert Poindexter of Mt. Moriah Baptist Church put it in 2007, "He's not black, and he can't represent me."  
But Cohen always has overcome that charge, winning handily every time with vote shares ranging from 66 to 91 percent in the Democratic primary and 74 to 88 percent in the November general election.
Cohen's success over the years is proof enough that Memphis and Shelby County voters are more than willing to cross racial lines. 
Want more evidence? Three years ago, Councilman Jim Strickland defeated Democratic incumbent A C Wharton and two other credible African-American candidates for Memphis mayor. He did so with significant black support and by a large enough margin (42-22 percent) to remove any doubt that he would have won a runoff if there had been one.
Although Wharton lost that election in 2015, he won every previous city- and county-wide contest he ran in with strong cross-racial support. So did his predecessor, Willie Herenton, in more than one of his bids for re-election during the 1990s.  From 1996 to 2004, Ford Jr. rode equally diverse racial coalitions to victory in the 9th District.
When Strickland, Wharton, Herenton, Ford and Cohen won – some of them white, some black – they did so by running broad-based campaigns in all parts of town, with diverse staffs and cross-racial platforms. 
So if Cohen isn't facing trouble because of his race, what does he have to worry about?
In a word, the ambition of a rising generation both to serve and to advance – the same ambition that moved Cohen, at age 27, to seek election to the Tennessee Constitutional Convention in 1977 and then build on his success by winning a seat on the Shelby County Commission in 1978 and in the Tennessee state Senate in 1982, a post he held for 24 years. 
Along the way, at age 43, Cohen sought the Democratic nomination for governor in 1994, a bedraggled effort that ended in a fifth-place finish with 5 percent of the vote. (Phil Bredesen finished first.) Two years later came Cohen's futile campaign against Ford in the 9th District.
Among the potential rivals for the U.S. House seat Cohen eventually won are Sawyer, age 28, who gained renown for her role in removing Confederate landmarks from public spaces and won a 81-19 percent victory over a credible opponent in August's County Commission election; Van Turner, age 43, who leads the group that took custody of the statues and, after re-election to the County Commission in August with nearly 100 percent of the vote, became its chair in September; and Corey Strong, 36, special project director for Shelby County Schools and the Democratic Party chair who led the ticket to victory in August.
But it's Lee Harris whose career is at the stage where a run for Congress makes the most sense. 
Like Cohen, Harris was an early star, winning election to the Memphis City Council in 2011 at age 33; to the state Senate (whose five Democrats made him their leader) in 2014; and as county mayor this year. 
Like Cohen, too, Harris experienced defeat along the way, including a way-too-early run in the 9th District when Ford left it in 2006, finishing far behind Cohen and several others. 
But at 43, Harris is at an age when if he's going to make a move, the time is near. So is the energy and ability. 
Will Cohen choose to make way gracefully? Fat chance. 
Instead, he's likely to double down on his previous effort to persuade the House of Representatives to impeach President Donald Trump, a crowd pleaser at the party's grassroots but one that Democratic congressional leaders know would backfire nationally when the Republican Senate rejects it. The GOP played into Bill Clinton's hands when it impeached him in 1998. Now Cohen wants Democrats to make the same mistake with Trump.
Cohen's more realistic hope for hanging on when the challenge comes is to sneak through the Democratic primary by winning a plurality against a divided Democratic field. That's how he won the seat in the first place in 2006. His 31 percent in the primary was enough to prevail on a ballot crowded with African-American opponents.
Conjunctions matter in politics as much as in grammar.  Ambition will be a great thing if it spurs Harris, Sawyer, Turner or Strong to challenge Cohen in 2020 or 2022. It will backfire if some combination of Harris, Sawyer, Turner and Strong – not to mention black politicians of an earlier generation – all run at the same time.
---