Grizzlies Postgame: Grizz hold off Kings in a family affair
Let posterity note that rookie Jaren Jackson Jr. set a new career scoring high with an alley-oop dunk that doubled as a "Whoomp! There It Is!" request, a FedExForum rite of passage that pushed the Grizzlies lead to a game-high 14 points in the third quarter of an eventual 112-104 win over head coach Dave Joerger, suited-and-booted Zach Randolph, and rest of the oh-so-familiar visiting Sacramento Kings.
It was an exultant moment in what will probably end up being one of the most enjoyable nights of basketball at FedExForum this season. And if the Grizzlies (now 9-5) still have another home game -- the Mavericks on Monday -- before next Thursday, it felt like the season's Thanksgiving game.
There was visiting family in former Grizzlies coach Joerger, most of his relocated-from-Memphis coaching staff, Randolph, and former Grizzlies Kosta Koufos (inactive) and Troy Williams (a spark off the bench for the visitors). The whole Randolph family was sitting courtside, directly across from the Kings bench, where Randolph also spent the game watching, a season-long DNP (did not play) as the Kings go young. But he was still greeted to a show that his presence influenced.
After the Kings completely erased a 13-point first-quarter Grizzlies lead, Gasol re-entered the game midway into the second quarter and took over. He began a 20-5 Grizzlies run with two mid-range jumpers and a hard pick to free up backup point guard Shelvin Mack for an open three, and then polished his part of the run off with a couple of threes of his own.
It wasn't just the play, it was the chippy, expressive demeanor, much of it seemingly directed toward the Kings bench. When I saw Randolph picking up some nachos in the tunnel at halftime, I asked him: "What's up the Marc?"
Randolph laughed and said, "Oh, he's trying to show out for me."
Gasol did not exactly deny it.
"It had a little more motivation," Gasol said, smiling. "I wish he was on the floor. But I'm just happy he was watching."
What Gasol did deny was caring about passing Randolph for first place on the Grizzlies' career rebound leaderboard (5,613, if you're scoring at home), which happened with Randolph watching amid some more meaningful chaos in the fourth quarter. ("It means I've been here a long time," was Gasol's analysis.)
That almost didn't happen though, at least not on this night. Gasol needed all of his 15 boards to pass Randolph, but in the second quarter, when Gasol was very intensely leading a comeback, Mike Conley tried to steal a rebound from him, to Gasol's apparent agitation.
"I gave him a little of the Z-Bo eyebrow," Gasol confirmed after the game.
Conley's real-time response to the mean-mugging was to laugh his way down the floor.
While all of this reacquainting was going on, the newest, youngest member of the family was letting everyone know he came to eat, so to speak. Jackson Jr. finished with a game-high and new career-high 27 points. And if he once again watched the very end of an up-for-grab game from the bench, he gave more indication that he's close to forcing his way from the kiddie table.
It wouldn't be Thanksgiving without a little tension, and the Kings supplied it, nearly erasing another double-digit Grizzlies lead in the fourth quarter as the Grizzlies offense grew stagnant. ("Yeah! Here we come!," Joerger yelled at one point. Close!)
After the Kings' second-half comeback against the Grizzlies in Sacramento last month, it was a bit of unwanted extra familiarity. A Conley-to-Gasol hoop-and-harm doubled the lead from three to six with under two minutes to play and closed the door. Nobody went home all that unhappy -- both of these teams seem to be much better than most expected -- though some left happier than others:
Family bragging rights. pic.twitter.com/XU2CNKawU6

— Chris Herrington (@HerringtonNBA) November 17, 2018
"I think that's the fun stuff about sports. Two-and-a-half hours, you'll go out there and compete as athletes and then afterwards you hug on each other and love on each other and wish each other's families the best," said Joerger after the game. "I think (J.B. Bickerstaff) is doing a great job here. I'm really happy for him and the organization."
A final word on this subject from the big guy (one of them at least):
FAMILY pic.twitter.com/iqVBEs8t6p

— Marc Gasol (@MarcGasol) November 17, 2018
Man of the Matches
Jaren Jackson Jr. began the game matched up with Kings power forward Nemanja Bjelica, and pretty well had his way with him.
Jackson got deep post position on the Grizzlies first possession and scored. He drove around Bjelica for a lefty layup on the fifth possession. Drove past him for a bucket on the seventh possession. Nailed a three over him on the 10th possession. Jackson had nine points on 4-7 shooting in the game's first five minutes, all against Bjelica, with all of the misses good looks.
It wasn't gameplan, Marc Gasol said afterward, it was flow of the game.
"Once we saw the mismatch and he was feeling good about it and going strong to the basket, we felt confident going to him," Gasol said.
With #2 overall pick Marvin Bagley struggling off the Kings' bench (seven points and one rebound in 20 minutes), Jackson had perhaps his best game of the season: 27 points on 11-16 shooting (including making his only three-pointer). He added six rebounds, four steals, and two blocks.
Jackson did sit for the game's final five minutes after picking up his fifth foul, but I suspect it wasn't the foul as much as the tightening game that moved him to the bench.
"With JJ, we have to figure out a way to get him into the games late, when you learn the most and you understand the whys, especially on the defensive end," Gasol volunteered, unprompted. "I think he gets caught up in thinking too much and doing what the scouting report says. But it's about instincts and who you're guarding. It comes with time. He's just 19. He's going to learn and we're going to have him out there on the defensive end helping us win games."
When a 19-year-old scores 27 in a win and everyone knows he can get a lot better: Uncharted territory for the Grizzlies.
Clip of the Night
That aforementioned Jackson oop:
.@Marshon2 ??

                           @jarenjacksonjr ?? pic.twitter.com/lAMwA2iU7F

— Memphis Grizzlies (@memgrizz) November 17, 2018
Nightly Number
Coming into the game, the Kings and Grizzlies were second and last, respectively, in pace of play. One team is about youth and speed, the other about veteran continuity and control. And I thought the two coaches had really interesting comments before the game about controlling pace of play:
Joerger: "I coached slow (in Memphis). If you get behind a team that's playing fast, you feel like you have to speed up a little bit and maybe play out of character a little bit. That's what we're trying to do to teams. We're trying to play fast. We're trying to get teams to play a little faster than they want to, trying to get them down to the fourth quarter with their legs not quite as strong as they were earlier in the game, just try to chase people around with our energy and youthfulness"
Bickerstaff: "That last game, we took 37 threes against them, and for us I think that's too many threes. Those threes led to long rebounds and that gave them opportunities to use their speed. We need to take shots that we're prepared to take so that the other four guys on the floor understand that it's their responsibility to get back, and know when to get back. You've got to keep this team in front of you as best you can, and taking care of the basketball and taking good shots leads to that."
The game's pace -- 100.5 possessions, per NBA.com -- was more in the Grizzlies' style. But the Kings did score 37 fastbreak points. "I think we got to it too late," Joerger said afterward about pushing the Grizzlies with speed.
As for the Grizzlies, they might have tried too hard late to slow Sacramento down, going down to the end of the shot clock on multiple occasions and not getting good looks, which Bickerstaff attributed partly to working the clock and partly to the team not getting to its spots fast enough when possessions did shift into action.
Elements of Style
Omri Casspi made his return and lollipopped in a three in the first quarter. I know that doesn't make any sense, but Casspi's jumper looks like the word "lollipop" sounds. Tell me I'm wrong:
??3? pic.twitter.com/6YxouW6TIm

— Memphis Grizzlies (@memgrizz) November 17, 2018
Wesley Person shot rainbows. That feels more lollipop to me.
I also enjoyed Mike Conley's jump-ball strategy against seven-foot Kings center Willie Cauley-Stein: Don't try. With Conley staying floor-bound, Stein jumped up and caught the ball for a second before batting it to a teammate. The result was a violation and Grizzlies ball.
The Tweets Were Watching
Obviously we agree with this fine national NBA writer and near namesake:
Normally wouldn't care much about a franchise rebounding record, but the fact that Gasol surpassed ZBo in Memphis — on a night where ZBo was in the arena/in town for the game — is a cool coincidence.

— Chris Herring (@Herring_NBA) November 17, 2018
The Jacob Riis Report
Let this be a warning we shouldn't have needed about judging young players too soon, especially rookie point guards who spent one year in college. (See: Conley, Mike.)
If Kings point guard De'Aaron Fox's rookie season last year seemed disappointing, it shouldn't have. It takes time, and has he ever made a second-half leap. So much of one that he's pushing Donovan Mitchell and Jayson Tatum as the best player in his class.
A Kentucky product, Fox has SEC speed (Houston Nutt voice) and might be as fast end-to-end, with the ball, as anyone in the league, reminiscent of prime John Wall if not quite as ferocious as prime Russell Westbrook. Fox was again a problem for the Grizzlies, finishing with 23 points and 10 assists, doing most of his damage in the second half as the Kings were able to put the Grizzlies on their heels.
There was a nice moment late in the fourth quarter, when Fox rose up for a three-pointer than would have cut the Grizzlies lead from seven to four. As he was rising, Joerger yelled out, "Yea baby!" When the shot didn't drop, coach and player met eyes and clapped their hands in frustration and in unison. About a minute later, Fox did hit a pull-up jumper that brought the Kings to within three. He's a problem.
Kudos (or, as Grizzlies GM Chris Wallace might say, kudoos) to Joerger for what he's done this season with a Kings team that's been in the wilderness for more than a decade. They might not reach the top of the mountain -- aka, make the playoffs -- this season. In fact, they probably won't. But their unexpectedly competitive start to this season does not look like a fluke. And Joerger has reminded the league what a good coach he is.
Arena Action
It wasn't the "Ali in Zaire"-style spectacle of his first return last season, but Randolph made the pre-game rounds, including a mid-court huddle with former teammates Conley, Gasol, and (in Sacramento last season) Garrett Temple.
Welcome back, ZBO#50ForDaCity pic.twitter.com/yADb3wKCYN

— Memphis Grizzlies (@memgrizz) November 17, 2018
Z-Bo wasn't active, but there was a Randolph who came to play … or sing at least. If Z-Bo is no longer a Memphis Grizzly, he's still a Memphis Dad, and he got to watch his youngest daughter as part of the Lausanne Collegiate School kiddie chorus, who sang the National Anthem before the game. (Personal note: She became the first anthem singer whose pacifier I've retrieved during games, from the days when the Randolph brood sat directly behind my media-row seat.)
There was also a moment of silence for another former hoops inhabitant of FedExForum:
Grizzlies hold a moment of silence before tonight's game against Sacramento for Karim Azab, the University of Memphis basketball player who passed away from Leukemia on Thursday. pic.twitter.com/7AJhgq0YsJ

— Jon Roser (@Jon_Roser) November 17, 2018
Where They Stand
The Grizzlies improve to 9-5 and tied for fourth in the Western Conference. They also tie up the season series so far with the Kings.
Looking Ahead
The Grizzlies continue a five-game Western Conference set in Minneapolis, facing the Minnesota Timberwolves on Sunday, with a 2:30 tip. See here for some notes on that game and the schedule ahead for the Grizzlies.
Announced Attendance
13,811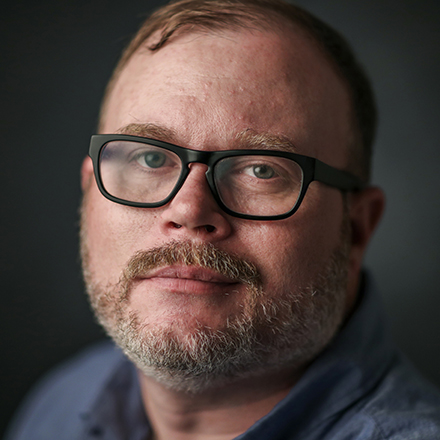 Chris Herrington
Chris Herrington covers the Memphis Grizzlies and writes about Memphis culture, food, and civic life. He lives in the Vollentine-Evergreen neighborhood of Midtown with his wife, two kids, and two dogs.
---