Historic $50M donation to fund St. Jude Family Commons
Chandler Howard was a freshman in high school when he started getting headaches, neck and back pain.
"I had double vision. Literally one of my eyes turned in and I had to take my final exams like this, with one eye open," Howard said, as he closed and pointed to his eye before a standing-room-only crowd in the Domino's Event Center at St. Jude Children's Research Hospital Monday, Dec. 3. 
"That's what led to an eye doctor seeing there was swelling in my brain," Howard said.
A visit to the neurologist and a brain scan confirmed Howard's diagnosis. He had medulloblastoma, the most common type of pediatric malignant primary brain tumor.     
Howard underwent 30 rounds of high-dose radiation and seven months of high-dose chemotherapy at St. Jude Children's Research Hospital. Howard ended treatment on April 18, 2016.
Last year, Howard ran his first half-marathon and got a full-ride scholarship to Ole Miss. He is now wrapping up his first year of college.
"When the smoke cleared … I started looking into ways to help the hospital that saved my youngest child," said Chandler's mom, Cindy Howard.
Cindy joined St. Jude's Family Advisory Council, which allows patients' families to work in partnership with the hospital on upcoming initiatives.
Parents quickly identified a need: having a place to get away from the hospital.
"To have a place to get away, to rest, to sleep, to have your kids play games; a place to talk to other patient families and just talk about things that maybe people who don't have a child with cancer don't understand," Cindy said. "They don't get it, even if they want to, because they're not living it, and just a place to be with your child and just be, if that makes sense."    
Thanks to the largest single donation in the hospital's history, families whose children are receiving treatment at St. Jude will soon have a place to escape from the medical settings, where kids can be kids and parents can be mom and dad.
Executives of Chicago-based AbbVie Inc., a global research-based biopharmaceutical company, announced Monday, Dec. 3, a $50 million donation to fund Family Commons, a new treatment-free floor where patient families can relax, recover and connect.
"Our families come to us faced with the daily challenges of life as it is. Then, challenges become magnified with a cancer diagnosis," said Richard Shadyac, CEO of ALSAC, the awareness and fundraising organization of St. Jude Children's Research Hospital. "Living away from home for months and years on end, they spend countless hours at a hospital. They need a place to rest, a sacred place, where they can be just a mom, dad and child together."
The donation will add 282,000 square feet – nearly five football fields – to a 3.5-acre green space known as The Quad, with landscaped gardens, walking paths and a playground designed for children with mobility restrictions.   
"This will give them time outside to be kids and play when a lot of their days are made up of serious, not-so-fun conversations," said Melissa Walsh, vice president of corporate responsibility & global philanthropy at AbbVie.
The $50 million donation is more than two times the amount of the largest single gift ALSAC had ever received, $22 million from an anonymous estate.
The largest single donation in AbbVie's history was a $100 million commitment to Ronald McDonald House Charities this August.
---
Michelle Corbet: Exclusive: ALSAC undertakes digital transformation, facing disruptions in fundraising
---
"Life doesn't stop when a diagnosis hits a family," Walsh said. "Work needs to get done, children need to finish their education, and their social and emotional needs have to be met."
In addition to making drugs such as Humira, a therapy administered as an injection for autoimmune diseases, and Imbruvica, an oral therapy for treating chronic lymphocytic leukemia, AbbVie also has made a commitment to philanthropy since its founding in 2013.
Historically, the pharmaceutical company has prioritized philanthropy that builds sustainable health care systems, strong communities and effective educational programs.
For 2018, AbbVie made a commitment to increase philanthropic giving to $350 million.
"We looked at both existing partners of the company and new philanthropic partners," Walsh said.
St. Jude fit into the latter category.
"We wanted to make sure we were supporting both partners that fit our priorities, but also had a history of being able to deploy significant resources to the people they support," Walsh said.  
The relationship between the two global research-based entities began in 2017. 
"Ultimately, we heard we might be in some of their plans, so I took a trip up there to meet with their executives," Shadyac said. "Undergoing a multibillion(-dollar) campus expansion, I told them we had the capacity to take a donation of this size and make a meaningful impact."
As part of a six-year strategic plan announced in 2015, St. Jude is making a $7 billion capital investment in its Downtown Memphis campus, including the addition of more than 1,000 faculty and staff positions.   
---
Michelle Corbet: With expansion, St. Jude ramps up recruitment strategy
---
Prior to the donation, St. Jude and AbbVie found common connection through their focuses on diversity and inclusion.
"We've entered and hosted six AbbVie retreats on our campus, where we talk about diversity, inclusion and social responsibility," Shadyac said.
St. Jude was founded at a time when segregation was still prevalent in the South. Founder Danny Thomas' mission to treat all children regardless of a family's religion, financial status or race resulted in the South's first fully integrated hospital.  
"We always have them go visit the National Civil Rights Museum," Shadyac said. "Without fail, every time we send a corporate partner, they come back changed. They are transformed through the role St. Jude and Memphis have played in the long and difficult history in respect to civil rights." 
The trip to Memphis and tour of St. Jude Children's Research Hospital really sealed the deal for Walsh.
"We believe strongly, like any relationship, our need to show up and get a sense of the work that our support would enable," Walsh said. "The leadership team was kind enough to tour me and some of our colleagues … around campus in concert with us considering this grant. It got us incredibly comfortable."
The Family Commons is under construction on the second floor of the hospital's main entrance. The space previously housed the Patient Care Center, which has been relocated to the Kay Research and Care Center.
The $50 million donation will cover the cost of construction and five years of operational costs for the Family Commons as well as the additional greenspace.  
"They know better than we what their families need, what the space should look like and how it should be configured," Walsh said. "Plans for the Family Commons and supporting outside space fits well within our objectives. As for what tile they use, we'll leave that to the experts."
The notion of a family commons has been in the works for quite some time.
"St. Jude is always keenly focused on a physical environment that supports healing and recovery, but we wanted to do this the right way," Shadyac said.
St. Jude has engaged a consultant and design firm as well as patient families.
Initial plans for the Family Commons floor include a new preschool program; an open play area; living room; 19 custom-built resting nooks; an outdoor patio; a general store; concierge services, such as housing, transportation, food and care coordination; and an area for parents to get nonclinical answers from other St. Jude parents.  
"At St. Jude Children's Research Hospital, we work to ensure patients and their families have the very best experience possible," Dr. James Downing, St. Jude president and CEO, said in a prepared statement. "As we asked families how we could further enhance the environment, many of them told us they would appreciate a space away from the medical setting – a place that offers them family time, creative outlets, resources and opportunities to socialize with other families. The Family Commons area will do just that."
AbbVie epitomizes what it means to be a socially responsible company, Shadyac said.
---
Michelle Corbet: Chili's, St. Jude partnership is good for business
---
"They have a commitment to improving health care outcomes, operating responsibly and contributing to the community that's really genuine and sincere," he said. "I can tell through the interactions I have with their employees."
With an operating budget in excess of $1 billion a year, Shadyac said, large single donations such as AbbVie's are rare.
"We rely on the generosity of the 11 million donors all across the country, who give an average donation of $43," he said.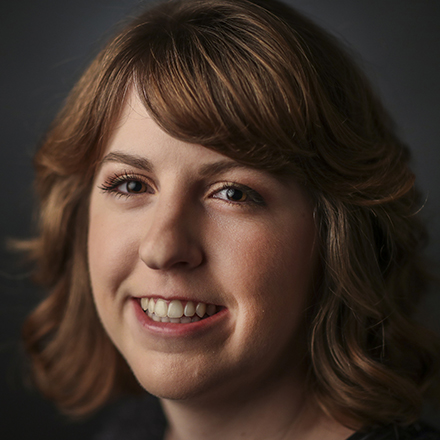 Michelle Corbet
Michelle Corbet covers business for The Daily Memphian. Prior to, she was a reporter at the Memphis Business Journal. A native Memphian and University of Memphis graduate, Michelle covered business in Conway, Arkansas after college. Michelle got her start covering business as an intern at The Commercial Appeal.
---