Grizzlies Postgame: Noah's energy, Conley's offense lead Grizz to win over Clippers
Marc Gasol had his worst game of the season. Jaren Jackson Jr. fouled out in 21 minutes. The Grizzlies had more missed free throws (nine) than made three-pointers (seven). And they still notched a double-digit win against what is so far one of the West's best teams.
After a rough 1-4 stretch over the past week or so, the Grizzlies (14-9) needed one of these.
That 1-4 stretch started with an overtime road loss on November 23rd against the Los Angeles Clippers (16-8), but this 96-86 revenge win wasn't as easy as the final score indicates or certainly the team's breezy 10-0 opening salvo suggested.
---
---
Gasol and Garrett Temple, offensive cornerstone and bellwether, respectively, combined to shoot 2-18. And, in what has become too much of a trend, the Grizzlies lost every bit of a 16-point first-half lead, falling behind for the first time in the early third quarter as Clippers rookie Shai Gilgeous-Alexander hit an 11-foot fadeaway.
But the Grizzlies closed strong, with a 27-17 fourth quarter in which they scored 10 points off of eight Clippers turnovers and backup guard Shelvin Mack rebounded from a rough night to score seven points in the final 5:30.
If the Grizzlies get back on track this season, this one may have been more than just another win. It felt something like a preview of the way the team wants to look going forward, in several ways:
Backup center Joakim Noah, signed the day before, made his debut, playing 13 feisty minutes and allowing the Grizzlies to both maintain their defense with Gasol off the floor and keep Gasol off the floor longer, Gasol's 33 minutes his lowest in a month. (More on Noah a little further down.)
Despite game-long foul trouble, the Grizzlies got every bit they could out of Jackson. The rookie left the game in the fourth quarter with his fifth foul. With JaMychal Green playing well, Jackson might have stayed on the bench earlier in the season, but the Grizzlies brought him back a few minutes later. Jackson made a corner three-pointer to extend the Grizzlies lead to 91-82, then fouled out 11 seconds later.
"It's a sign of his growth and how we feel about him in late-game situations and how he's improved in that area," coach J.B. Bickerstaff said afterward.
MarShon Brooks got meaningful minutes and room to roam in a bench scorer role the team hopes will stick, scoring nine points in 16 minutes.
Kyle Anderson was a more aggressive playmaker, finishing with seven assists.
The team defense forced 19 turnovers (leading to 22 Grizzlies points) and clamped down to the point of holding the Clippers to 34 percent shooting.
Defense led the way and a deep, balanced rotation (10 players at between 12 and 34 minutes) scored just enough to pull it out. Gasol's minutes came down and Conley's workload was lessened even while on the floor. This looked like the kind of Grizzlies team that Bickerstaff touted in the preseason. Time will tell if the formula repeats.
Men of the Match
Mike Conley was the game-high scorer with 22 points on 9-16 shooting, but what felt most meaningful in this one was the big-time energy from two bench big men.
Before the game, Bickerstaff sounded an uncertain note about whether Joakim Noah would play, one day after joining the team. But Noah took the floor to start the second quarter and ended up logging 13 minutes. His stat line (four points, three rebounds) wasn't much, but his impact was tangible.
"Joakim brings that extra dog," said JaMychal Green in his on-the-court interview after the game.
"I love Joakim, man," Conley said in the locker room afterward. "Just in the last two days you can feel his energy. The first practice was yesterday. He was talking as if he had been there the whole training camp and preseason and the first 20 games. Just loud. You know he's in the building."
Noah didn't put up numbers, but he put up a fight.
He played good, tough defense, set hard picks, and upped the energy level. The Grizzlies would be thrilled to get this kind of performance every night.
After the game, Noah did an interview with NBATV and then sat at his locker, uniform still on, and spoke quietly, in contrast to his loud on-court style.
"I've been waiting for this for a long time," he said. "There were a lot of nights where I wasn't sure if I was going to get an opportunity to come back and play. I stayed with it and … I'm just really happy. I'm really happy."
Green reiterated his appreciation of Noah once he got to the locker room, but on this night he more than matched his new teammate. With Jackson in foul trouble and Gasol struggling, Green played with force off the bench, scoring 19 points (7-12 shooting), snatching 11 rebounds, and committing unspeakable acts on the rim.
.@Jmyke1 is out here trying to TEAR down the rim. pic.twitter.com/QfnzyYd6dd

— Memphis Grizzlies (@memgrizz) December 6, 2018
The Grizzlies have elite skill in their starting bigs, in Gasol and Jackson. But the energy and toughness they can get off the bench from the Green/Noah combo has the potential to become a fixture.
Clip of the Night
The Grizzlies had a rough finish to the second quarter and an even rougher start to the third quarter, but amid this basketball desert was a brief oasis in the form of a 33-foot righty runner:
A FLOATER TO BEAT THE BUZZER.

YOUR PG COULD NEVER. pic.twitter.com/BBJEwCPbY3

— Memphis Grizzlies (@memgrizz) December 6, 2018
Conley also figured in this highlight, though you won't see him in the clip:
????? pic.twitter.com/f5zNrMkBeH

— Memphis Grizzlies (@memgrizz) December 6, 2018
Conley was walking to the scorer's table as Jackson completed this move and turned in response, shaking his head as if to say "this kid … ."
Nightly Number
ICYMI: Spurs coach Gregg Popovich lamented this week that the three-pointer has become too important in the modern NBA. Pop said that after games now, you just have to look at the box score to see who made the most threes and that would pretty much tell you who won.
Not in this one: the Grizzlies won despite 7-28 three-point shooting, including 1-13 from the team's big-man rotation. That shooting from those players might seem like an indictment of basketball modernity if you didn't know any better, but it was more of a fluke. The Grizzlies are actually a pretty good three-point shooting team now, with a pretty good three-point shooting frontcourt. That they won without it has something to do with the Clippers not being much better (8-23).
Hopefully Pop appreciated the stylistic nature of this win. His little rant this week was probably exaggerated for effect, but not totally wrong either.
The Matchup
Midway through the fourth quarter, Tobias Harris, the Clippers' leading scorer on the season, made his first basket of the night, a corner three on which he had to add a little extra arc to avoid Kyle Anderson's outstretched arm.
Harris had to be used to that.
Harris made another basket about a minute later, a pull-up jumper over Marc Gasol on a defensive switch. But Harris finished the game with only seven points on 2-13 shooting.
That wasn't all Anderson, but an awful lot of it was.
Anderson finished with an odd-for-most 7-7-6 line on 3-5 shooting, with a block and a steal and so many other does-the-little-things plays that don't show up in the box score. Except they kind of do when his man shoots 2-13 and the other team shoots 34 percent and coughs it up 19 times.
Elements of Style
We've noted Joakim Noah's impactful play. But now let's celebrate his perhaps even grander impact on team style, the addition of a colorful new figure on a team already rich with them.
Noah's first appearance on the FedExForum floor was in the pre-game shootaround, where he went full Hoodie Noah, the only Grizzly to keep the hood of his warm-up gear up all through the pre-game shootaround.
But that wasn't as compelling as his non-jump shot, which some watching had apparently never noticed or just hadn't seen in a while. This bizarre experiment in basketball mechanics adds another unconventional shooting stroke to a team now teeming with them. I put it to the people, and don't disagree with the results:
Most entertaining shooting stroke on the Grizzlies now?

— Chris Herrington (@HerringtonNBA) December 6, 2018
Hey, though, sometimes that baby goes in. In the fourth quarter, Noah rotated in a wide-open mid-range shot to give the Grizzlies a 71-69 lead and very responsibly holstered his smoking guns as he headed back down the floor.
TURN UP THEN @JoakimNoah ?? pic.twitter.com/95241PjuIe

— Memphis Grizzlies (@memgrizz) December 6, 2018
Noah's "jumper" wasn't the only part of his style repertoire that made a return. We were also reminded that when this man claps his hands it sounds like they're mic'd up.
His best moment? Maybe a full-throttle chest-bump of teammate Omri Casspi after a hoop-and-harm. Let that be a nightly delight.
The Tweets Were Watching
We'll acknowledge that Thorpe tends to have a heavy Florida bias (Noah's alma mater), but still, this is what Grizzlies fans want to hear:
Grizzlies signing Noah is secretly awesome. I heard great things about how he looked this summer. That addition can send them to #1 on D overall. And he fits perfectly into their half court offense. Gasol, Jackson, Noah as defensive bigs is tops in league as a group.

— david b. thorpe (@coachthorpe) December 6, 2018
My man came out of semi-retirement to squelch this Grizzlies-Clippers rival talk, and good. (Tony Brothers was the lead official. Needless to say, there's history there.)
The Grizzlies' true eternal rival is Tony Brothers and don't you ever forget it

— Kevin Lipe (@kevinlipe_) December 6, 2018
The Jacob Riis Report
The Clippers best players -- Harris, Danilo Gallinari, bench beasts Montrezl Harrell and Lou Williams -- pretty much all had subpar nights.
But two of the more interesting members of this deep team were pretty impressive.
Rookie point guard Shai Gilgeous-Alexander had a fairly modest stat line, with 12 points on 4-9 shooting, four assists, and three steals. But the Clippers were +10 when he was on the floor and he made an impression.
Especially memorable was a first-quarter sequence in which Gilgeous-Alexander harassed Temple out to the midcourt line and then tracked him all the way back to the rim for a block. On the next trip down, Alexander scored on a long-limbed layup. Both of these teams seem to have hit on their 2018 lottery picks.
The true Clippers spectacle, though, was backup center Boban Marjanovic. Tell us about him, Jaren:
Me to Jaren Jackson Jr. - "How big is Boban?"
Jaren Jackson Jr. "Boban is 7-8."

— Dan Woike (@DanWoikeSports) December 6, 2018
Close!
Marjanovic is listed as 7'3", but I really think we need a recount on this. He's not normal NBA big. He's Yao Ming big. He's "make 7'1" Marc Gasol shoot a rainbow jumper from 10 feet away" big. He's "finish at the rim without jumping" big.
On one transition play, Jackson had Gallinari pinned under the basket and Conley couldn't see it just because Marjanovic was on the floor. It's hard to see around buildings.
The Grizzlies are among the NBA's bigger, more traditional teams. Marjanovic had 19 points (4-5 from the floor, 11-12 from the line) and eight rebounds in 13 minutes. The Grizzlies should be thankful his stamina doesn't allow for heavy usage.
Where They Stand
The Grizzlies improved to 14-9 and left the game tied for fifth in the Western Conference.
Looking Ahead
The Grizzlies have Thursday off before a weekend back-to-back against two more conference playoff contenders, facing New Orleans on the road on Friday night and hosting the Los Angeles Lakers in Memphis on Saturday night.
Announced Attendance
14,144
Deflections
Clippers coach Doc Rivers, before the game, on the Grizzlies-Clippers playoff rivalry of the recent past: "It was just a bunch of guys who didn't like each other. That's always nice in sports."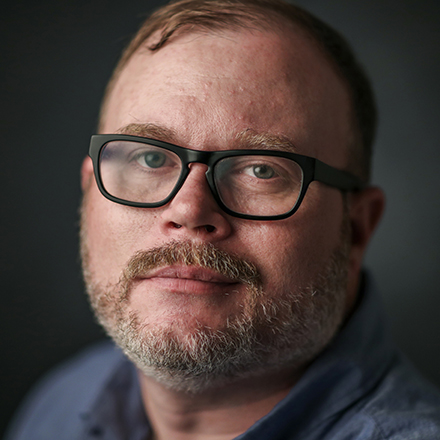 Chris Herrington
Chris Herrington covers the Memphis Grizzlies and writes about Memphis culture, food, and civic life. He lives in the Vollentine-Evergreen neighborhood of Midtown with his wife, two kids, and two dogs.
---