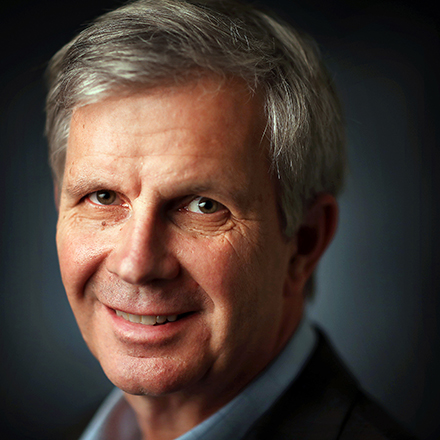 Geoff Calkins
Geoff Calkins has been chronicling Memphis and Memphis sports for more than two decades. He is host of "The Geoff Calkins Show" from 9-11 a.m. M-F on 92.9 FM. Calkins has been named the best sports columnist in the country five times by the Associated Press sports editors, but still figures his best columns are about the people who make Memphis what it is.
Season One, Chapter 11: Why a Lil Penny comeback still means so much
Before he became famous – before he became iconic – Lil Penny was just a failed puppet looking for a break.
Stacy Wall, then the creative director at Wieden + Kennedy, had created a campaign for Nike that involved a number of puppets, a Penny Hardaway puppet being just one of them.
"Nike was into that, but they said 'let's shoot a test', and so we did a test with a Penny puppet and a Michael Jordan puppet and Nike thought it was creepy," said Wall.
So that was that. Lil Penny was cast aside. But not long after, Wall was charged with the task of coming up with a campaign for Hardaway's new signature shoe.
"We met with Penny and he was such a nice, charming, soft-spoken guy that it struck me that Penny could have an alter ego," said Wall, who is now with Imperial Woodpecker. "And I'd always been a fan, going back to `The Muppet Show,' of great puppeteering and great puppet characters, so that's sort of where it came from. Penny wasn't someone who was going to go around and tell people how great he was, so we created someone who could do that for him."
Wall came up with a series of scripts to pitch to Nike. Re-enter Lil Penny, who had been gathering dust since the last failed campaign.
"For a while I had it in my office, and then my client at Nike had it in his office, and I was always frustrated, like, 'God, we should do something; that puppet always had a magic to it,' " Wall said. "But in that campaign, it was voiced by Penny. He did his own voice-over, but it never aired. So it was an opportunity to bring it back in sort of a reincarnation, if you will.
"The day of the presentation, I sneaked into my client's office and took the puppet off the shelf, and had it in a box at my feet, and just brought it out and it was like the secret weapon. I was sort of able to imagine what the voice might be or the character might be, and there he was, living and breathing in the room."
The return of the puppet
Hardaway created a stir last week when he announced on the ESPN morning show "Get Up!" that Lil Penny would be making a comeback.
"You know, Lil Penny is actually going to be coming back soon," Hardaway said. "He's working out, trying to get in shape to come back and help the Tigers."
The most remarkable part of the announcement may have been the reaction. Mike Greenberg, one of the hosts, had to ask Hardaway to repeat himself because there was so much spontaneous hooting and hollering that it was nearly impossible to hear all that Hardaway had said.
That is the continuing power of Lil Penny. More than two decades after the last Lil Penny television commercial, the very idea that the smack-talking puppet might be making a return inspires raucous delight.
"It's nice to hear that anyone still remembers the campaign," said Wall, during a telephone interview not long after Hardaway was hired as Memphis coach. "I really thought it would go on the air and be this piece of esoteric weirdness that maybe some people thought was cool. 
---
Geoff Calkins chronicles Season One with Penny Hardaway
---
"But it was such a fun experience, and it was such a fun job. Now when I direct commercials and I'm working with some of these athletes that maybe were kids when Lil Penny was on, it's always fun to bring it up. They tend to always remember and I'm really proud of it. It has developed it's own life."
Some of that was the magic of the player and the puppet. Some of it was the magic of the man who voiced Lil Penny, Chris Rock.
"He had just left 'Saturday Night Live' and was doing stand-up tours around the country," Wall said. "Certainly Eddie Murphy's character in 'Coming to America' was a huge influence on the character, and I've always been up front about that. But, obviously, at that point, he was just out of our ballpark, of Nike's ballpark, for what they wanted to spend for an untested campaign. And so Chris Rock was a voice that came up very early on in discussions, and I was just thrilled when he said he would do it."
Hardaway and Rock were never together for the commercial shoots. Hardaway and the puppet – there were actually two puppets used to shoot the commercials – would do their parts first. 
"It was very important to me that it was live," Wall said. "We worked with a great company called M5 in San Francisco, they made the puppet, they puppeteered it. So Lil Penny could sit in a room – all that was cabled underneath him – and then Penny could walk in the room and they could actually have a conversation. 
"I would literally hide just off set and sort of do the voice (of Lil Penny) so that if Penny said something I could bounce back and make it more comfortable for him and then we would edit with all that material. Once we had our base, we'd say, 'Chris, bring your magic to it.' "
The first commercial aired in November of 1995. It featured Hardaway lacing up his shoes in the locker room, getting ready to play the Timberwolves.
Lil Penny: "I guess you goin' for the big numbers tonight. I'm sensing a triple-double here. Penny, Penny, I want you to say hello to my man, Kevin Garnett. We went to high school together. Tell him Lil Penny from the science club says hello."
Lil Penny talked smack to anyone and everyone ("The only time you guys box out is when you have a doughnut.") He talked movies with Spike Lee ("Now Spike, about that film. Is this an action flick? 'Cause I do my own stunts.") And, of course, he dated a supermodel, the breathtaking Tyra Banks ("Hey Tyra, you left your toothbrush at my house.") 
"She had been on the cover of Sports Illustrated's swimsuit issue, so we thought, who would Lil Penny want to be dating?" Wall said. "In those days, once you got success, you could say, 'Hey, let's see if Tyra will do it,' and she was up for it."
The commercials became a cultural phenomenon. Danny DeVito called to talk to Wall about doing a Lil Penny full-length feature film. Lil Penny and Rock appeared together on "Oprah!" Wall co-authored a book with Lil Penny titled "Knee High and Livin' Large: The World According to Me."
The apex may have been the 1997 Super Bowl commercial.  Lil Penny threw the world's greatest Super Bowl party with a guest list that included Tiger Woods, Stevie Wonder, Barry Sanders, Spike Lee and Ken Griffey Jr.
"It was kind of a victim of its own success," Wall said. "Because so many Nike athletes wanted to come to his party that the spot almost became kind of a name check, we didn't even have time for any jokes."
Wall's favorite Lil Penny commercial is "Frozen Penny," a surreal spoof of "Frozen Moment," a famous Nike commercial in which the world stands still while Jordan rises and dunks a ball. But as proud as Wall is of "Frozen Penny," he winces at it, too.
"For some reason, we decided that Lil Penny would have his leg in a cast," Wall said. "We just thought it was funny that  a puppet would have a cast. Those were the kind of jokes that made us laugh in those days. But I'm superstitious, and I look back and I go, `Wow, that was one of the last times before Penny had his injury problems and things like that.'
"I'm a little bittersweet when I look back on it. Because certainly Penny is going to be a great success at Memphis as a coach, but I'm such a fan of his, and such a fan of his game, that it's one of those things – what could have been, had he stayed healthy. At the time, he was the most dominant player in the NBA, young and up-and-coming.  Just dynamic, and it was just like, we caught everything at all once. I talked about Chris Rock, and I talked about the team and how it came together, but it was certainly in stride with Penny's ascendance in the game."
Wall hadn't been contacted about reviving Lil Penny, back when we spoke. But he certainly wasn't opposed. 
Editor's note: As Penny Hardaway begins his first year as coach of the University of Memphis Tigers, Geoff Calkins is going to write the book.

That's right, a book. Written in chapters, with a new chapter arriving every Monday, Calkins will capture all the anticipation, the excitement and the challenges of the season.

He'll explore what Hardaway and Memphis basketball mean to the city and the people who call it home.

It'll be the definitive chronicle of the return of an NBA icon, as he tries to restore the basketball program he loves.
"No, not at all, I  think Nike is always interested in that," Wall said. "I'm sure if Lil Penny was able to do an interview with you he'd be all for it. He's a huge fan, obviously, of Penny's.  He loves the city of Memphis and the idea of him, sitting court-side, watching Penny coach would be a great scenario. 
"I'm so happy for Penny, too. He's such a great motivator, clearly a great basketball mind and also – I want to stress this – one of the nicest guys I've ever worked with and always so down-to-earth, and such  fun to be around. So I can imagine, as a college basketball player, just being inspired by him and wanting to play for him. I think it's just going to be a great match. And him returning to his alma mater? Yeah, Lil Penny should be there."
---