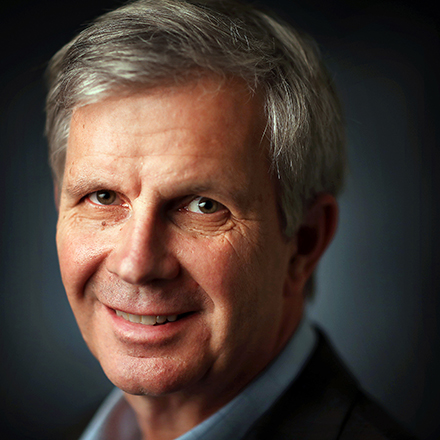 Geoff Calkins
Geoff Calkins has been chronicling Memphis and Memphis sports for more than two decades. He is host of "The Geoff Calkins Show" from 9-11 a.m. M-F on 92.9 FM. Calkins has been named the best sports columnist in the country five times by the Associated Press sports editors, but still figures his best columns are about the people who make Memphis what it is.
Calkins: Yes, you can have a picture with Penny Hardaway – and nearly every Memphian does
The guy came out of the stands, right before tipoff, to ask Penny Hardaway if he would pose for a picture with his son.
This was less than a minute before the game was to begin. Memphis was about to play Oklahoma State in Orlando.
Some coaches might have beckoned security. Hardaway turned, leaned down, put his arm around the kid, and smiled like he was the one asking for the picture himself.
"I just look at it like that picture is something he's going to cherish," Hardaway said. "I don't ever want to kill someone's dream."
The universe is now overflowing with photos of people beaming along with Hardaway. He has to be — with the possible exception of Jerry Lawler — the most photographed man in the history of this town. 
No, I don't have data to prove this. But Elvis happened along before we all carried cameras in our pockets. Hardaway poses for dozens of photos every single day, especially now that he's out in public in his role as the University of Memphis basketball coach. And you should have seen what happened when I asked Memphians to send me their photos with Hardaway.
I was besieged. I got photos of Hardaway taken at Grizzlies games and at Tigers games and at the FedEx St. Jude golf tournament. I got photos of Hardaway taken at Houston's and in nearly every high school gym in the city and at the Liberty Bowl and at the Wolfchase Galleria mall and (honest) in the bathroom of a Steak 'n Shake. 
Former Memphis football player Chris Powers sent a photo with Hardaway and explained that — as a kid growing up near Orlando — he only knew of the University of Memphis because of Hardaway.
"It's highly likely that if Penny hadn't come to Orlando I wouldn't have known anything about Memphis and wouldn't have entertained their offer," Powers wrote. "I finally got to tell him that story when we ran into him on the field last spring."
Gary Parrish of CBS and 92.9FM sent a photo with Hardaway and explained that he never bothers celebrities for photos. But this was Penny! So Parrish sent a photo of his son, Aiden, with Hardway, too.
The pictures kept pouring in, along with explanatory notes.
Michael Wiegert: "This is a hotel lobby on the Riverwalk in San Antonio. My wife (girlfriend at the time) and I traveled there to watch the Magic, led by Penny and Shaq, take on David Robinson's Spurs. We got lucky, and ran into Penny getting off the elevator. I asked for a picture, and although his agent was against it, Penny overruled him, and posed for a quick pic."
Niko Hernandez: "This was back in 2011 or 2012, I was pumping gas at the corner of Hacks Cross and Winchester. He checked out and was leaving when I asked for a pic. Said, 'Absolutely.' Could not have been nicer."
Tim Brice: "This is a pic of Penny, a buddy of mine, and me. It is a bit of an old school pic. It was taken at the 2008 Elite Eight game against Texas in Houston. After we got done taking the picture, a Texas fan clad in orange also asked Penny for a pic. He graciously obliged. Someone asked the Texas fan why he was taking the picture with Penny, to which he replied: 'Everyone loves Penny Hardaway.'"
Rick Haygood: "I was arriving at the airport to head out to New York for a business trip. As I'm being dropped off I notice the Bentley in the drop off area! As the door opens. Penny himself gets out. I said 'Can we take a photo?' He said 'Of course we can.' The man is as humble and gracious as any human I've ever met!" 
Nearly every photo was accompanied by a sentence like this last one, exclaiming about how humble/gracious/nice/kind/patient Hardaway had been.
Kathy Emerson: "Friendliest guy ever."
Andrea Hinson: "He could not have been nicer." 
Wyatt Halliday: "Very nice to everyone who asked for a pic."
Michael Edmundson: "He could not have been more gracious."
Leslie Jones: "I work at FedExForum. He never turns anyone down for a photo."
This is not technically true, by the way. Hardaway has turned people down.
"The only person I remember from this year was at East Carolina," said Dave Woloshin, the radio voice of the Memphis Tigers. "He had been signing and taking pictures forever and he had to get on the bus, they were late. He told this one woman, who was relentless, that he just had to go. But I'm told he felt so bad he got up from his seat and went back out and took the picture."
So maybe he hasn't turned anyone down.
It's astonishing, Hardaway's level of patience. It's like nothing I have ever seen. Hardaway doesn't just pose for thousands of photos. He is in them, really in them, like he's flattered and surprised to be asked.
Just look at the galleries that accompany this column. Look at all those smiles.
"Why wouldn't I smile?" Hardaway said. "I'm enjoying what they're enjoying. It's genuine. I'm lucky to be able to make people feel good."
Which brings us to four of the hundreds of photos people submitted. Four photos that each tell a tale. Hardaway didn't remember taking any of them, naturally. The people involved never forgot.
Trey Draper
See that little kid? That's Trey Draper, former Memphis Tiger, age four months or so.
"It was after practice, back in 1992," said Leonard Draper, Trey's father. "Penny is wearing his practice jersey. Trey has a little Memphis outfit on."
Wanda Draper was actually pregnant with Trey at the Great Midwest Tournament the previous season, when Memphis lost to Bob Huggins and the Cincinnati Bearcats for the fourth time that year.
"All the Cincinnati fans brought Huggies diapers," said Leonard Draper. "I picked up every last one, put them in a bag and took them home. So Trey is probably wearing one of those diapers in that picture."
Trey didn't even know about the photo, until Hardaway got the head coaching job and his mother sent it to him. So he posed with another photo of Hardaway at the introductory press conference.
"I guess it brought it full circle," Trey said. "I've grown up with Penny Hardaway."
Daniel Carson
There is nothing particularly special about this picture except when you find out that Carson — who called me from a vacation in Paris, France, to talk about it — has at least 15 photos with Hardaway.
"Every time I see him I ask him for a picture," he said. "I've taken pictures with him at alumni games, Tiger games before he became coach, East High games, lots of places. There are times he might be wondering, 'Hey, I think I've taken a picture with this guy before,' but he's always super nice about it."
The first few pictures Carson took with Hardaway were at the urging of his father, Dennis Carson. 
"He was a huge fan," Carson said. "He taught me to root for the Tigers and root for Penny. He died when I was 11."
So Carson's photos with Hardaway are not just about connecting to Hardaway, they are about connecting with the memory of his dad. Their enthusiasm for Penny was a shared experience. Naturally, Carson took a lunch break to attend Hardaway's introductory press conference.  
That's where this particular photo came from. The most recent of the 15.  
"It was a great day, my dad would have loved it," Carson said. "He would have been really proud."
JC Coleman
Here's the thing about this photo: Hardaway snapped it himself.
It was taken at a Redbirds game, after Hardaway had been named the head coach at Memphis and was invited to throw out the first pitch.
"I was above the tunnel, and I asked Penny for a picture," Coleman said. "I tried to take it from above but it wasn't working. So I said, 'Here, Penny, you take the picture,' and handed him my phone. He had no problem with it. He got it just right."
Indeed, Hardaway happens to be excellent at selfies. That's what happens when you take a bazillion of them. I asked Hardaway for his three secrets to a good selfie. This is what he said:
1. "Angle, definitely. The angle is key."
2. "Lighting. Has to be good lighting."
3. "And a smile. A big smile. Smile like you're family."
In retrospect, Coleman says he felt a little silly handing his phone to Hardaway to get the pic.
"But the dude is not going to turn it down," he said. "It doesn't matter how convoluted the picture is."
Ben Sumner
Ben Sumner has Down syndrome. He's now 25. He was doing errands with a woman named Janie Morris — of the Special Friends Fellowship Club — when Hardaway was hired as the Memphis coach. 
"He was so excited," Morris said. "He said, 'I knew him when I was 6 years old. I have a picture with him.' He remembered it from all those years ago."
Sumner is better at email than at talking on the phone, so we swapped emails about the pic.
"I met him at Madonna Learning Center," Sumner typed. "I love the team of the Tigers and the coach. And he was nice and he said that he was glad to meet me. And he said that he is glad to have me be a big fan of the Tigers."
That's why Hardaway poses for every photo. Because of the lasting impact it may have.
"This picture makes me feel happy," typed Sumner.
Here's to thousands more.
---